Edited by Christian Thompson
Hello readers and welcome back to this week's Inflection Point. Last week, we covered the latest from New York Fashion Week. This week, we go across the pond to London to cover some of the most influential trends emerging from London Fashion Week. As Fashion Month continues, we will follow the latest shows from around the globe, bringing you some of the most influential fashion trends.
London Fashion Week (LFW) is the second week in Fashion Month and has been known to showcase some of the most prominent up-and-coming designers, such as Nensi Dojaka. Part of London Fashion Week's identity comes from rebellious young designers challenging the status quo of high fashion. LFW is the youngest fashion week in the "Big Four" and has been a place for new designers to shine for years. Although other fashion weeks feature up-and-coming designers, it can be hard for new designers to compete with the spotlight of major fashion houses such as Gucci, Dolce & Gabbana, Dior, and Louis Vuitton, just to name a few.
This year the fashion event had a solemn tone because of the Queen's passing, with fashion giants Burberry and Raf Simons canceling their shows. The British Fashion Council spoke out and stated that all parties were to be canceled and the only events allowed to proceed were fashion shows. Many designers still showcased their work while paying tribute and respecting the Queen's passing. As London Fashion Week ended, we saw many different styles showcased, and one of the aesthetics that stood out was Y2K Fashion.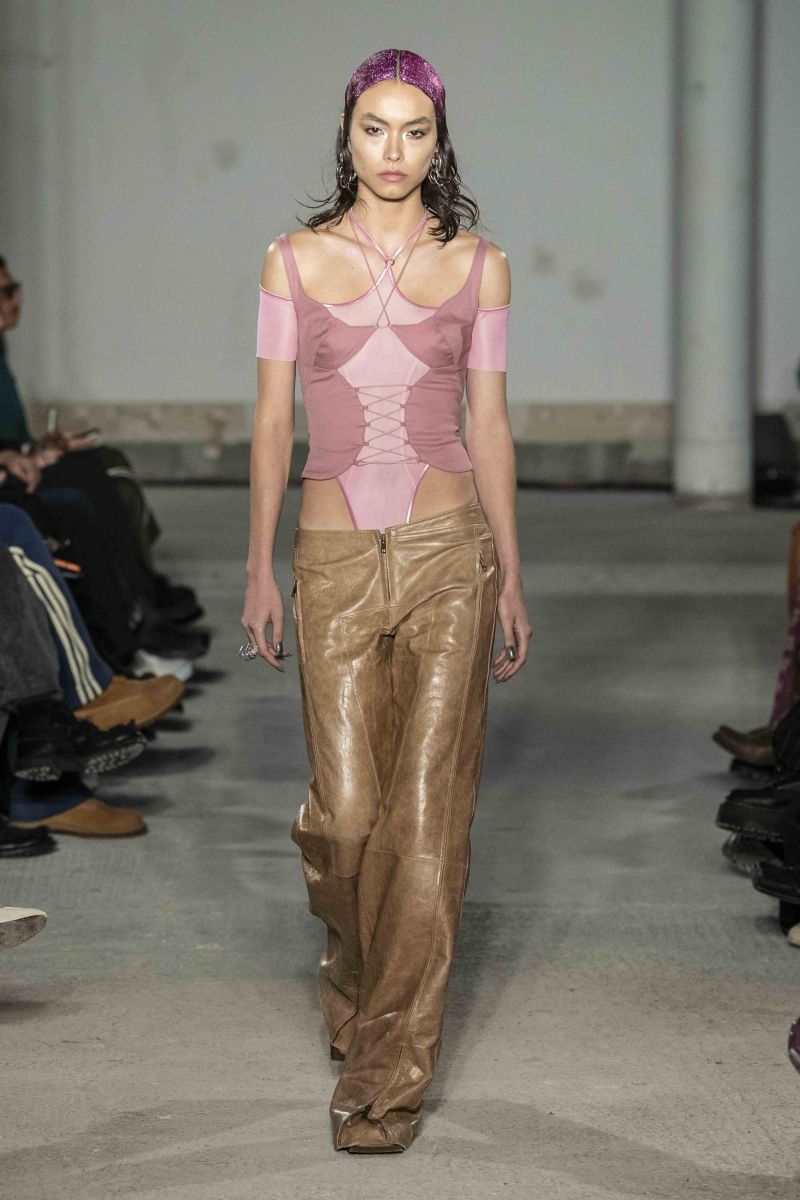 Y2K Fashion was seen throughout runways this past weekend during London Fashion Week. Brands, such as KNWLS, showcased mesh prints, low-rise bottoms, and pleated mini-skirts encapsulating the essence of Y2K style. Earlier this year, we wrote about the reemergence of mini skirts and how they may become a statement piece for your closet. The growing popularity we noticed this past spring might have been influenced by the growing signal for Y2K Fashion. Over the past two years, the impact score for "Y2K Fashion" has increased by 286% and the future estimate forecasts all-time highs for the score in the following year. Consumers are chatting about dressing like it's the late 90s/early 2000s, and we wanted to find out why.
After seeing that consumers may be shifting towards Y2K aesthetics, we wondered what could be causing the growth of this trend. We thought back to how we have seen aesthetic trends come from happier memories, as the past few years have been draining for many. Our research team posited that nostalgia is the driving factor behind many of the popular styles we have seen during the past fashion week. Over the past two years, the impact score for "Nostalgia Fashion" has increased by 550%, and the future estimate predicts substantial growth in the coming months.
Nostalgia is a growing theme being used by creatives to evoke emotion in their products. Designer's  Spring/Summer clothing lines have been inspired by feelings of nostalgia. Nostalgia seems to be a trend that impacts various industries, and fashion is currently going through its nostalgic phase paying homage to styles that used to rule the runway.
---
Thanks for tuning into this week's Inflection Point covering London Fashion Week. Our coverage of Fashion Month will continue next week as we will see what trends and styles are driving Milan Fashion Week. Be sure to check in next week for our next edition, and enjoy the rest of your week.
Cheers!
---
About NWO.ai
NWO.ai's predictive platform enables leading Fortune 500 companies and government agencies to anticipate and track global cultural shifts by aggregating, analyzing, and producing actionable reports on human-generated data. We are leveraging petabytes of external, noisy, and unstructured data from various sources –including search, social media, blogs, news, patent databases, and SEC filings and we are continuously adding more sources. Our mission is to answer the what, when, and most importantly, 'why' behind a consumer trend and enable our customers to detect these shifts as early as possible.
Thank you for reading. If you liked the piece, please help us spread the word and invite your friends to sign up here.