Hi Everyone,
My name is Jack LeeHoffman and I am the newest member of the Customer Success Team here at NWO.ai and I am excited to be bringing you the latest Weekly Pulse!
As Paris Fashion Week comes to a close, we thought it would be fitting to publish a fashion-focused Weekly Pulse. This week's pulse covers topics from the rise of the mini skirt, metaverse fashion, and a new look at summer staples. Enjoy!
---
I. The Rise of the Oblique Cut Out
Paris Fashion Week just ended, and while many trends graced the runway, one look may have exponential growth in the future. The oblique cutout was featured on the runways of Paris Fashion Week by some of the industry's most prominent players. We saw designers such as Gauchére, Ester Manas, and Coperni utilize this style by cutting out a portion from most of their major silhouettes. The oblique cutout seems to be liked by designers because of the hourglass figure it accentuates in its wearer.
The impact score for "Oblique cutout" has increased over 800% over the past year, and NWO.ai's impact score forecasts that oblique silhouettes will continue to grow through 2022. Out of all the trends and styles showed off at Paris Fashion Week, the oblique cutout left a lasting impression that may have it be one of the go-to styles this summer.
II. The Major Players in Fast Fashion this Summer
Over the past few years, we have seen the rise of fast fashion. According to an industry report, despite the pandemic, the industry grew 21.9% from 2020 to 2021. So we thought it would be interesting to see what our AI had to say about the fast fashion industry and who the leaders would be going into summer.
Our AI anticipates that Shein will become the top player in fast fashion, followed by Zara, Uniqlo, and H&M this summer, based on consumer conversation. In 2021, Shein overtook Amazon as the most downloaded shopping app in the U.S, boasting its newfound prowess in the shopping world. Coupled with discount codes and low prices, Shein gained popularity by appealing to "Gen Z" consumers through Instagram and TikTok influencers. As a result, they have established themselves as a major player in the fast fashion space, and they don't seem to be slowing down anytime soon.
III. Summer Staple: The Three-Piece Swimsuit

Few clothing items define summer as iconically as the swimsuit: it's a summer staple. Recently, NWO.ai has seen an uptick in consumer interest for three-piece swimsuits that lead us to believe it might be the swimsuit look for 2022. Our platform first detected the trend for three-piece swimsuits on search sites, five days ahead of other sources. The Impact Score shows that three-piece swimsuits are gaining momentum with consumers. That being said, with all the different kinds of swimsuits out there now, it can be challenging to decide which one to rock this summer. That's where NWO.ai comes in and can help provide some more clarity for anyone looking for new swimwear this summer.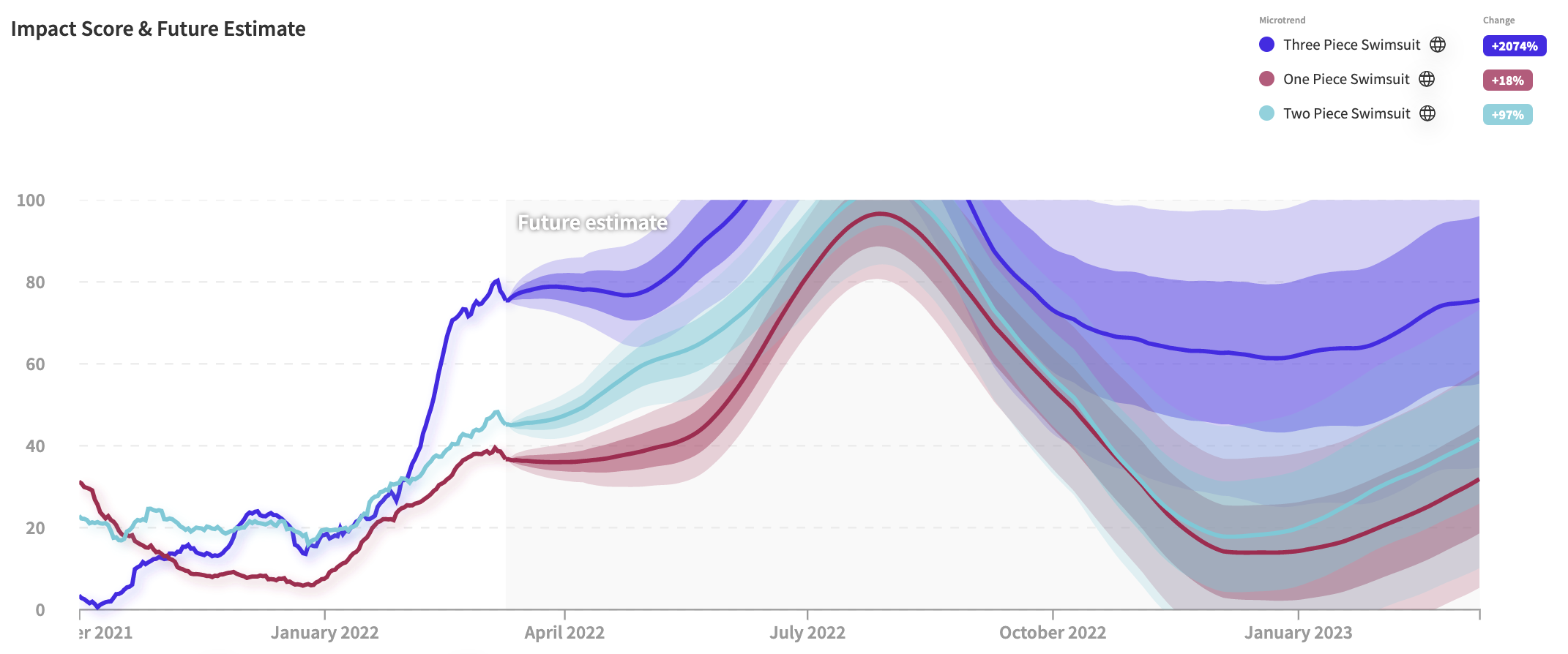 The impact score of the three-piece swimsuit is projected to outperform both the one-piece and the two-piece swimsuits. This is why we estimate that the three-piece swimsuit will dominate beaches and pools everywhere this summer.
IV. Could your next statement piece be a mini skirt?
As Paris Fashion Week ends and the latest styles and trends begin to set in, one clothing piece stood out above the rest: the mini skirt. However, not all mini skirts are created equal. The skirt that reigned high at Paris Fashion Week came from infamous Italian designer Miuccia Prada. As you could have guessed, Miuccia Prada is the mind behind and head designer of the luxury fashion giant Prada. Another surprise in this story is that the mini skirt taking Paris Fashion Week by storm doesn't hail from the brand Prada, but rather a subsidiary founded by Miuccia Prada herself called Miu Miu. NWO's ai shows how the impact score has been exploding surrounding mini skirts, and Miu Miu is leading this race over the next year.
With all this in mind, it is safe to assume that the mini skirt may be back and here to stay. This trend may end up being the next statement piece in your closet.
V. Metaverse Fashion and its growing popularity
Over the past months, we have seen a steady increase in chatter not only about the metaverse but specifically metaverse fashion. Recent events support this hypothesis as the Paris Fashion Week just wrapped up, and we saw some of the biggest names in fashion begin to implement the metaverse and NFTs into their product lines. Paris Fashion Week has partnered with French startup Stage 11, to show their support and push for the metaverse in high fashion. Paco Rabanne, Dolce & Gabbana, and Etro have also shown their full support for metaverse fashion. The design houses have pledged to participate in the first metaverse fashion week on Decentraland.
The metaverse may not have been a thing a year ago, but it looks like more industries are entering the space, including fashion.  
This concludes this week's edition of NWO.ai's Weekly Pulse. We hope you enjoyed reading it as much as we did making it! Stay tuned for next week's weekly pulse, and have a great weekend.
Cheers!
---
About NWO.ai
NWO.ai's predictive platform enables leading Fortune 500 companies and government agencies to anticipate and track global cultural shifts by aggregating, analyzing, and producing actionable reports on human-generated data. We are leveraging petabytes of external, noisy, and unstructured data from various sources –including search, social media, blogs, news, patent databases, SEC filings and we are continuously adding more sources. Our mission is to answer the what, when, and most importantly, 'why' behind a consumer trend and enable our customers to detect these shifts as early as possible.
P.S.  We're hiring! Check out our open positions and let us know if you'd be a good fit for our team. We're growing quickly and adding several engineering roles to help us decode the anatomy of next.
Thank you for reading. If you liked the piece, please help us spread the word and invite your friends to sign up here.