Hello Readers,
Welcome to another edition of NWO.ai's Weekly Pulse! This week's edition breaks down some of the top trends our AI is seeing in the alcohol beverage market.  
I. New entrants enter the alcohol market
According to an industry report, the global hard seltzer market is valued at $8.95 billion. Furthermore, the global hard seltzer market is expected to grow 22.9% annually between 2022 and 2030. This market growth has led several traditionally non-alcohol companies to enter the hard seltzer space. For example, the Coca-Cola Company recently announced the release of Simply Spiked Lemonade, in partnership with Molson Coors and Hard Fresca (a canned cocktail), in partnership with Constellation Brands. These new alcohol beverages complement Coca-Cola's existing seltzer product, Topo Chico Hard Seltzer. Similarly, PepsiCo has partnered with the Boston Beer Company to launch Hard Mountain Dew (Hard MTN Dew).
The impact scores for these new products have exploded over the past month. Moreover, the new drinks are estimated to have sustained momentum heading into the summer. Consumers' preferences are increasingly moving towards seltzers and canned cocktails, and these new entrants will be looking to seize the opportunity. In addition, we expect more legacy beverage companies to explore the alcohol space to capture back consumers who may have left the brands.  
II. Drink of 2022 summer: canned cocktails??
For the first time, NWO's ai is projecting that Canned Cocktails may overtake Hard Seltzer and Beer as the preferred drink by consumers this summer. Canned Cocktails have slowly gained traction with consumers as the hard seltzer beverage market becomes more saturated. In addition, canned cocktails appeal to consumers looking for flavor variety and more alcohol content in their beverages. Canned cocktails come in several flavors, including; Vodka Soda, Rum and Coke, Tequila Paloma, and Whiskey Ginger, to name a few.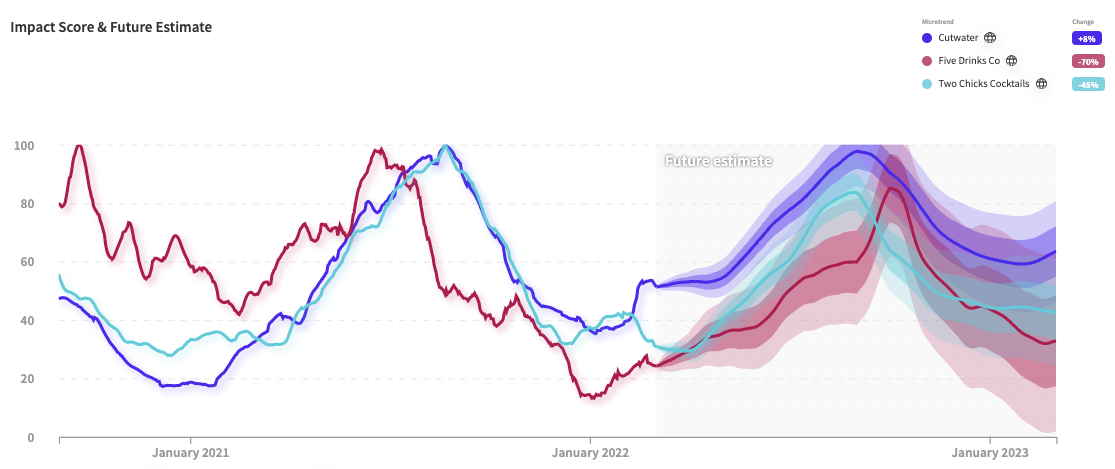 Our AI identified several trending companies in the Canned Cocktail space, including: Cutwater, Five Drinks Co. and Two Chicks Canned Cocktails. Interestingly, Five Drinks Co. has a collaboration with Dante NYC, a famous New York City bar, to produce three canned cocktails inspired by the bar.
III. A new non-alcoholic alternative
A new trend is taking hold of consumers and may pose a challenge to alcohol with some demographics; adaptogenic drinks. Adaptogenic drinks, as the name implies, are beverages that contain Adaptogens. Adaptogens are herbs or mushrooms that have supposed health benefits. Examples of Adaptogens include: Ashwagandha, Turkey Tail Mushroom, Ginseng, and Reishi Mushroom.
Adaptogenic beverages are advertised to help with stress and anxiety relief. At a time when 58% of Americans are concerned with their mental health, these beverages have increasingly become popular as alcohol alternatives. The impact score for "Adaptogen Drinks" has increased over 1000% since the start of the pandemic and is projected to grow through 2022. As consumers look to alcohol alternatives, Adaptogenic drinks stand to benefit.
IV. Alcohol is on the move
This week New York State is slated to join 20 other states in extending the "Booze to-go" program, initially launched during the pandemic, under Governor Kathy Hochul's proposed budget. "Booze to-go" initiatives were established across the country to support restaurants and small businesses during the pandemic. The policy change in New York will first need legislative approval before it can take effect. However, the initiative has proven popular with businesses and consumers.
The impact score for "To-Go Drinks" peaked last summer and is projected to peak again this summer. Businesses owners, especially in dense urban areas, should take advantage of the trend.
V. Is tequila on track to become America's Favorite Liquor?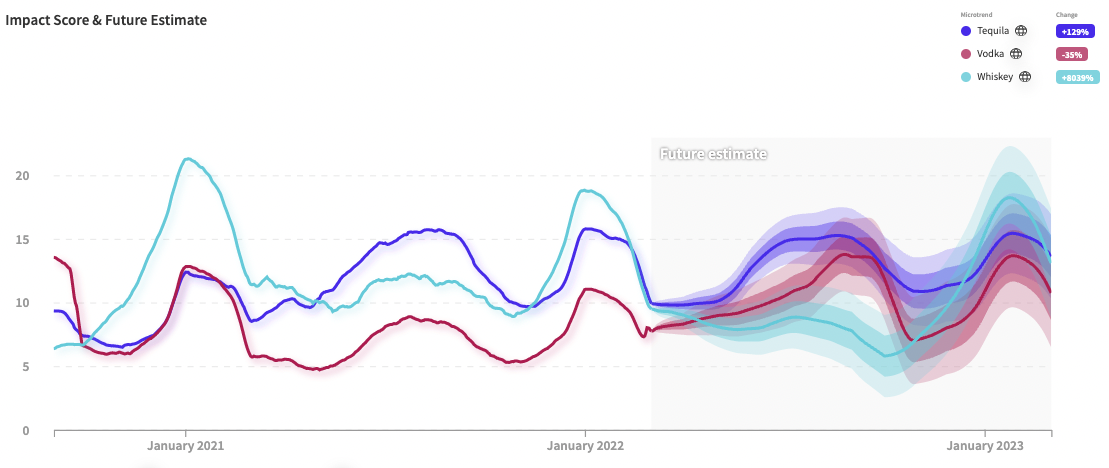 According to a February 2022 report published by the Distilled Spirits Council, Tequila is the number two (2) spirit in America, generating $5.2 billion in revenue, following Vodka at number one (1), which generated $7.3 billion in revenue. Although tequila saw the most significant growth in revenue YOY, increasing 30.1% from the previous year, Vodka only grew 4.9%.  
NWO.ai went to test the report to see which spirits occupied the most mindshare among consumers. Interestingly, NWO.ai's impact score found that tequila drove the conversation ahead of vodka and whiskey last summer. Unsurprisingly, during the Winter, consumer conversation shifted to whiskey as the preferred beverage during cold weather. Then this summer, our AI is anticipating that tequila, again, will win out. So what's driving this shift towards tequila? First, it's hard to pinpoint a single factor, but generally, consumers perceive tequila as a "healthier alcohol," fitting into the broader health trends. Second, celebrities may be a factor, with several celebrities launching tequila brands in recent years. Regardless, tequila's popularity is here to stay.
---
That wraps up this week's edition of NWO.ai's Weekly Pulse. We hope you enjoyed it and stay tuned for next week's issue.  
Cheers!
---
About NWO.ai
NWO.ai's predictive platform enables leading Fortune 500 companies and government agencies to anticipate and track global cultural shifts by aggregating, analyzing, and producing actionable reports on human-generated data. We are leveraging petabytes of external, noisy, and unstructured data from various sources –including search, social media, blogs, news, patent databases, SEC filings and we are continuously adding more sources. Our mission is to answer the what, when, and most importantly, 'why' behind a consumer trend and enable our customers to detect these shifts as early as possible.
P.S.  We're hiring! Check out our open positions and let us know if you'd be a good fit for our team. We're growing quickly and adding several engineering roles to help us decode the anatomy of next.
Thank you for reading. If you liked the piece, please help us spread the word and invite your friends to sign up here.