Edited by Christian Thompson
Hello readers, and welcome back to this week's Inflection Point. For this edition, we are covering the latest trends from New York Fashion Week. We will be following all the upcoming fashion weeks to bring you the styles shaping the future of fashion.
New York Fashion Week took place from September 9th-14th and covered collections for the upcoming Spring/Summer seasons. Founded in 1943, New York Fashion Week is the first event in fashion month. Fashion month comprises the "Big 4" fashion weeks including, New York, London, Milan, and Paris. It takes place from September to October. During New York's fashion week, there was one color that designers couldn't keep off the runway.
We wouldn't blame you if you haven't heard of the color "Tangelo." During the past week, the color took over runways and the streets of NYC as Fashion Week commenced. According to Pantone, the color is best described as "a tangy, tasty vitamin enriched orange." As you can see, the bright creamsicle color is hard to miss and seems poised to be a staple in closets everywhere in Spring/Summer 2023.
Tangelo's signal has been performing well on our platform, having increased by 436% over the past three months and 2400% over the past two years. Our future estimate forecasts substantial growth in the coming months. The growing forecast bodes well for the tangerine hue, but what has been driving the growth of this vibrant color?
You may have heard of the term "Dopamine Dressing." The term originated from fashion psychologist, Dawnn Karen, who wrote about using fashion as a way of changing and representing one's mood in her book Dress Your Best Life. We have seen a wave of dressing the way you want. The revival of nostalgic styles from the 90s and early 2000s illustrates that consumers may be dopamine dressing to remember fond memories. The rise of brighter colorways, such as tangelo, may represent changing consumer attitudes to dopamine dressing as bright colors are associated with better moods. The pandemic showed consumers that nothing is certain, so you might as well wear what you want. Dopamine dressing allows people to dress freely and feel confident while embracing their own style.
Over the past two years, the impact score for "Dopamine Dressing" has increased by 1428% and our future estimate predicts growth throughout the coming year. During that same period, the impact scores for "Dopamine Dressing" in the context of "Street Style Trends" and "Spring-Ready" have increased by 1577% and 1843%, respectively. Dopamine dressing may be the driving growth factor behind Tangelo and could have a lasting impact on the fashion industry in the coming seasons.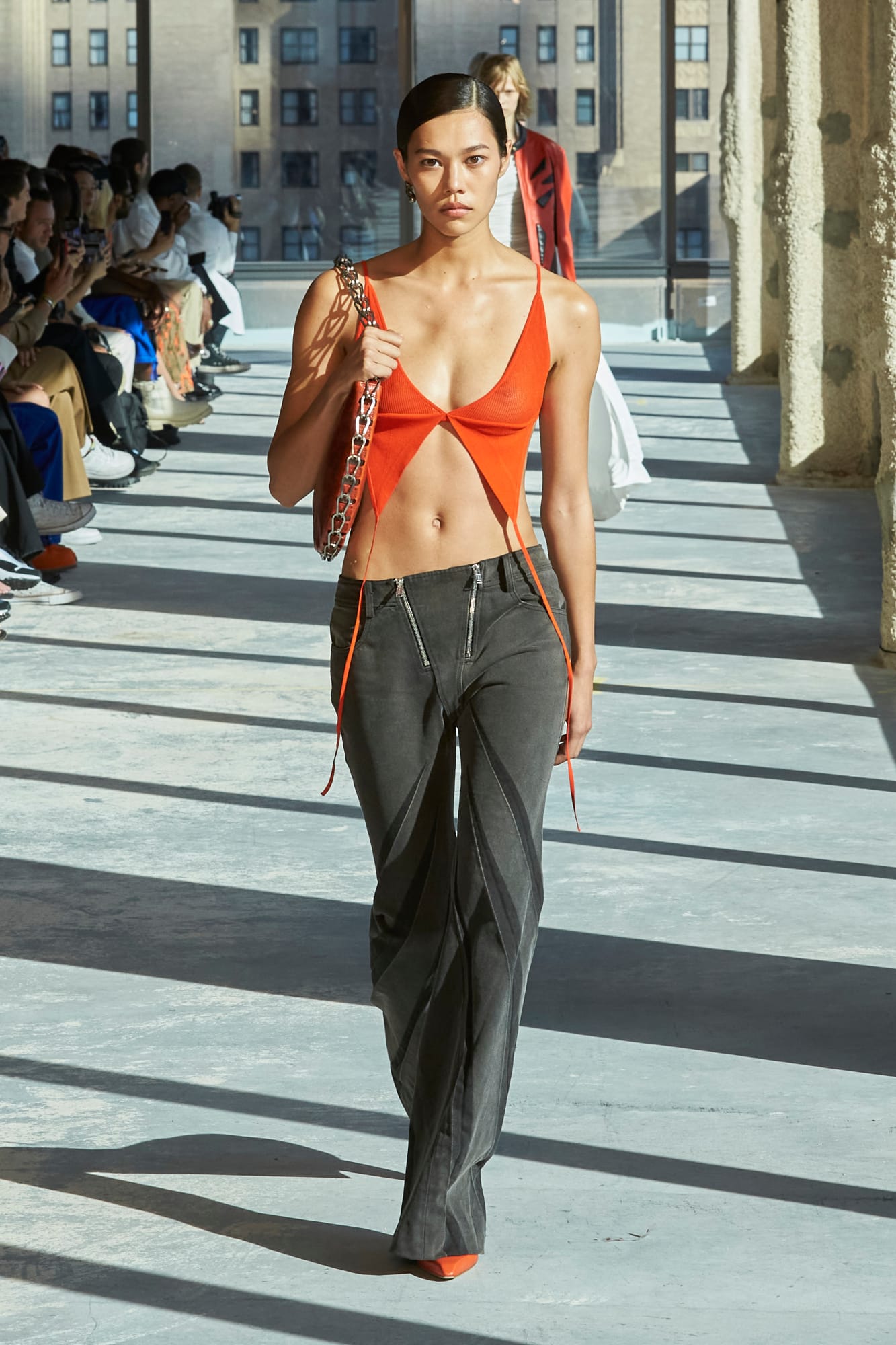 We have established Tangelo's growth and driving factor behind the color, but where did we see it at New York Fashion Week? Many brands and designers featured the color on the runway, including, Monse, Dion Lee, Studio 189, and L'Agence. These designers may be setting the foundation for upcoming spring and summer looks, and attendees noticed.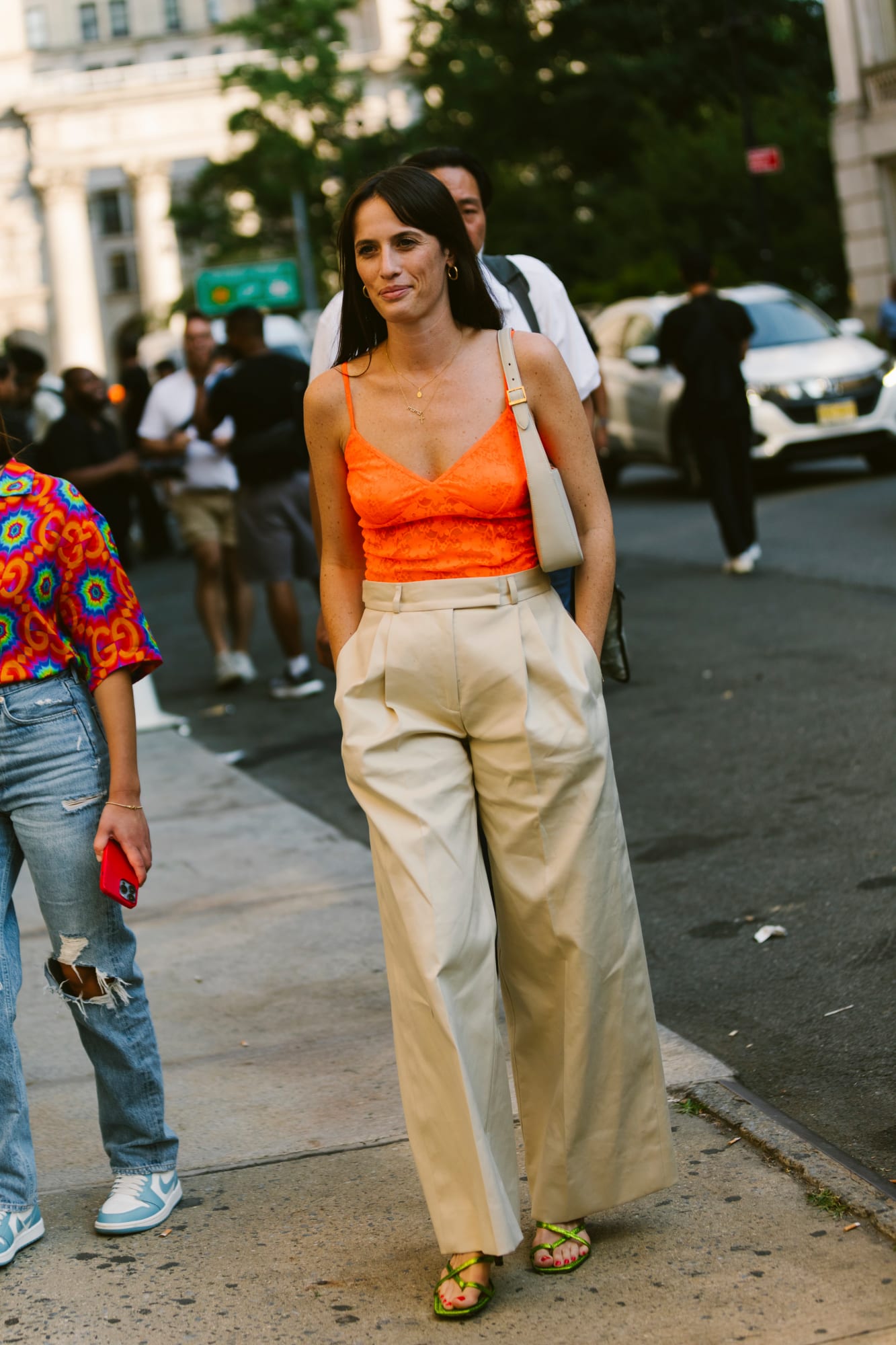 Tangelo has already been seen on the streets of New York. While the color was heavily featured on various runways, it is promising to see it already incorporated into everyday outfits by attendees. Based on the growth behind "Dopamine Dressing" and the growing popularity of Tangelo, we believe that bright colors will be a staple this upcoming spring and summer. We will be monitoring the rest of the fashion shows to see what new trends may be driving the spring and summer looks in 2023.
---
Thanks for tuning into this week's inflection point. In the coming editions, we will be covering the rest of the Fashion Weeks to bring you the latest in global fashion. Don't forget to check in next week, and enjoy the rest of your week.
Cheers!
---
About NWO.ai
NWO.ai's predictive platform enables leading Fortune 500 companies and government agencies to anticipate and track global cultural shifts by aggregating, analyzing, and producing actionable reports on human-generated data. We are leveraging petabytes of external, noisy, and unstructured data from various sources –including search, social media, blogs, news, patent databases, and SEC filings and we are continuously adding more sources. Our mission is to answer the what, when, and most importantly, 'why' behind a consumer trend and enable our customers to detect these shifts as early as possible.
Thank you for reading. If you liked the piece, please help us spread the word and invite your friends to sign up here.