Edited by Jack LeeHoffman and Julia Myers
Hello readers,
We're back this week with another edition of the pulse. We're looking at various topics, including crypto/NFTs, fitness trends, and an update on our fast-fashion favorite this summer Shein. So let's dive into it.
I. Solana OpenSea Integration
This week Solana has become the fourth blockchain to be integrated into the NFT marketplace OpenSea. OpenSea allows customers to buy and sell NFTs (Non-Fungible Tokens) by linking their wallets to the platform. Solana's integration follows Ethereum, Polygon, and Klaytn. We saw several inflection points for the "Opensea AND Solana" signal in December and January, indicating consumers were increasingly making connections between the two.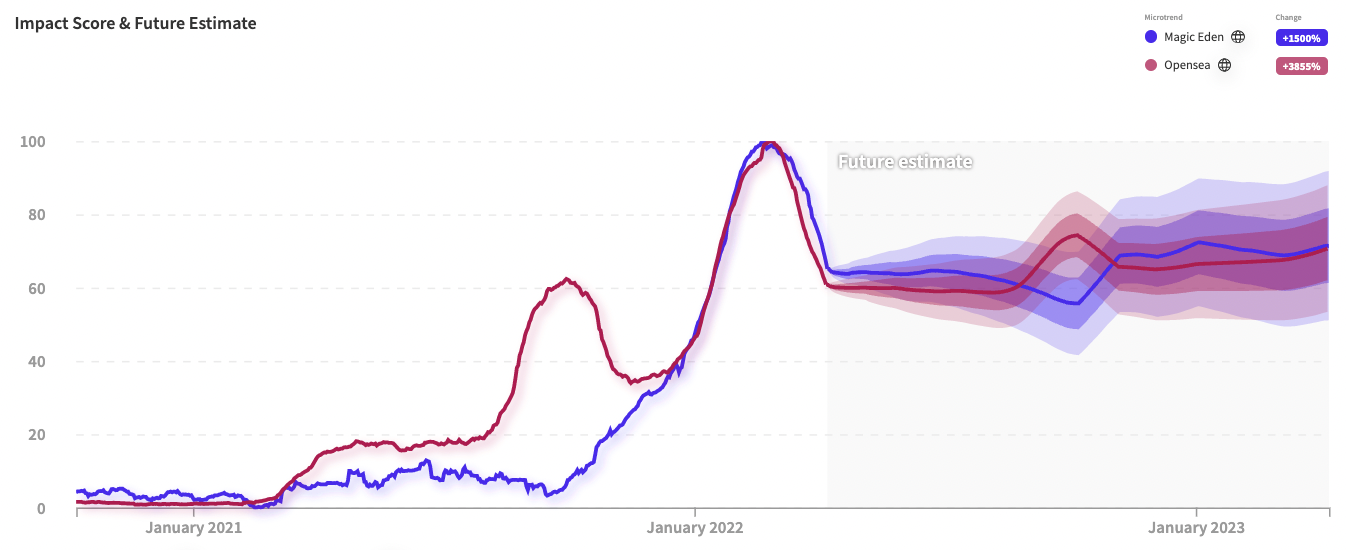 Not all are happy with the new integration; Magic Eden, another NFT exchange, is currently the dominant marketplace for Solana. So we may see users on Magic Eden shift over to OpenSea. However, the signals for both "Magic Eden" and "Open Sea" are relatively similar. The future estimate shows that both platforms will continue to perform in the coming year
II. Peloton is seizing the gamified fitness trend  

Peloton Lanebreak is Peloton's latest feature to catch onto the "gamified" fitness trend. Typically, Peloton riders do live or pre-recorded classes during their training session. Peloton Lanebreak moves away from the traditional class instructor model and provides riders with "a music & gaming-inspired fitness experience where riders have to match and sustain their resistance and cadence according to the cues on the touchscreen to get the highest score possible." The experience should make riders feel less like they are begrudgingly completing a workout and more like they are playing a video game. Peloton has been struggling, laying off 2,800 workers back in February, and has seen its stock plummet 72% in the past six months. Peloton hopes new features like Lanebreak will reengage users and attract new customers.
More broadly, the "Fitness Games" trend has seen steady growth since 2019 as more companies and apps entered the space. Some of them you probably use already. A few of the top players include Nintendo, with their Nintendo Switch, VR game Beat Saber, and mobile app Zombies, Run! In general, these fitness games can be less costly than a monthly gym membership or paying $40 for a single cycling class, and they're a lot more fun. So we don't think we're seeing the trend going away. Instead, we can anticipate more companies investing in the space
III. The EU and UK are looking to roll out new crypto regulations
This week the European Parliament unveiled a string of potential new rules on cryptocurrencies. One proposed measure requires crypto firms to obtain, hold, and submit all transaction data to regulators. This would mean crypto exchanges like Coinbase and Binance will need to share user transactions with regulators. The UK government has also unveiled a crypto regulatory proposal. One of the proposed regulations would require issuers of stablecoins (crypto tokens pegged to the price of government-backed currencies) to hold equal currency reserves. Additionally, The UK Royal Mint plans to create a "Royal Mint NFT." The impact score for EU crypto regulations has exploded this year, and the conversation is projected to grow through next year.
In December, we wrote about the top geopolitical trends we were monitoring in 2022, one of them being crypto regulations. As a result, we can expect to see more governments look into regulating the space, including in the US, where the SEC, this week, announced plans to roll out new crypto regulations.
IV. Get paid to play video games?
Want to earn money from video games? Well, now you can. If you're not familiar with play-to-earn (P2E) games, they pay users in cryptocurrency or NFTs when gamers beat challenges or other players. The P2E model incentivizes gaming studios by allowing them to take a fee from each transaction with tokens and NFTs. The signal for "Play to Earn Games" has exploded in recent months, growing 786% in the past year.
The rise of the P2E space has attracted several high-profile investments, including Andreessen Horowitz (a16z), which led the seed round for a new P2E gaming startup Battlebound. The impact score for Battlebound has exploded in the last two months. Another popular platform is Gala Games which has ten P2E games available to play on its platform. The most popular P2E game is Axie Infinity. Axie Infinity allows players to collect creatures called Axies as virtual pets to battle other players and build kingdoms. However in the past week, Axie Infinity was hacked, resulting in players losing a total of $625 million to hackers. Axie Infinity has already raised $150M to help reimburse users who lost funds due to the hack. NWO.ai's impact score shows continued momentum for the companies, and we can expect more startups to enter the space.
V. A look back at Shein
Four weeks ago, we wrote about the exponential growth in popularity of fast fashion company Shein. This week, Bloomberg has reported that they are looking to raise $1 billion at an astonishing valuation of $100 billion. The Chinese brand already has several big-name investors, including Tiger Global, IDG, and Sequoia. As we wrote back a month ago, "Shein gained popularity by appealing to "Gen Z" consumers through Instagram and TikTok influencers. As a result, they have established themselves as a major player in the fast fashion space."
Interestingly, leading up to the announcement of the funding round, the NWO.ai signal for "Shein" had several inflection points, indicating a rapid increase in consumer interest in the brand. We still project that Shein will continue to grow in popularity in the coming months, and a new round of investment may help them dominate the market.
---
Thanks for reading this week's pulse! As always, have a great weekend (maybe hop into a Battlebound match?), and see you all next week.  
---
About NWO.ai
NWO.ai's predictive platform enables leading Fortune 500 companies and government agencies to anticipate and track global cultural shifts by aggregating, analyzing, and producing actionable reports on human-generated data. We are leveraging petabytes of external, noisy, and unstructured data from various sources –including search, social media, blogs, news, patent databases, SEC filings and we are continuously adding more sources. Our mission is to answer the what, when, and most importantly, 'why' behind a consumer trend and enable our customers to detect these shifts as early as possible.
P.S.  We're hiring! Check out our open positions and let us know if you'd be a good fit for our team. We're growing quickly and adding several engineering, sales and customer success roles to help us decode the anatomy of next.
Thank you for reading. If you liked the piece, please help us spread the word and invite your friends to sign up here.