Edited by Christian Thompson and Julia Myers
Hello Readers, and welcome to this edition of the Weekly Pulse. We are excited to bring you an inflection point covering all things footwear. We got your back on the latest trends in the footwear industry, so you're ready to stand out this summer!

I. A Collab for the Future: Adidas x Allbirds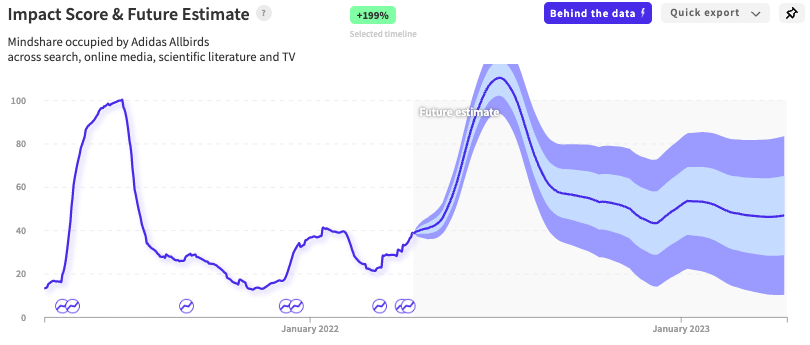 Last year, Adidas and Allbirds announced a partnership to create a sustainable running shoe that would weigh less than 3 kgs reducing the carbon footprint. They accomplished this goal and released the FUTURECRAFT.FOOTPRINT model, and it sold out. But more recently, the two brands announced that the shoe would be offered at a greater scale with more pairs available. The model will have a new name, ADIZERO x ALLBIRDS 2.94 KG C02E, and 4 new colorways for customers to choose from.
Taking after its name, the ADIZERO x ALLBIRDS 2.94 KG C02E has a carbon footprint of just 2.94 kg C02e and is manufactured using 63% less emissions than a comparable running shoe. This new release showcases a new approach to designing and manufacturing shoes and how sustainable projects can yield great innovations. The conversation surrounding Adidas and Allbirds has been growing, with the impact score increasing by 199% over the past year. The future estimate predicts continued rapid growth for the Adidas and Allbirds signal, illustrating that consumer sentiment may continue to rise throughout summer.
II. From Dad to Rad: The Rise of New Balance
When people hear New Balance, they often associate the sneaker brand with a Dad mowing his lawn. However, New Balance has rapidly increased in popularity in recent years and is shedding the "Dad Shoe" stigma. Over the past two years, the impact score for New Balance Sneakers has exploded, increasing by 5327%. So what has driven this growth?
New Balance has stepped its game up by collaborating with some of the most influential streetwear brands, such as Aime Leon Dore, Bodega, and Kith. These collaborations have driven the brand's popularity and helped the 116-year-old American giant re-establish itself as a major player in the sneaker game. The future estimate predicts continued growth for the sneaker company, thus making a pair of New Balance sneakers a nice addition to anyone's closet this summer.
III. Hyper-Functional Sneakers: Salomon's Influence on Fashion
Outdoors fashion has been a recent trend taking the fashion world by storm. Over the past year, we have seen streetwear and high fashion companies implementing outdoor fashion styles into their product lines.  A staple in these outdoor fashion trends has been hyper-functional footwear, and no brand does this better than Salomon.
Salomon is a French outdoor brand founded to provide high-quality products to customers looking to scale mountains. Today, the brand focuses on hyper-functional footwear that some of the most influential streetwear and high fashion brands have featured. The brand has collaborated with Carhartt WIP, and COMME des GARÇONS has used the shoes in their fashion shows. Over the past two years, the impact score for Salomon Sneakers has steadily increased by 678%, reaching a peak in January 2022. The recent rise of Salomon in certain fashion circles has allowed the brand to break out of just being an outdoor brand and has solidified Salomon as the premier functional footwear brand.
IV. A Modern Classic: The Nike Dunk
In recent years, the Nike Dunk has become one of the most popular silhouettes in the sneaker world, and today we will use our platform to explain why. Over the past two years, the impact score for Nike Dunks has increased by 257% at a steady rate. Consumer interest has been growing around the Dunk even though the shoe debuted in 1985. In an Esquire article, Finlay Renwick says that Nike built a shoe that worked across so many different colorways, laying the foundation for the modern collaboration almost 40 years after the initial release.
The rise of the Dunks has been built upon colorway flexibility and collaboration with highly reputable brands such as Ben and Jerry's, Off White, and more. The Dunk has become so popular that one of the leading fine art brokers, Sotheby's, has begun buying rare pairs of Dunks. The hype surrounding the dunk has evolved certain colorways of the sneaker to fine art. We looked at upcoming Dunk releases and compared them using their absolute impact score to see which one is generating the most buzz, and it seems the Nike Dunk Low "Ocean" might have the most hype around its release.

V. Summer Staples: Sandals
As the weather gets warmer and summer looms upon us, we thought it would be fitting to see what sandals are generating the most buzz this summer. We looked at some of the most popular sandal brands, including Suicoke, Birkenstock, and Rainbow Sandals. Suicoke leads the pack, with Birkenstock and Rainbow Sandals following closely. The future estimate for all the brands is increasing into the summer months in congruence with the seasonality of sandals. The question now is which style of sandals do you choose?
Over the past three months, the impact score for Platform Sandals has increased by 694%. The future estimate predicts continued growth throughout the summer and forecasts that the peak will happen in August 2022. Kendall Jenner seems to be a fan of the platform sandal, being spotted wearing the style as summer approaches. Be on the lookout for platform sandals this summer as we foresee increased popularity with this style.
---
We hope you enjoyed and learned a thing or two from this week's pulse. Tune in next week for more trends, and have a great weekend!

Cheers
---

About NWO.ai
NWO.ai's predictive platform enables leading Fortune 500 companies and government agencies to anticipate and track global cultural shifts by aggregating, analyzing, and producing actionable reports on human-generated data. We are leveraging petabytes of external, noisy, and unstructured data from various sources –including search, social media, blogs, news, patent databases, SEC filings and we are continuously adding more sources. Our mission is to answer the what, when, and most importantly, 'why' behind a consumer trend and enable our customers to detect these shifts as early as possible.
P.S.  We're hiring! Check out our open positions and let us know if you'd be a good fit for our team. We're growing quickly and adding several engineering, sales and customer success roles to help us decode the anatomy of next.
Thank you for reading. If you liked the piece, please help us spread the word and invite your friends to sign up here.