Hello Forecasters,
Welcome back to the Inflection Point. The newsletter tracking 100 million consumer signals to predict cultural shifts relevant to you.
This week we're covering the 133.3 M viewed hashtag 'WaterTok'
TLDR;
WaterTok is a TikTok trend where people share recipes for flavored water. Yes, water!
Despite 'no-sugar,' 'no-calorie' packets and syrups, health experts warn against artificial ingredients.
On-the-go water packets are on the rise. Brands offering multifunctional and natural ingredient packets stand to gain.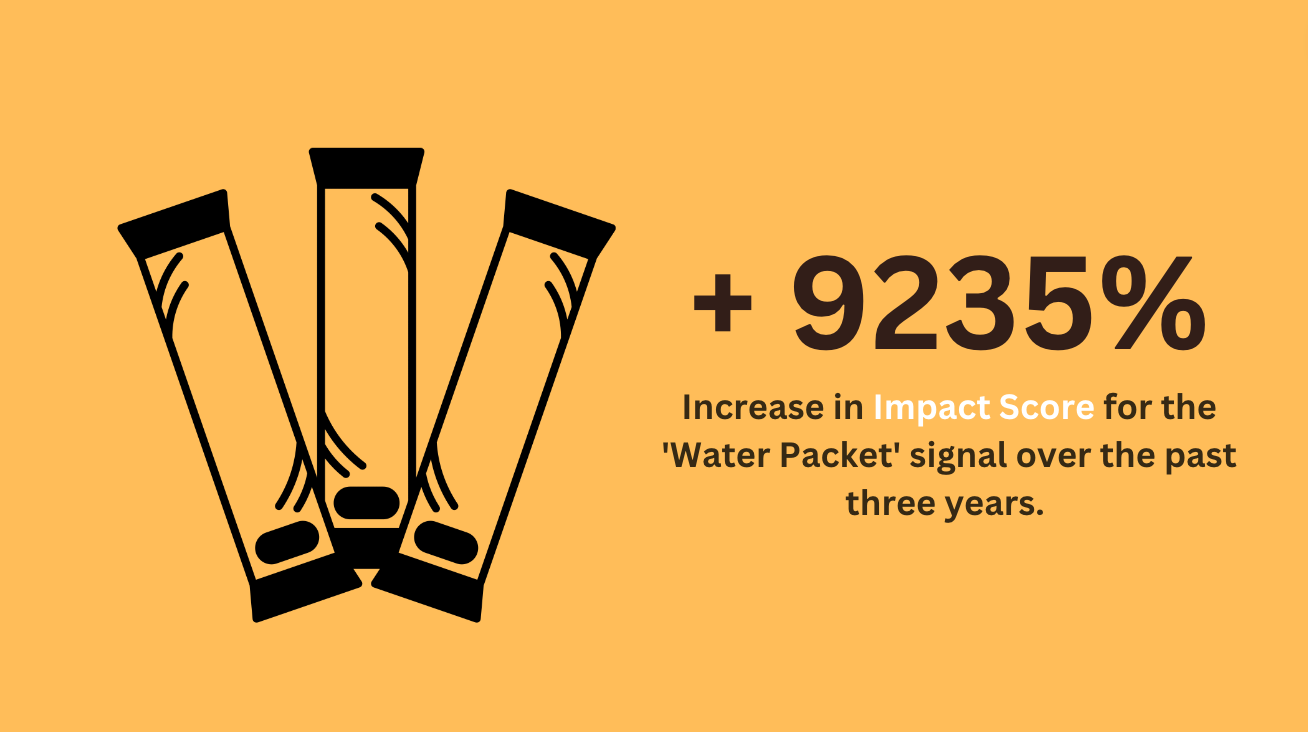 What's behind the 'WaterTok' trend?
Good old hydration.
It's no surprise that hydration continues to be a growing topic. Skin health, proper cognitive functioning, hair, and immunity all link to adequate hydration.
Problem is most of us need help to drink enough water.
What is 'WaterTok'?
WaterTok is all about making hydration 'fun' with flavors and syrups. 'Water enthusiasts' say that without these recipes, they simply wouldn't drink enough water.
The trend promotes itself as:
• A healthy alternative to juice and soda.
• A potential zero-sugar/calorie drink option.
• A fun activity that combines flavors and recipes.
Who can benefit from 'WaterTok'?
Skittles, Sunkist, and Welches, are among the top powder favorites, but one syrup dominates the market.
"We can't keep them in stock," says Jordan Engelhardt, founder of Jordan's Skinny Mix."We can't keep them at retail. We can't keep them on our website. So, it's been obviously wonderful for our company."
What began as a cocktail mix company has expanded into the leading beverage syrup brand. Skinny Mixes owes its popularity to two things, variety and "guilt-free" marketing. With over 100 different flavors and a custom flavor quiz, the 4oz bottles offer a 'skinny' alternative to popular drinks. Customers can mix and match bundles with pre-made cocktail mixes and other syrups for coffee, smoothies, and water. All with no sugar, carbs, or calories.
The below comparison shows the sudden rise in popularity of the Skinny Mixes brand with the virality of the 'WaterTok' trend.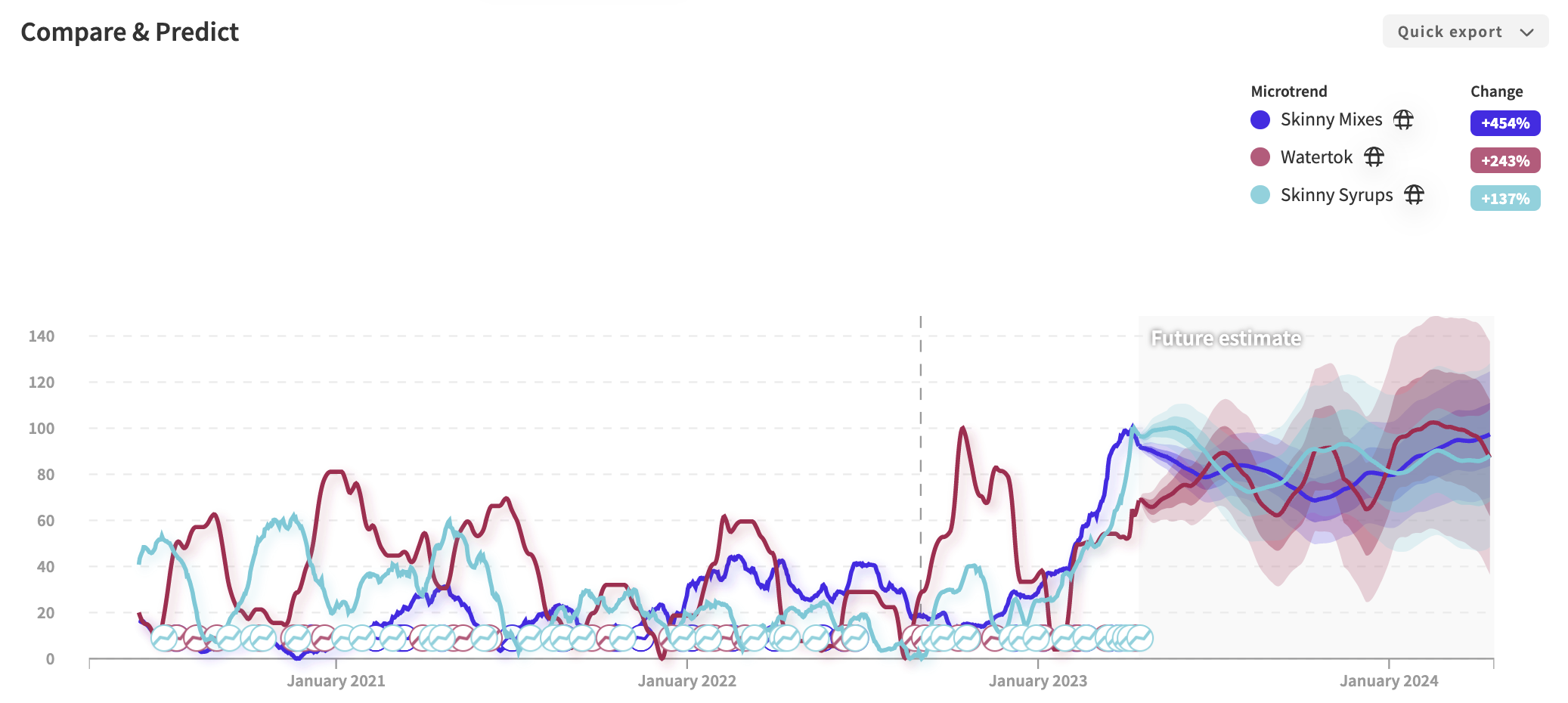 So why are health experts concerned about 'WaterTok'?
Nutritionist and founder of Nourishmiss, Michelle Blum, says:
Syrups marketing zero-sugar, zero-calorie products use controversial artificial flavors and food dyes.
Aspartame, Sucralose, and Saccharin sweeteners have been linked to significant health problems.
Experts warn about increased risks for cardiovascular disease and early-onset diabetes. Especially when people believe their beverages are 'healthy.'
Dr. Abdul Matin Azizi, principal dentist at Harley Private Dental, points out that:
Food dyes stain teeth over time.
Citric acid erodes tooth enamel leading to decay.
Additives and artificial sweeteners feed bacteria in the mouth and can lead to harmful acids attacking teeth.
Consumers are becoming more aware of toxic ingredients in their food and drinks.

Growing awareness has resulted in increased social conversations voicing concern.
While the signal for Aspartame has increased over the past three years, with an impact score of +391%, the rise in conversation is not for good reason. Using the NWO.ai tone analysis, we can see that the consumer sentiment is entirely negative.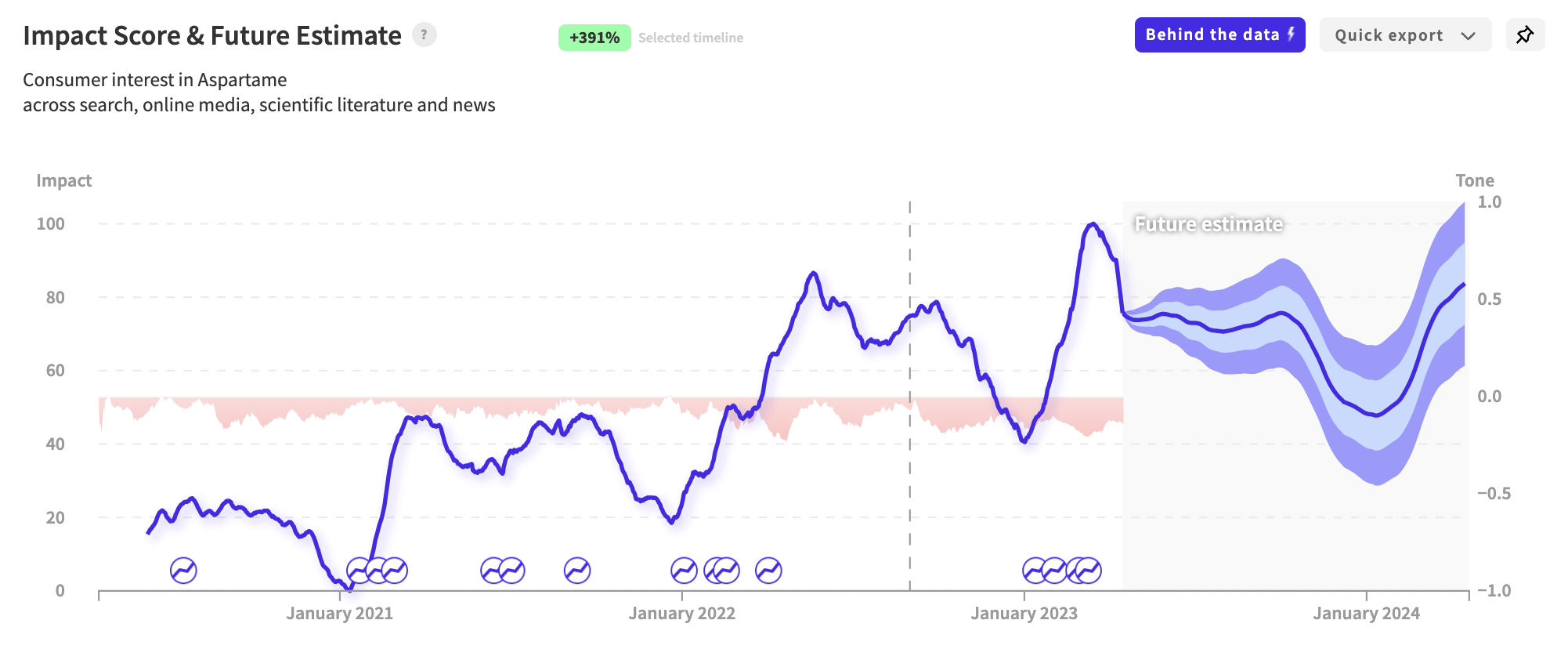 Our social snippets offer a holistic overview of the conversation. One rooted in caution and avoidance.


Where is the trend moving?

'WaterTok' is having its moment and is forecast to grow over the following year. The question becomes, 'what's next'?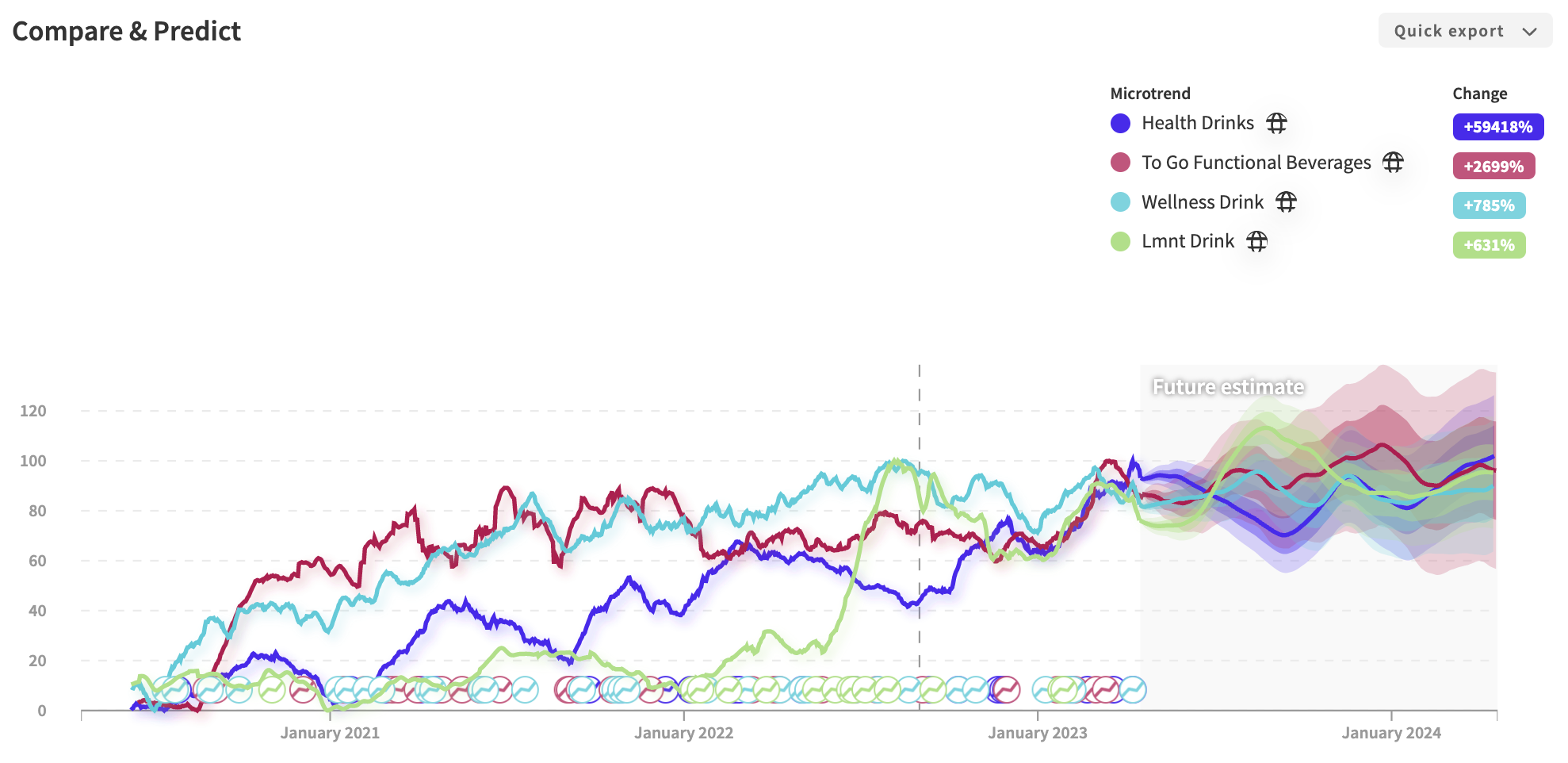 Despite the result, 'WaterTok' was born out of a desire to be healthier. Convenient water packets and a multitude of tasty flavors have given rise to the TikTok trend. With so much of the "WaterTok' conversation focused on the adverse health effects, how can brands satisfy consumer interest while resolving health concerns?

Consumer insights point to a demand for:
• On-the-go wellness-focused water packets.
• Naturally derived flavors (and lots of them).
• Multi-functional powders, like flavored electrolytes, caffeine, or collagen recipes.

Companies that are already serving the wellness water packet market are LMNT and Greenlight.
The Takeaway:
Much of the popularity of the 'WaterTok' trend is rooted in its health controversy. Our data points to a growing awareness and vocalization of harmful ingredients. Consumers continue to desire convenience, variety, and functionality but actively seek healthy alternatives.

Brands offering multifunctional, on-the-go, natural ingredient water packets stand to gain long-term from the 'WaterTok trend.
That's all we got for now.
Thanks for spending time with us on this week's Inflection Point.
Found this interesting? Subscribe below or send us a note. We'd love to hear from you!