Dear reader,
Welcome to this week's bite-sized summary of 5 inflection points shaping today's world:
Does Nutri-Score do more harm than good?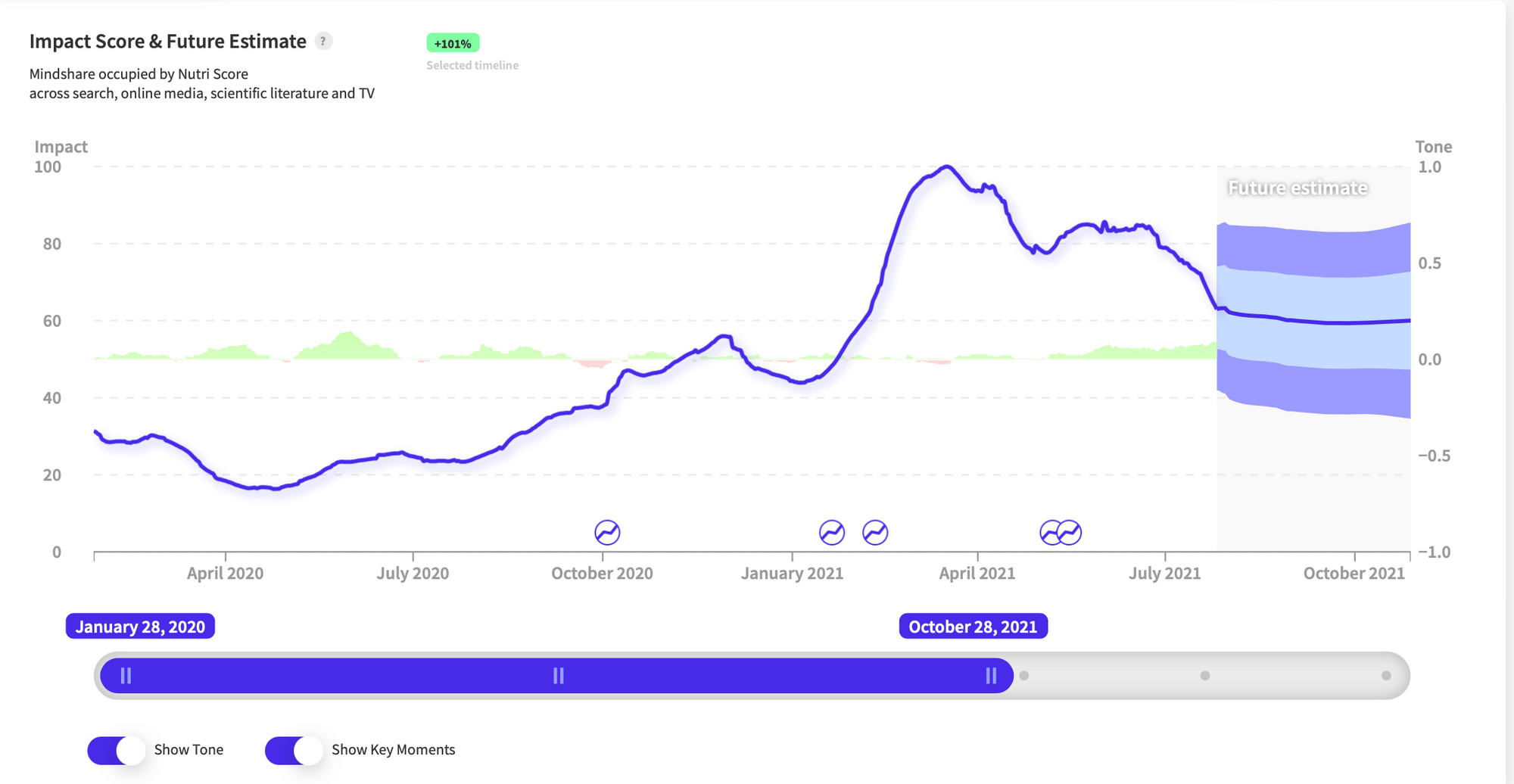 Developed in France to help consumers make healthier food choices, Nutri Score is a pan-European nutritional labeling scheme gradually rolled out in 7 European countries since 2019. However, Nutri Score has come under fire for oversimplifying the nutritional quality of food products with its traffic light scaling system and greenwashing processed food from some of the corporate giants. nwo.ai  registered a spike in interest around the Nutri-Score earlier this year as the controversy around it continues especially in Spain and Italy, both Mediterranean countries which find that Nutri Score red flags agricultural heritage food products like olive oil, cured meats, and cheese. However, with distrust surrounding Nutri Score, it's losing steam as Italy prefers its own nutritional labeling system NutrInform, and consumers may prefer making their own judgments about the nutritional content of the food they consume.
---
2.  Plant-based jerky and supplements
Most of the world went into lockdown in April last year, and consumers started turning to convenient, protein-dense, and non-perishable products like jerky. NOBLE Jerky - a former beef jerky company that went vegan in 2018 after 50 years in the meat industry - saw a 70% increase in revenue amid the pandemic. According to a Grand View Research report, jerky is trending among millennial consumers as they "prefer snacks that are less processed, made with natural ingredients, and are available in different flavors". Even though meat jerky still dominates the global jerky snacks market share valued at $3.9 billion in 2019, plant-based jerky will get a fair slice of the pie especially with veganism on the rise. While the chatter around plant jerky has been fluctuating over the past year, nwo's impact score forecast suggests an upward trend around the product in October.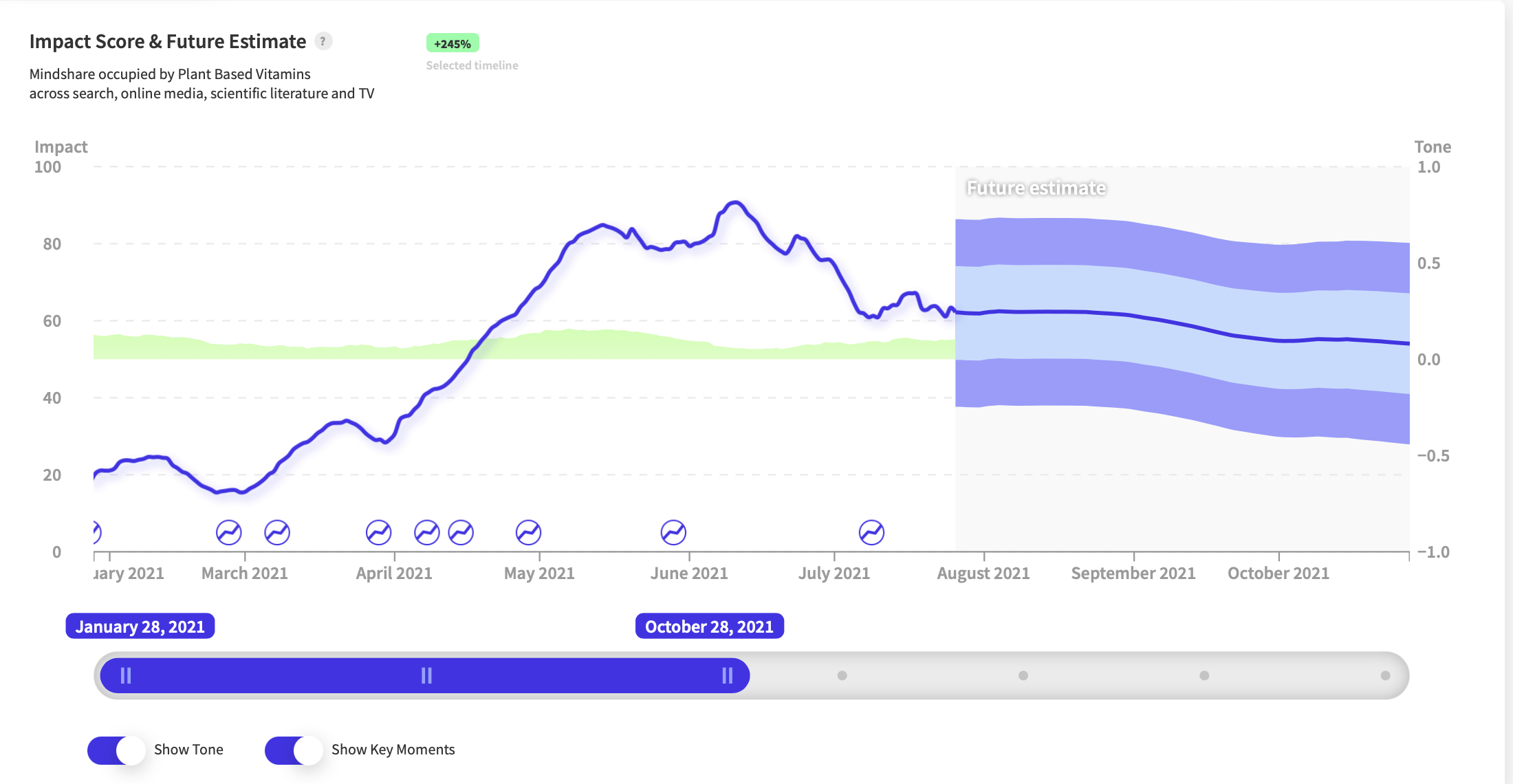 No matter how healthy a plant-based diet is purported to be, vegans and vegetarians aren't able to receive important nutrients like iron, B12, and protein from their daily diet, therefore, supplements containing these nutrients are necessary for the optimal health of those on a meatless diet. As consumers become increasingly interested in plant-based nutrition during the pandemic, plant-based supplements saw a massive spike in interest over the last three months, but are now facing a slight decline. With the economic reopening in the summer, people are perhaps sliding back into old habits and putting their health on the backburner.
---
3. Ashwagandha: The multipurpose adaptogen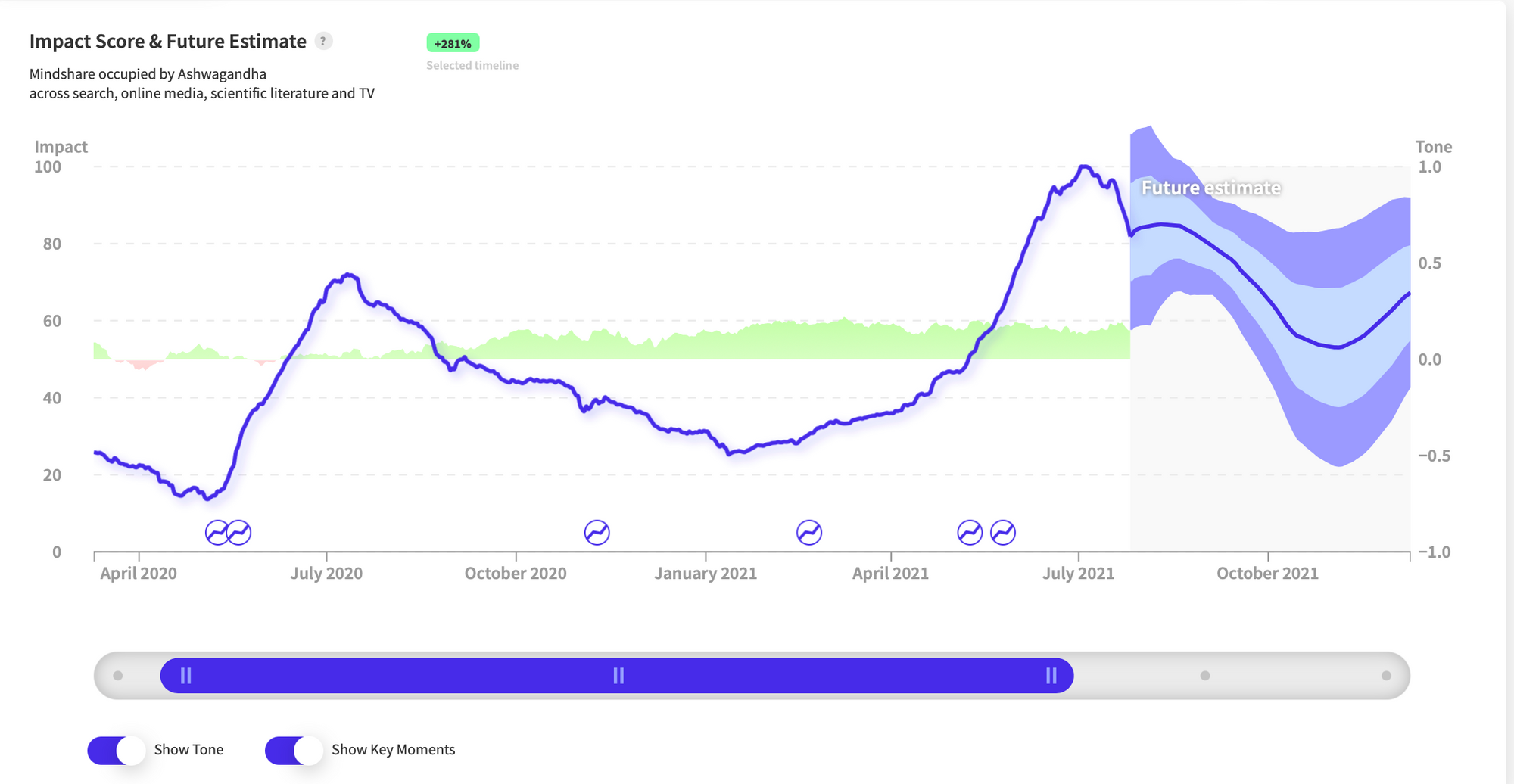 With pandemic-induced stress, anxiety, and sleeplessness on the rise, Ashwagandha began trending among consumers seeking out adaptogens that reduce anxiety and stress, help fight depression, as well as boost sexual health and brain function. Though Ashwagandha entered America's mainstream consciousness after Gwyneth Paltrow mentioned it on SNL in March 2019, nwo.ai signaled a spike in interest around the ancient ayurvedic herb last July, which then declined during the colder seasons. When taken with raw sugar, Ashwagandha produces a cooling effect in the body and helps reduce fatigue caused by the summer heat, which explains its Impact Score of 100 around the beginning of this summer's heatwave and its current downward trend with an expected low point in October before it rebounds.
---
4. Does anyone care about phytonutrients?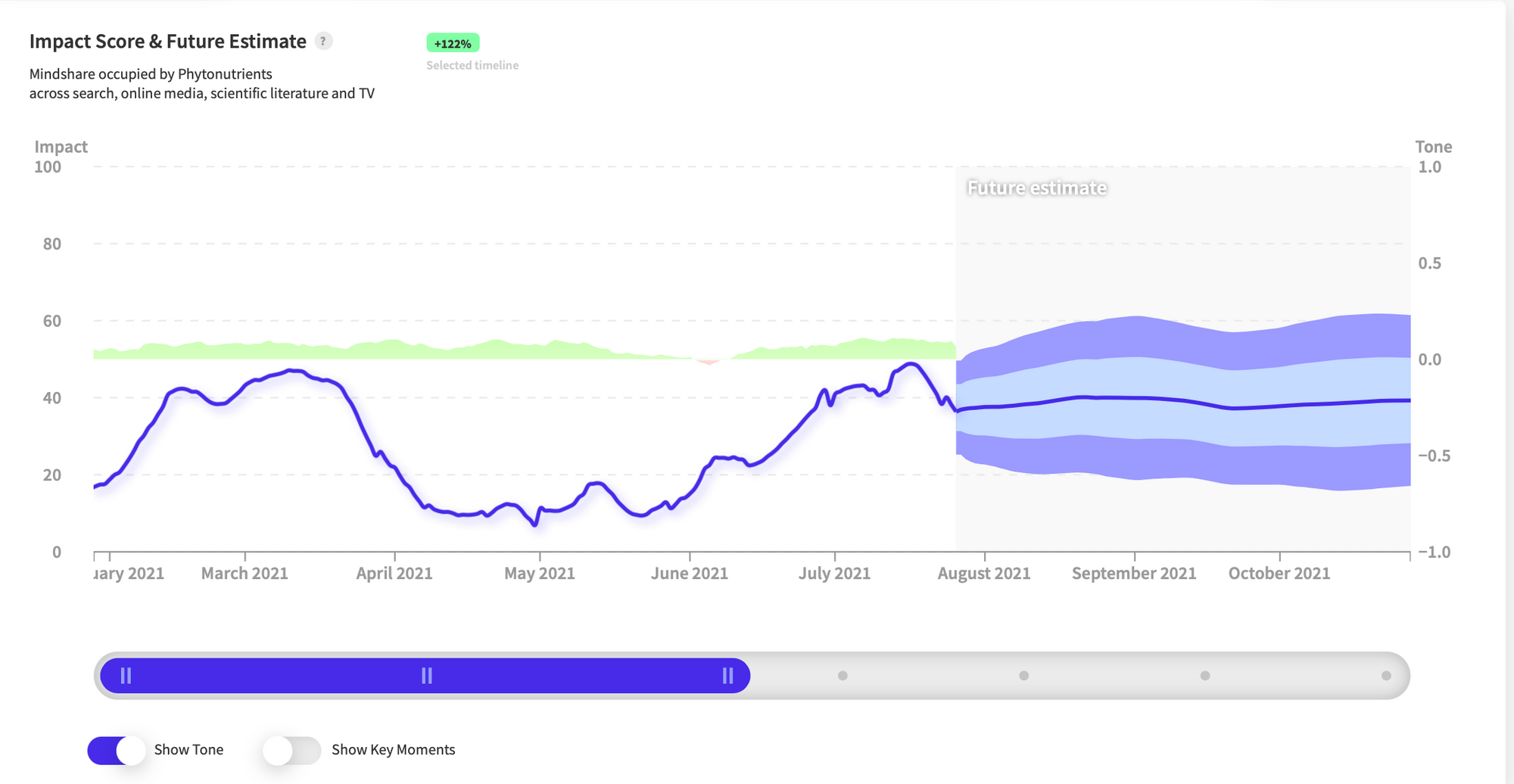 Phytonutrients are natural compounds with antioxidant and anti-inflammatory properties found in fruits, vegetables, whole grains, and legumes. With increased consumption of immune-boosting food during the pandemic, interest in phytonutrients saw a moderate spike at the beginning of this year that subsequently declined. However, chatter around the topic picked up again in July, and interest is expected to sustain in the coming months as consumers are hoping to undo the effects of a hedonistic summer with a diet rich in phytonutrients. Apart from food, the need for phytonutrients in the pharmaceutical, cosmetics, and feed industries is likely to drive the growth of the global phytonutrients market, which is expected to reach $6.5 billion by 2028

5. The vegan ice cream flavor of this summer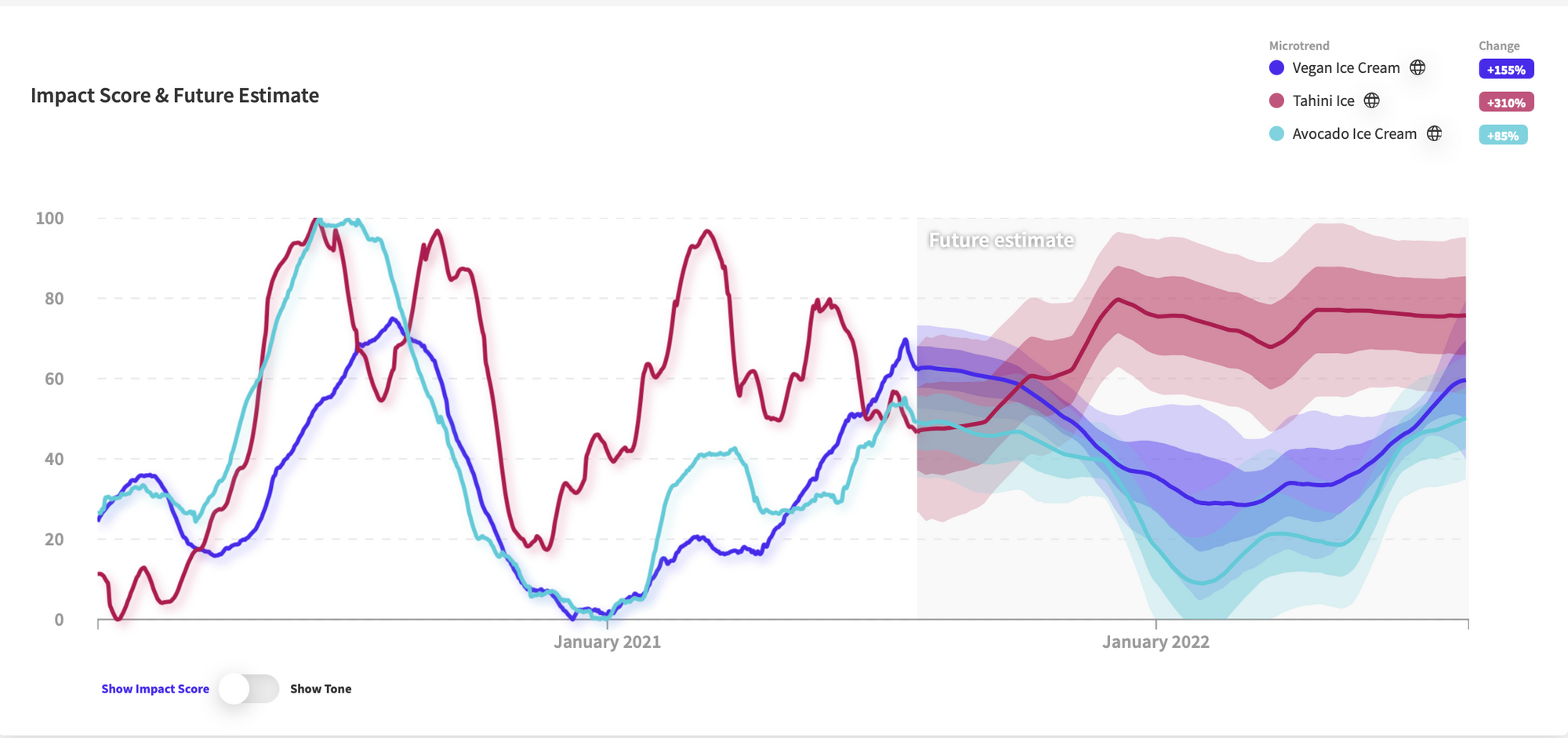 An increasing number of plant-based ice cream options have been hitting supermarket freezers in recent years. Currently, Tahini ice cream takes the crown for this summer's favorite flavor thanks to the creamy consistency, dairy-like properties, and nutty taste of the Levantine sesame seed paste that makes a great base for vegan ice cream. nwo's signal has indicated a 344% growth in interest surrounding Tahini ice cream since 2019 and the forecast suggests a sustained interest even as we head into one of the coldest months of next year—January 2022. Once a crowd favorite, avocado ice cream is slightly running behind tahini ice cream as consumers want a taste of this summer's hottest vegan ice cream trend.
About nwo.ai
nwo.ai's predictive platform enables leading Fortune 500 companies and government agencies to anticipate and track global cultural shifts by aggregating, analyzing, and producing actionable reports on human-generated data. We are leveraging petabytes of external, noisy, and unstructured data from various sources - including search, social media, blogs, news, patent databases, SEC filings and we are continuously adding more sources. Our mission is to answer the what, when, and most importantly 'why' behind a consumer trend and enable our customers to detect these shifts as early as possible.
Thank you for reading. Please invite your friends to sign up here.