Hello Forecasters,
Welcome back to the Inflection Point. The newsletter tracking 100 million consumer signals to predict cultural shifts relevant to you.
This week we're covering 'AI-Beauty Tools'
TLDR;
Google just rolled out its AI-Skin Diagnostics feature – shady moles, beware!

NARS is offering an AI-Beauty Tool and reports a 300% boost in conversion rate and a 10% increase in average order size.

Med Spas are using AI simulators to help customers see themselves with Botox and lip fillers.

Virtual Try-On technology is the unsung hero of sustainable fashion.

So is beauty really in the (AI) of the beholder?  
Let's find out.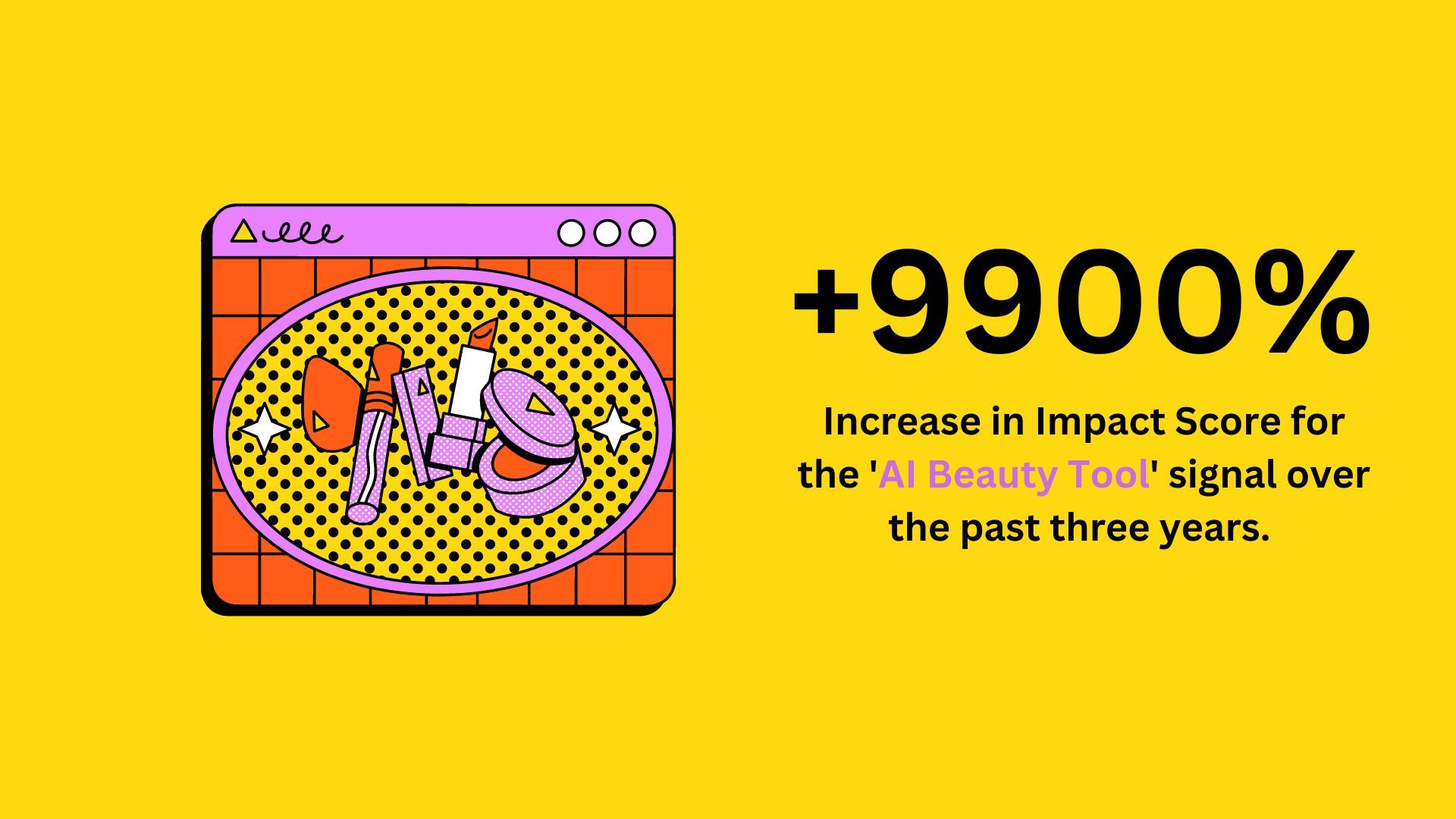 AI skin diagnostics and virtual try-on are revolutionizing the face of personal care – making way for new sustainable practices and a sea of consumer behavioral change.

Last month Google added a skin diagnostic feature to its Lens capabilities.
Spokesperson Craig Ewer said the company worked with several dermatologists and skin experts to design the skin conditions identification feature within the Google app.
Users can understand whether a skin concern merits a doctor's visit within seconds.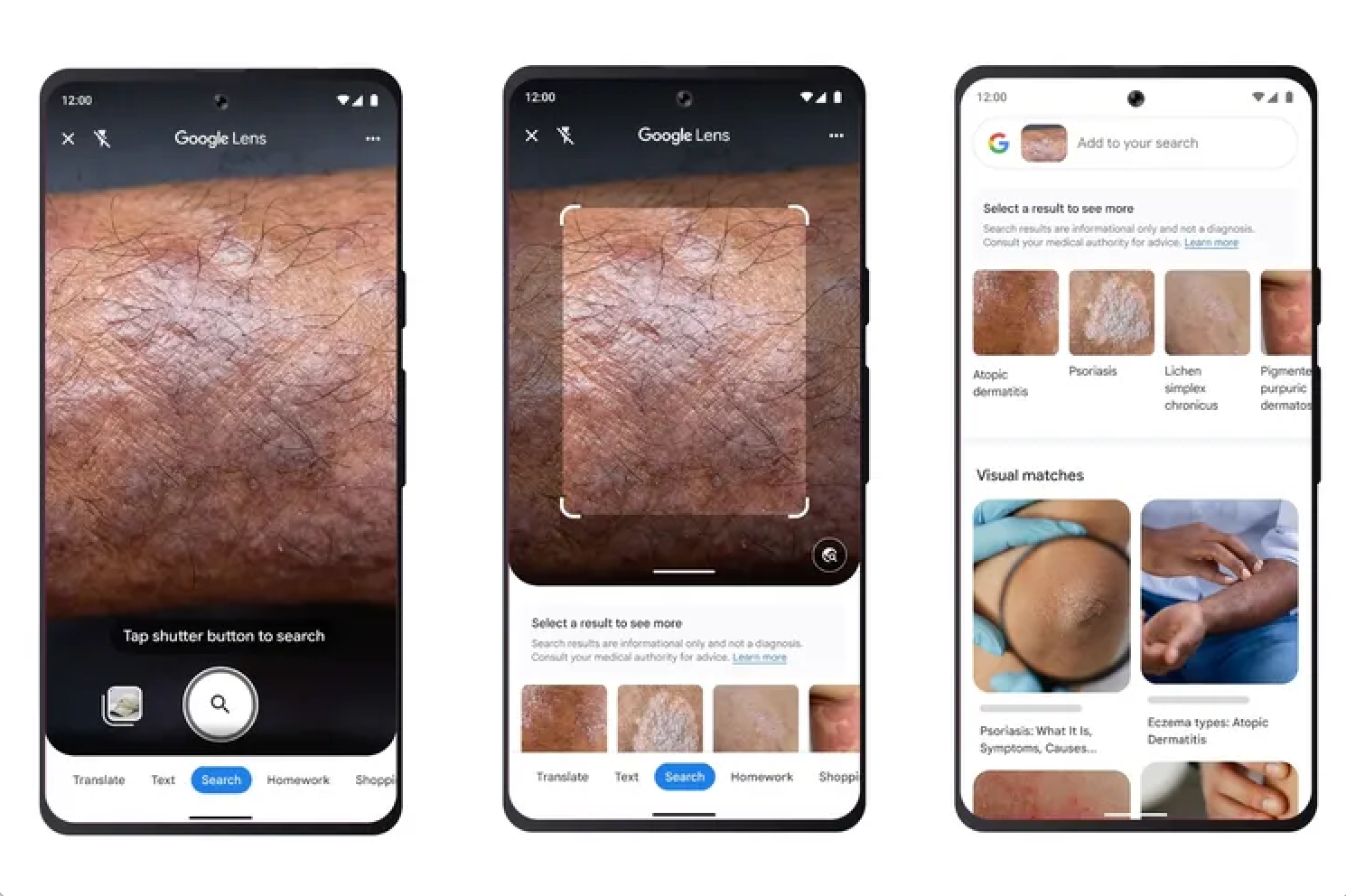 With 30 million Americans still uninsured, these free diagnostic tools come with immense value, especially when nearly 8,000 Americans die from Melanoma each year, just 1% of all skin cancers.
The NWO.ai signal for 'AI Skin Diagnostics Health Tools' forecast growth for the coming year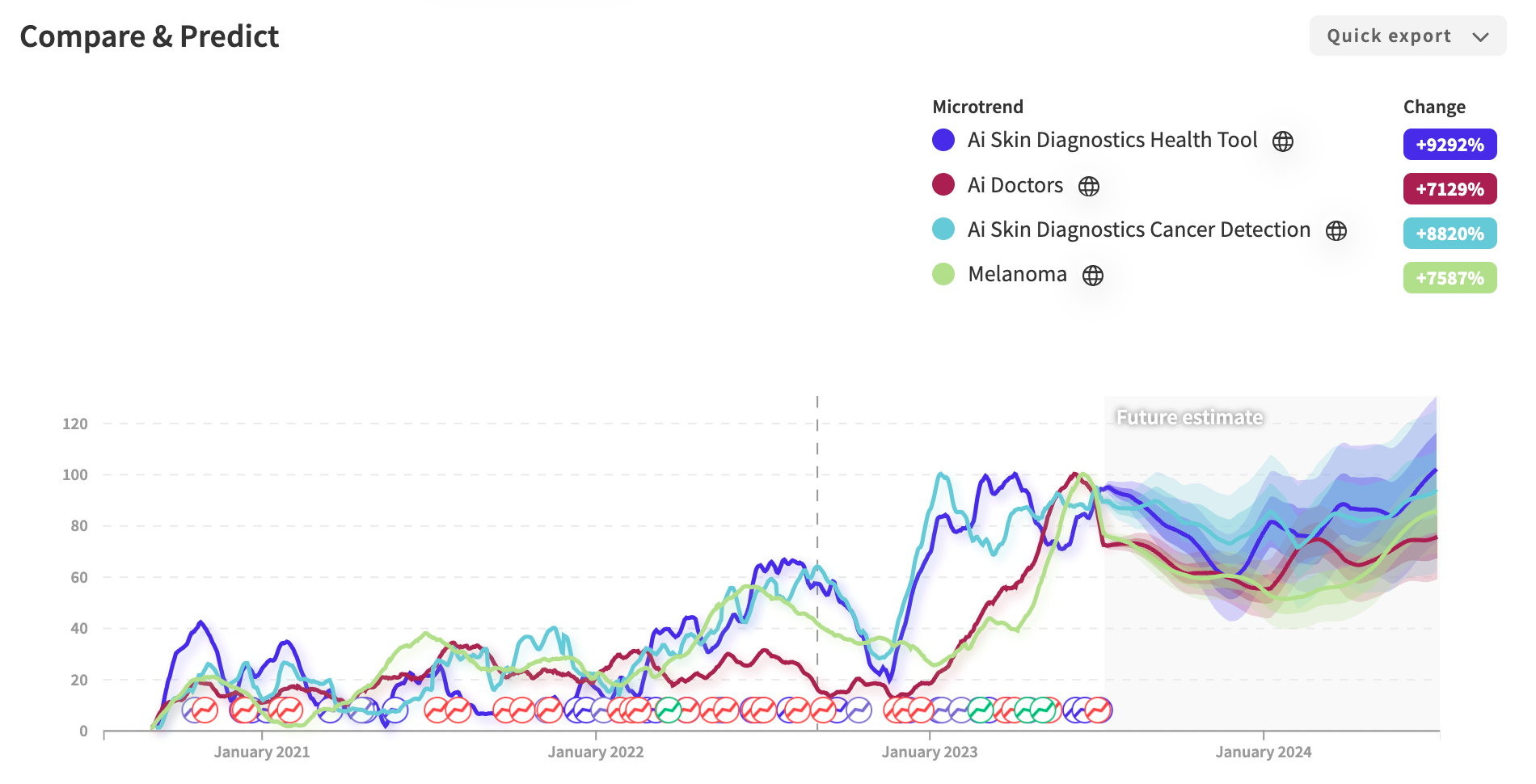 AI is moving past medical identification and into medical aesthetics

If you find yourself in Flatiron, NYC, you may walk past a big sign that says, "Try our AI Makeover Simulator." Underneath the giant QR code reads "Preview Your Botox & Filler Look."
AI is taking the 'wonder' out of the consumer experience, but not like you think.
Ever wonder what you might look like with hair implants, lip injections, or a Brazilian butt lift? Wonder no more. Med Spas like Beauty Fix can better sell pricey procedures using AI simulators that help generate a 'hotter' you.
And while these cosmetic procedures may not be for everyone, AI-Beauty Tools encompass a broad range of practical applications.
Big brands like Gucci, Estée Lauder, and Warby Park are using AI to create new customer experiences

Third parties are behind the tech. The biggest player? Taiwanese company Perfect Corporation.
Perfect Corp has two primary services: (1) skincare analysis and (2) makeup try-on.

NWO.ai tried the Perfect product at the Sustainable Cosmetics Conference. In collaboration with Estée Lauder, Perfect explained that it had helped the iconic brand achieve "a double-digit boost in sales."
And it's no wonder why.
AI-induced beauty insecurities are driving product sales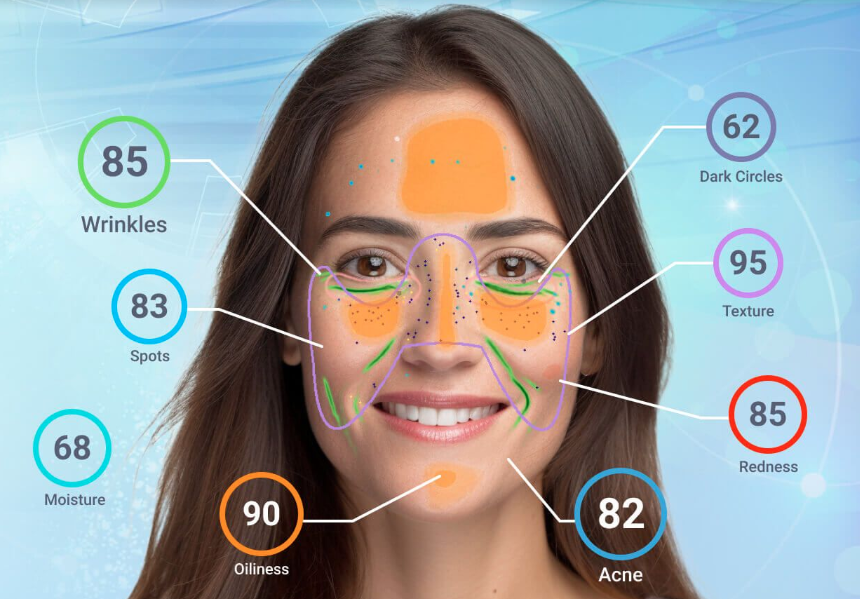 The Perfect, well-lit mirror and camera scanner produce a close-up 360-degree photo of your face. Within seconds you're scored in multiple skin-related areas, such as wrinkles, dark circles, and acne.
Once you see your results, the screen will recommend products that you can buy to help your "issues."
It's pretty convincing.
Virtual Makeup Try-On

This AI-Beauty Tool gained real momentum during COVID and has proved to be an effective tool for consumers to explore products easily.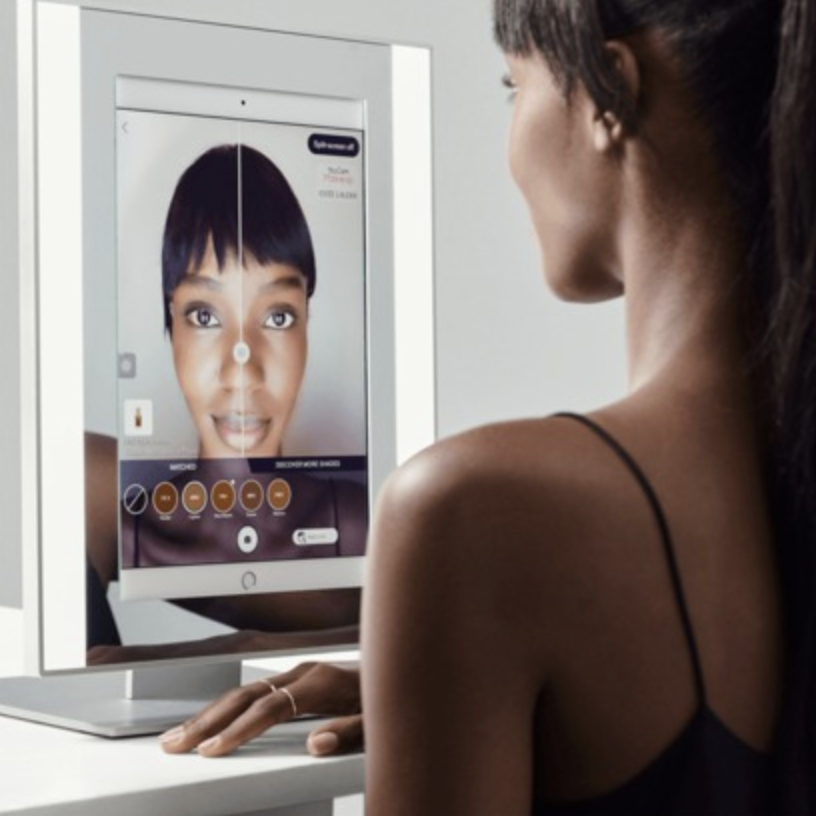 Estée Lauder says it saw a 2X higher conversion rate when using Perfect Corp's Virtual Lip try-on.

NARS Cosmetics saw a 300% boost in conversation rate (compared to typical online sales) when using virtual try-on, with a 10% increase in average order size overall.

Perfect Corp reports that, on average, a user will try on 27 different makeup colors. The increased potential for platform engagement has gotten the attention of companies like META, which partnered with the tech firm last year.
The NWO.ai signals for 'AI Makeup' and 'AI Skincare' are forecast to maintain high consumer interest over the following year.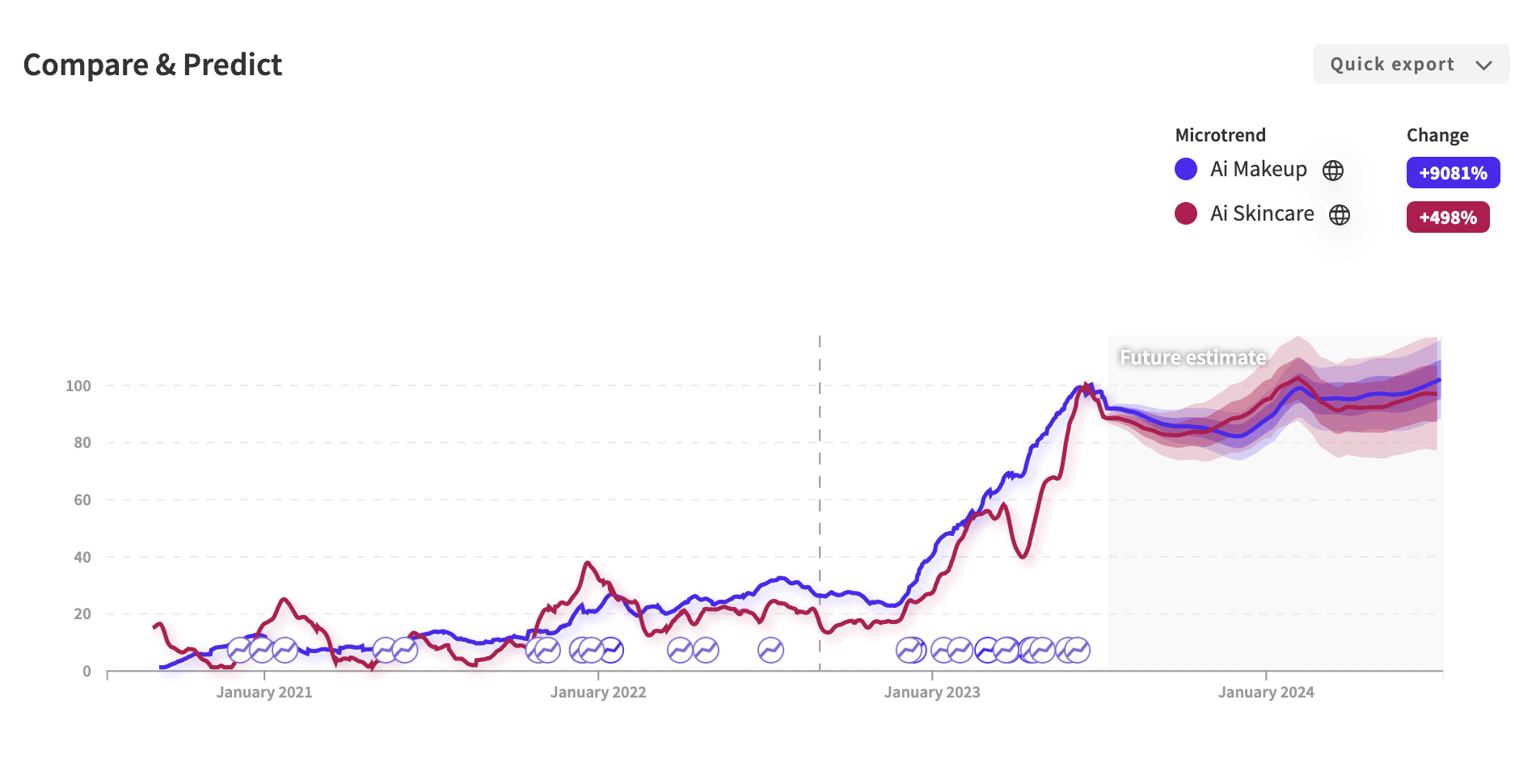 Brands are driving social commerce success with VTO (Virtual Try-On)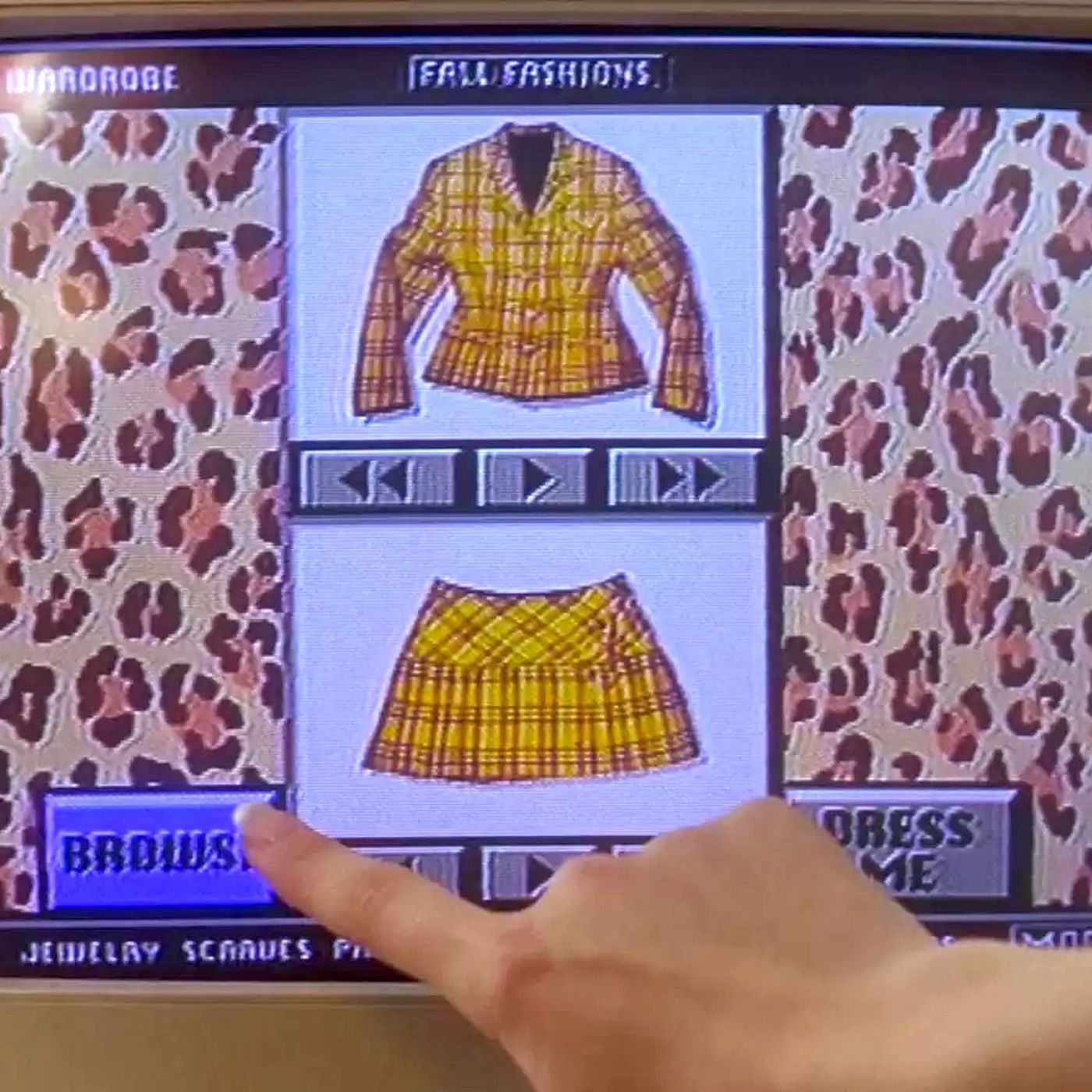 Who knew that the 1995 cult classic Clueless was actually predicting the future?
In addition to makeup, fashion brands like Dior, Louis Vuitton, and Prada offer virtual try-on through Snapchat and other third parties.
According to Snapchat

60% of consumers are more encouraged to buy from brands that offer VTO (virtual try-on)
66% of customers who use VTO are less likely to return their purchase

VTO creates a massive sustainable impact by decreasing transport emissions from returns

Increased sales, less emissions, and more customer exploration? Yes, please!

As AI-Beauty Tools and VTO continues to rise, class-action lawsuits around data privacy are following

In October 2022, Snapchat settled a class action lawsuit for $35 million for its VTO use. Brands are advised to treat biometric data (data from personal photos) as carefully as customer financial information.

The Takeaway:

Brands are seeing increased platform engagement, conversion rates, and sales when offering AI-Beauty Tools. This new era of customer experience is centered on creative exploration and minimizing excess shipment emissions.

As the largest working and spending class, Gen Z and Millenials will continue to spend with brands innovating their shopping experience and facilitating easier ways to visualize and actualize their best selves.

That's all we've got for now.

Thanks for spending time with us on this week's Inflection Point.
Found this interesting? Send us a note; we'd love to hear from you!