Disclosure: A significant percentage of my portfolio is held in Bitcoin, and I plan to continue holding bitcoin in the long term. I wrote this article myself, and it expresses my own opinions. The Content is for informational purposes only, you should not construe any such information or other material as legal, tax, investment, financial, or other advice.
As I write this newsletter, I'm watching the most notorious, volatile, and speculative asset in the world, Bitcoin inch closer to the $12,000 mark on my trading screen. Simultaneously, I'm chuckling at my Twitter feed where I've just come across a clip of the Winklevoss Twins visiting Barstool Sports' Dave Portnoy to teach him how to buy Bitcoin. Earlier this week, Microstrategy, a publicly listed business intelligence firm announced the purchase of $250M worth of the cryptocurrency, making it their reserve asset. All these data points are screaming only one thing - Bitcoin is finally going mainstream! The narrative of Bitcoin has undergone staccato-like bursts over 12 years of its existence- from a rebel technology set to upend the financial system to a groundbreaking payments network. Bitcoin is fundamentally different - unlike central bank-issued money, miners competing to solve computer puzzles produce bitcoin. With a supply capped at 21 million, the argument goes, its scarcity gives it an innate value and shields it from central bank's moves or policies that stoke inflation.
At NWO, we're big believers in narratives and their ability to drive both mega and micro-cultural shifts. NWO's predictive algorithm tracks over 20 million shifts in real-time in order to surface trends that are about to hit inflection points while sifting through the noise. Over the past few months, NWO.AI signals have revealed a paradigm shift in Bitcoin's narrative. Here are 6 signals that are generating a very bullish case for Bitcoin:
Robinhood and Square Cash are singlehandedly pushing Bitcoin price. Here's the proof :
"Bitcoin is still hard to buy. If it was easier to buy, it would be a lot higher. And there are more and more people making it easier to buy: funds being set up, custodies being done, at one point we'll get an ETF." - Mike Novogratz
Thanks to Robinhood and Square Cash, access to Bitcoin has improved dramatically. A quick search on NWO reveals that growing interest in both apps (shaded area) correlates to a jump in the price of Bitcoin (red curve) – the correlations are just uncanny.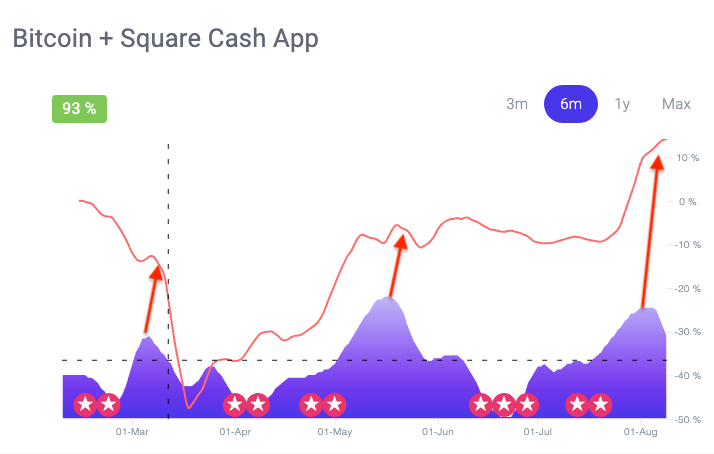 2. More than just an inflation hedge: In May 2020, NWO informed us of an inflection point in Bitcoin's evolving narrative regarding its association with an inflation hedge.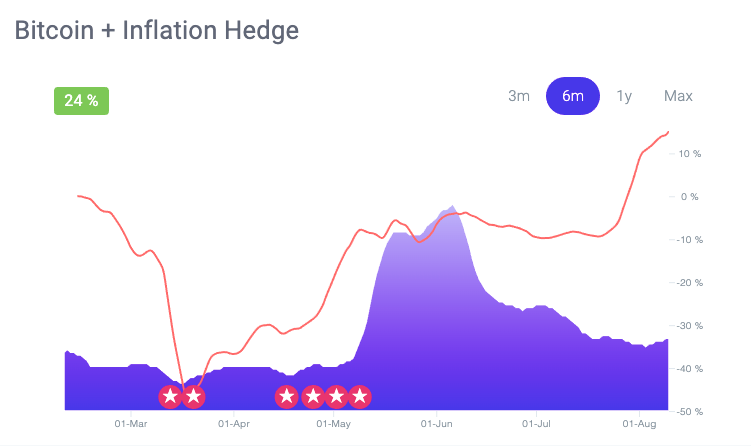 Several days later, billionaire hedge fund manager Paul Tudor Jones of Tudor Investment Corp. announced in a letter to investors that his fund is buying bitcoin futures as a hedge against "The Great Monetary Inflation." In his letter, he argued that the $3.9 trillion (6.6 percent of global GDP) printed by central banks since February has the potential to trigger widespread inflation, once the global economy rebounds from the shocks caused by COVID-19. In other words, Bitcoin is not only a hedge against inflation, it's a "hedge against failure of modern financial infrastructures such as banks, clearing and settlement networks, foreign exchange markets, and payment rails."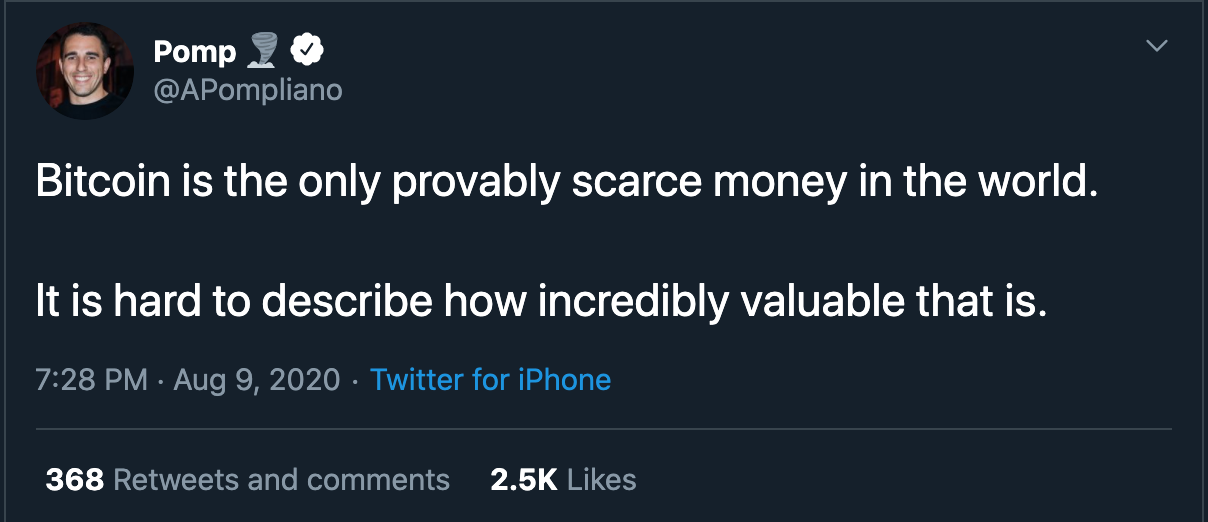 3. Rise of Bitcoin influencers - Bitcoin traders, analysts, and thought leaders on social media and forums seem to think that bitcoin is facing another bull market. With Dave Portnoy and his cult-like following comprising of day traders getting into Bitcoin today, the sentiment and the overall adoption by the so-called late majority will only accelerate in the days to come.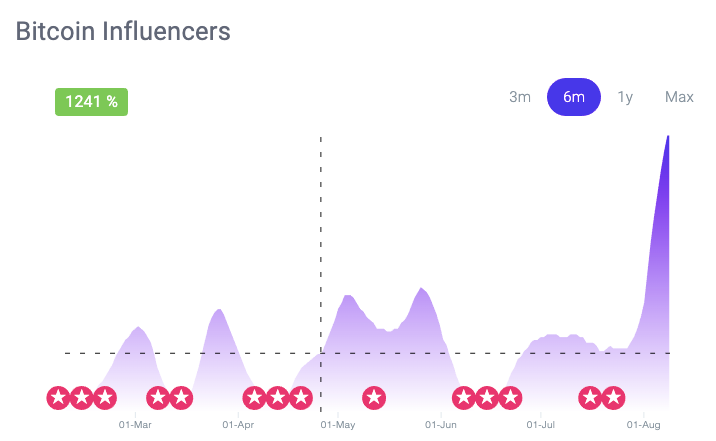 4. Altcoins are underscoring the bitcoin narrative: Most smaller alternative coins or "altcoins" in decentralized finance (DeFi) trade against Bitcoin, not the U.S. dollar. The signal for DeFi and its association with Bitcoin reached several inflection points in July. Shortly after NWO surfaced these inflection points, DeFi's market value approached $5B. This means that if traders want to realize the unrealized profits they made on altcoins on DeFi, they will need to acquire Bitcoin, thus further pumping the price of Bitcoin.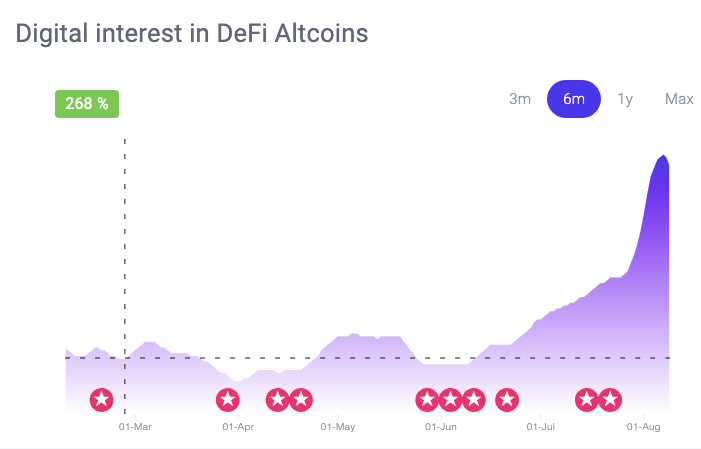 5. The arrival of BTC whales:  Last month, NWO detected multiple inflection points in the "whale narrative." BTC whales are investors or traders who own large amounts of cryptocurrency. As BTC whales accumulate BTCs, the circulating supply reduces, and this can weaken any bearish trend Bitcoin finds itself in. What this means in essence is that over time, as BTC approaches its fixed supply of 21 million, the price of BTC may go up, with BTC's present demand factored in.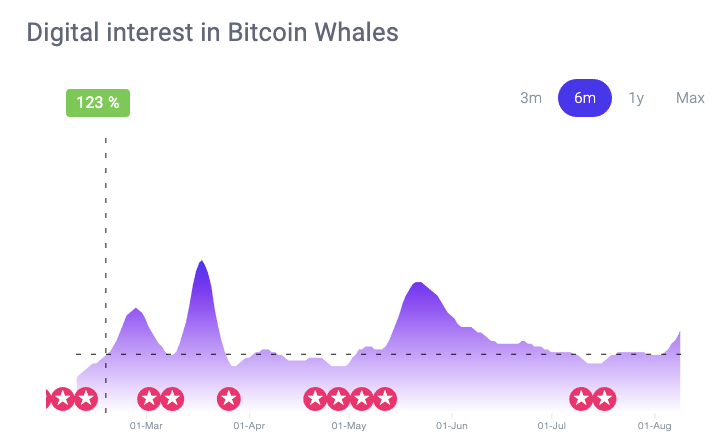 6. Unfazed by bad news: Bitcoin's narrative has also been marred by scams of all types - from fake exchanges to Twitter hacks involving compromised accounts of Joe Biden and Elon Musk. After the most recent Twitter hack, I expected the price of BTC to be affected since Biden's entire following was now seeing Bitcoin in the context of a scam, reinforcing an unfair stereotype. To my surprise, the news of the hack only led a jump in the price of Bitcoin in the following month. Perhaps, all PR is good PR?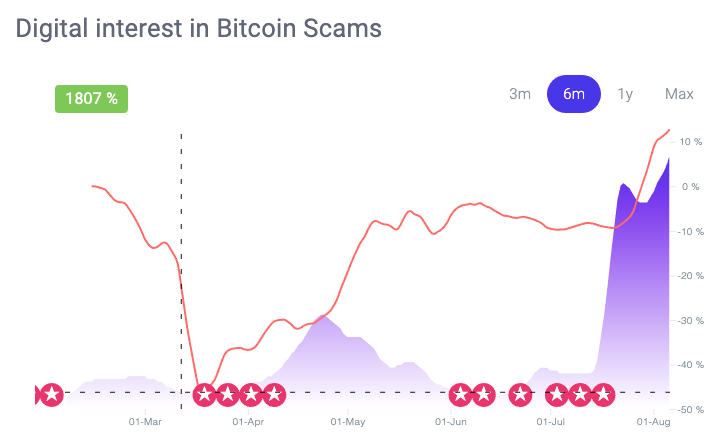 My prediction: Although it is impossible to predict the exact magnitude of Bitcoin's growth, it would be reasonable to assume that the price will eclipse its all time high of $20,000 by the year-end. And it's possible I may still be on the conservative side. Here's why: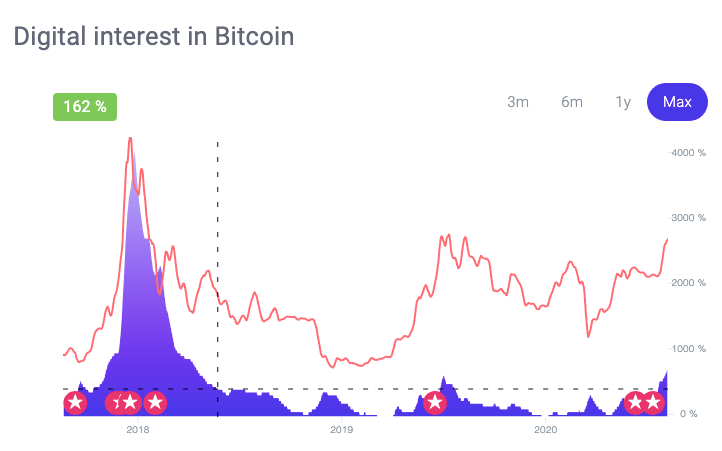 The signal for Bitcoin on NWO peaked in late 2017, implying that the mindshare occupied by Bitcoin reached an all-time high at the time (Impact Score:97/100). At the same time, the price of Bitcoin reached $20k before eventually crashing. Compared to 2017, the signal right now is still very tame (Impact Score: 17/100) while the price has already risen to $12k. Even if Bitcoin's signal were to only return to the mindshare it once occupied in 2017, the potential for Bitcoin price to grow is enormous!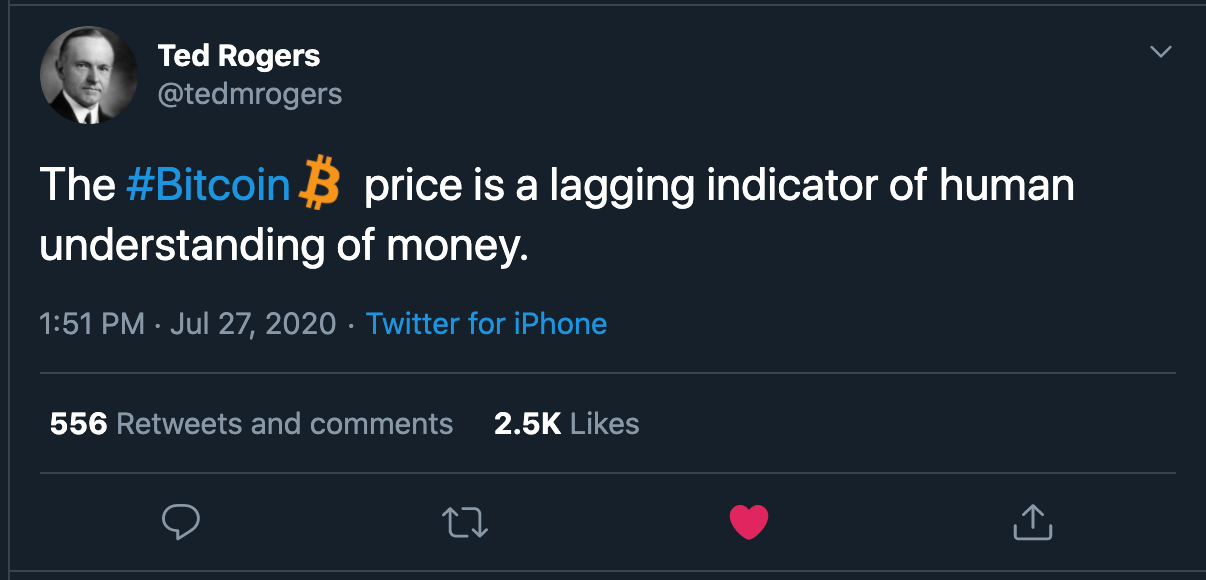 As always, thank you for reading. Please invite your friends to sign up here.