September has traditionally been a choppy month for the stock market. This year was no different – the S&P 500 declined 4 weeks in a row. Highly anticipated IPOs such as Snowflake, invested in by the likes of Warren Buffett, flaked out (pun intended: Snowflake stock tumbled over 10% a day after IPO surge) and remain at the risk of a violent selloff. Amidst the craziness, a highly secretive CIA-funded company will conclude it's direct listing under the ticket $PLTR. Adapted from anti-fraud software from PayPal, Peter Thiel and Alex Karp engineered a system that represents the ultimate tool for surveillance. Named after the "Seeing Stones" in The Lord of the Rings, Palantir is designed to ingest the mountains of data collected by soldiers and spies and police — fingerprints, signals intelligence, bank records, tips from confidential informants — and enable users to spot hidden relationships, uncover criminal and terrorist networks, and even anticipate future attacks. Thiel and Karp have effectively positioned Palantir as a pro-military arm of Silicon Valley, a culture dominated by tech gurus who view their work as paving the way for a global utopia.
The manner in which online discourse shapes a narrative's ebbs and flows has certainly shown to have an impact on a company's future trajectory. NWO's Contextspace, a visual tool that enables clients to surface the fears, motivations, and demand drivers underlying various signals - provides investors with unprecedented access to the "why" behind a narrative. For instance, it can break down the signal into its various constituent contextual associations - ranging from discussions about its revenue projections to its controversies regarding its work with several 3-letter agencies.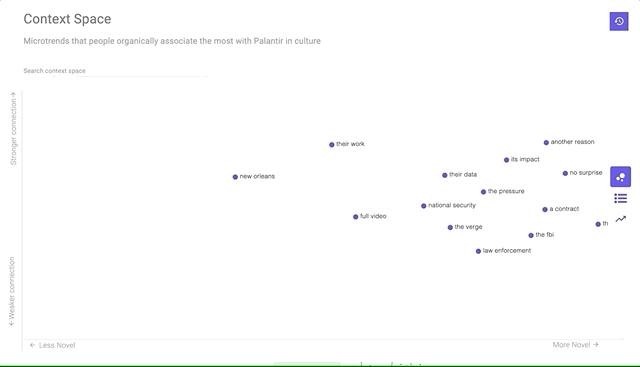 Within seconds, NWO can generate thousands of signals representing these associations. It then highlights the ones that are driving the discussion and which ones are resisting change. Without attempting to deconstruct the fundamentals of the Palantir offering and purely observing the company from the lens of digital conversations, here are the online narratives that are creating a bullish case for Palantir:
Narrative #1: The data mining solution to 9/11
Palantir's association with various government contracts where they leverage data mining to solve real-world problems – is the defining the narrative leading up to the IPO. The signal for the same grew by 700%. The company came together not long after 9/11, when Palantir was pitched as a tool that could have identified and stopped terrorist attacks. Palantir has about $1.5 billion in federal government contracts alone, including, recently, with the Space Force and the Navy. The two signals below are laying out the broad strokes.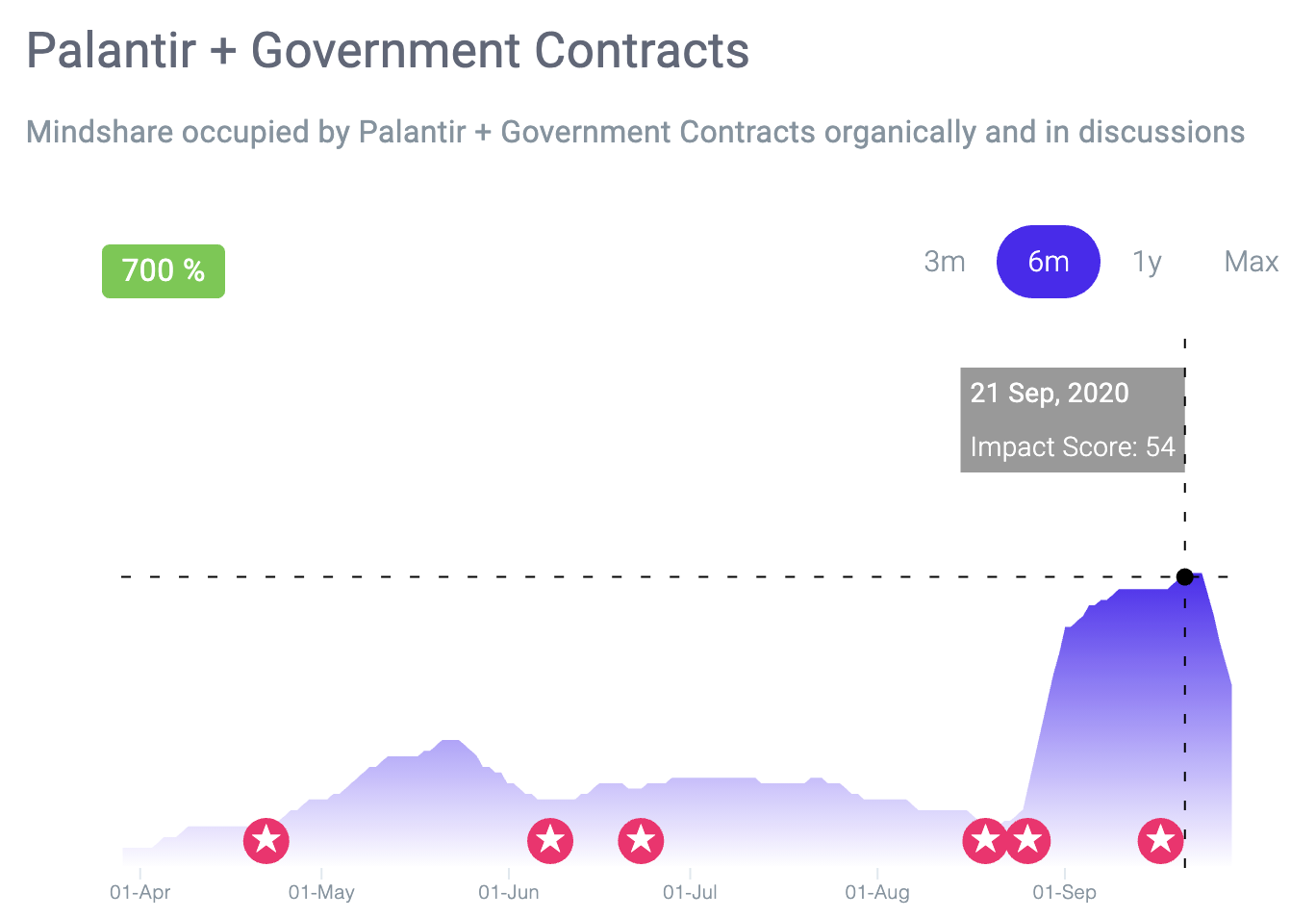 .
Narrative #2: The pandemic savior
Palantir's initiative to analyze troves of hospital data in the middle of the pandemic is the second most dominating narrative. In July, with new Covid-19 case numbers breaking records daily, the HHS announced an abrupt shift in how that data would be reported: hospitals would now report their data exclusively to HHS Protect, a new platform Palantir developed that would be run by another private company called TeleTracking. This would effectively replace the Centers for Disease Control and Prevention's (CDC) National Healthcare Safety Network, per the Trump administration's orders to hospitals to stop reporting their information to it. HHS Protect, which was not accessible to the general public, was now the only source for this information.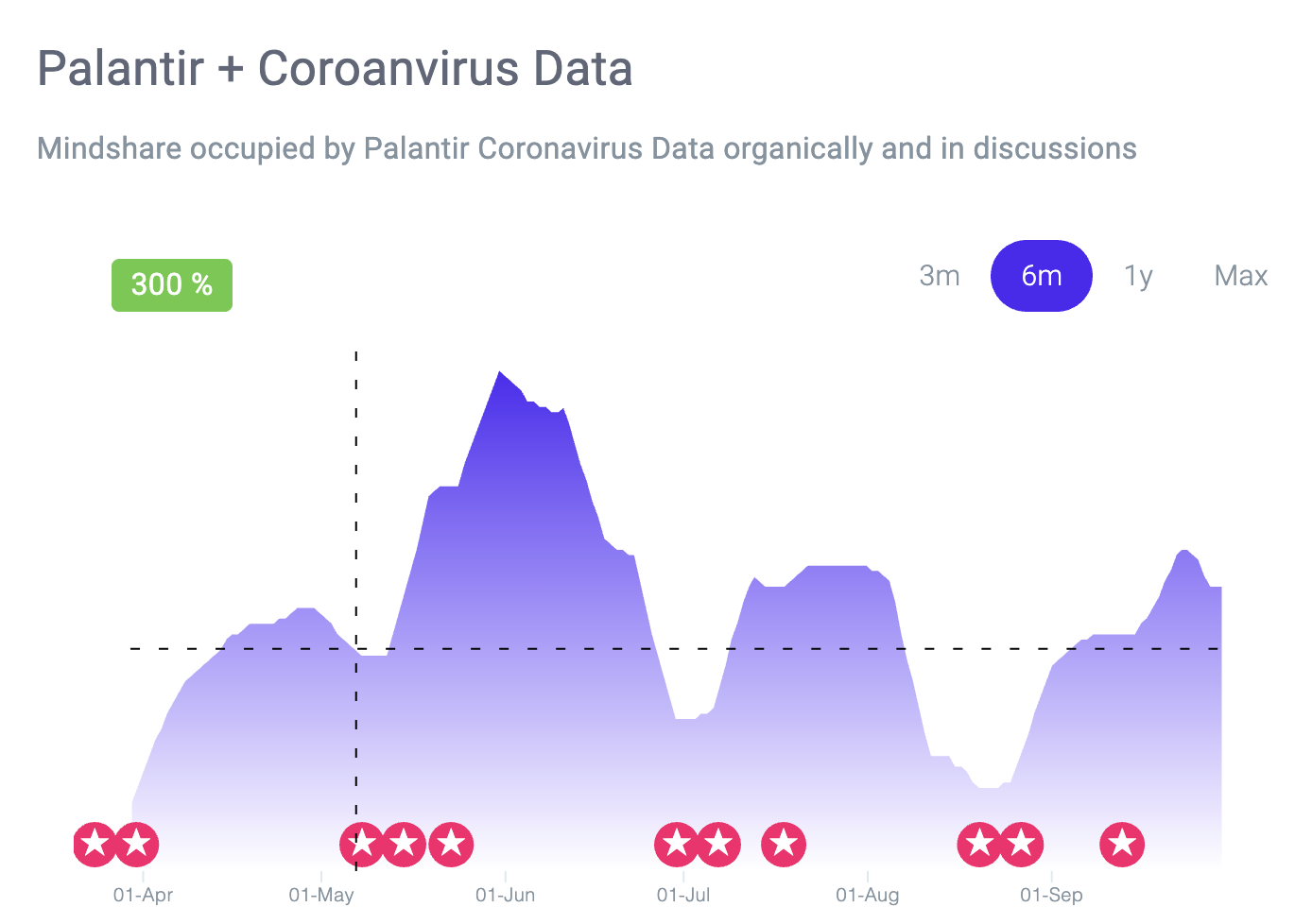 Narrative #3: Human right concerns albeit present are now significantly reduced
In 2017, Amnesty noted, Palantir technology helped see the arrests of parents and caregivers of unaccompanied children, which it said led to detentions, threatening children's welfare. However, discussions about Palantir in the context of immigration enforcement has declined by 45% YOY, This is an impressive PR win for the company, especially leading up to the IPO.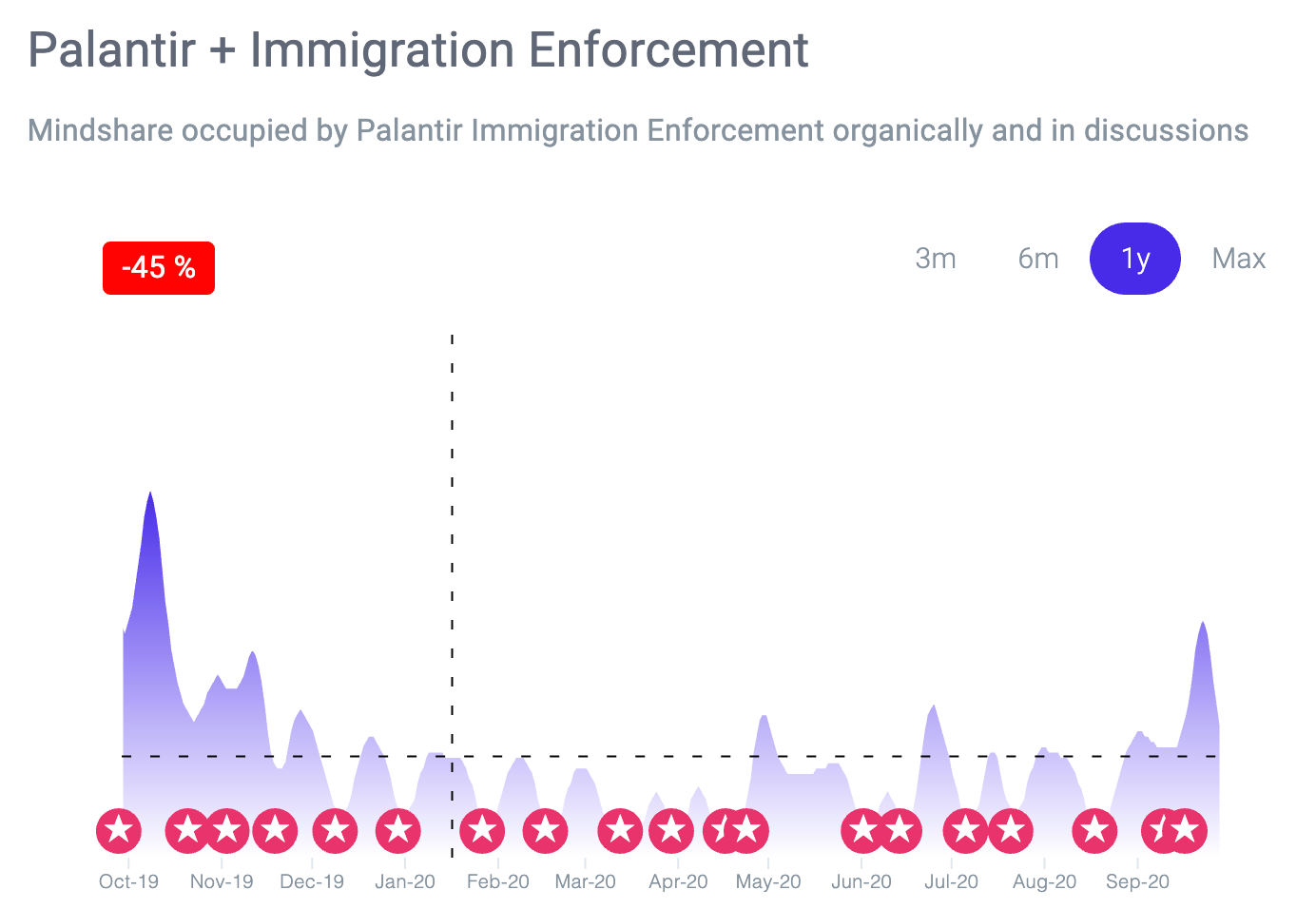 Narrative #4: Positive outlook for Palantir's revenue projection According to Palantir's S-1 filing, the company generated $742.6 million in revenue in 2019, 25 percent higher than the $595.4 million in revenue it pulled in in 2018. Its losses remained steady during that period, going from $580 million in 2018 to $579.6 million in 2019. While related chatter has grown exponentially in the recent months, the sentiment has gone positive from negative in the past 3 months, implying that the revenue projections are more digestible.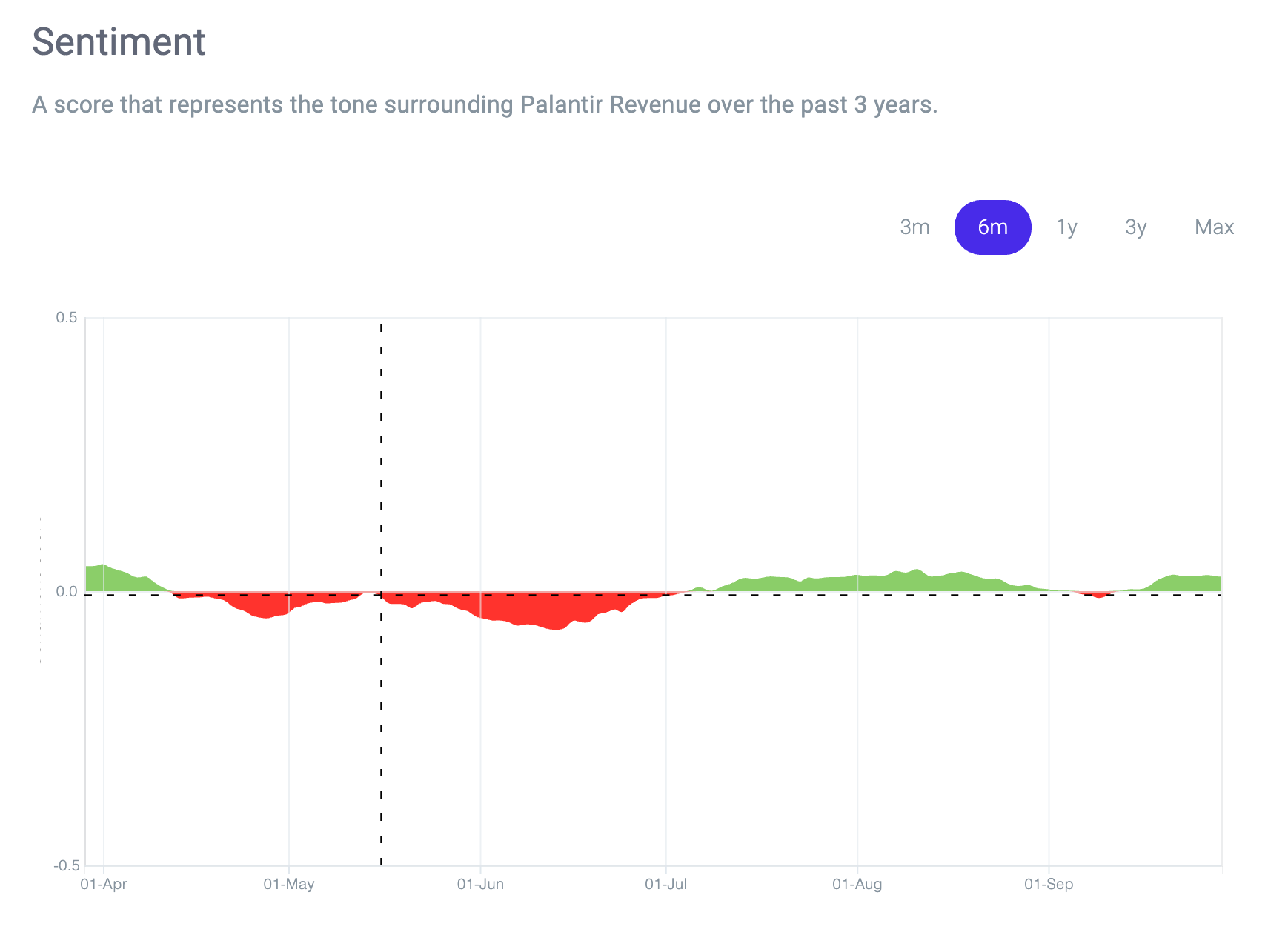 Narrative #5: Retail investors are looking to invest in Palantir even before the IPO
Another signal identified by NWO's context space is the retail interest in a publicly listed firm, "SuRo capital" (NASDAQ: SSSS). SuRo Capital invests in pre-IPO technology companies and has a deep track record in Silicon Valley. The signal reached several inflection points in July and August, months before the IPO date, implying massive proxy interest in Palantir's IPO. The stock price of  Suro Capital grew by over 100% during the same period.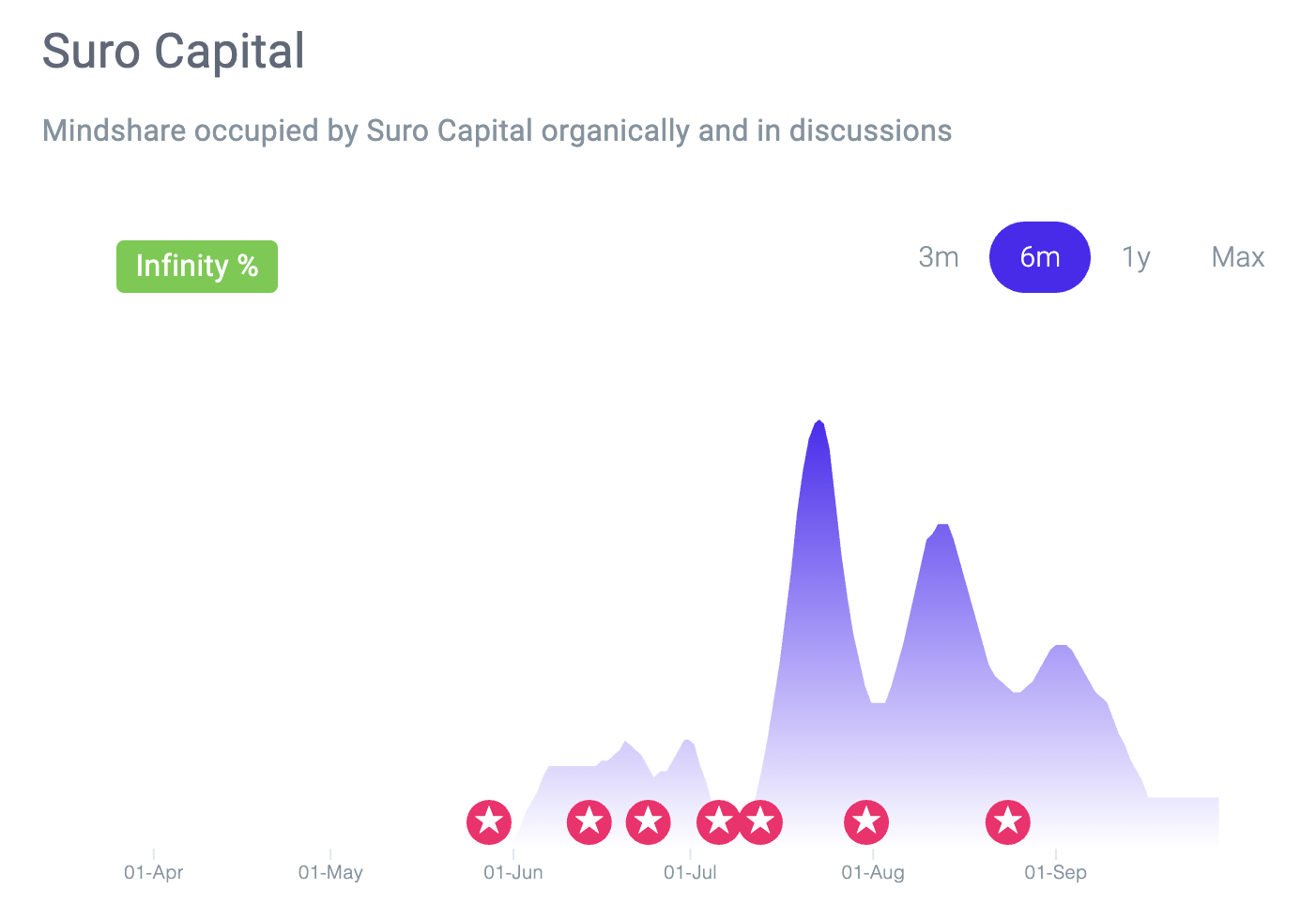 Our prediction: The medium to long-term prospects for $PLTR are looking strong, given the positive momentum in it's demand drivers and diminishment of signals related to its controversies. What remains to be seen is whether the Post-IPO narrative regarding Palantir's ability to marry 21st-century Silicon Valley disruption to 20th-century defense contracting will enable it to live up to its valuation (roughly $16B as of last night).
Disclaimer: I'm long SuRo Capital (NASDAQ:SSSS), a firm that has 20% of its capital invested in Palantir ($PLTR). The content is for informational purposes only, you should not construe any such information or other material as legal, tax, investment, financial, or other advice.