Edited by Christian Thompson
Happy New Year and welcome to the Inflection Point! This week on the Inflection Point, we are diving into trends in the growing Mocktail Industry. From Dry January to companies using trendy ingredients to achieve a buzz, we look at the latest trends from No/Low Alcohol beverages.
---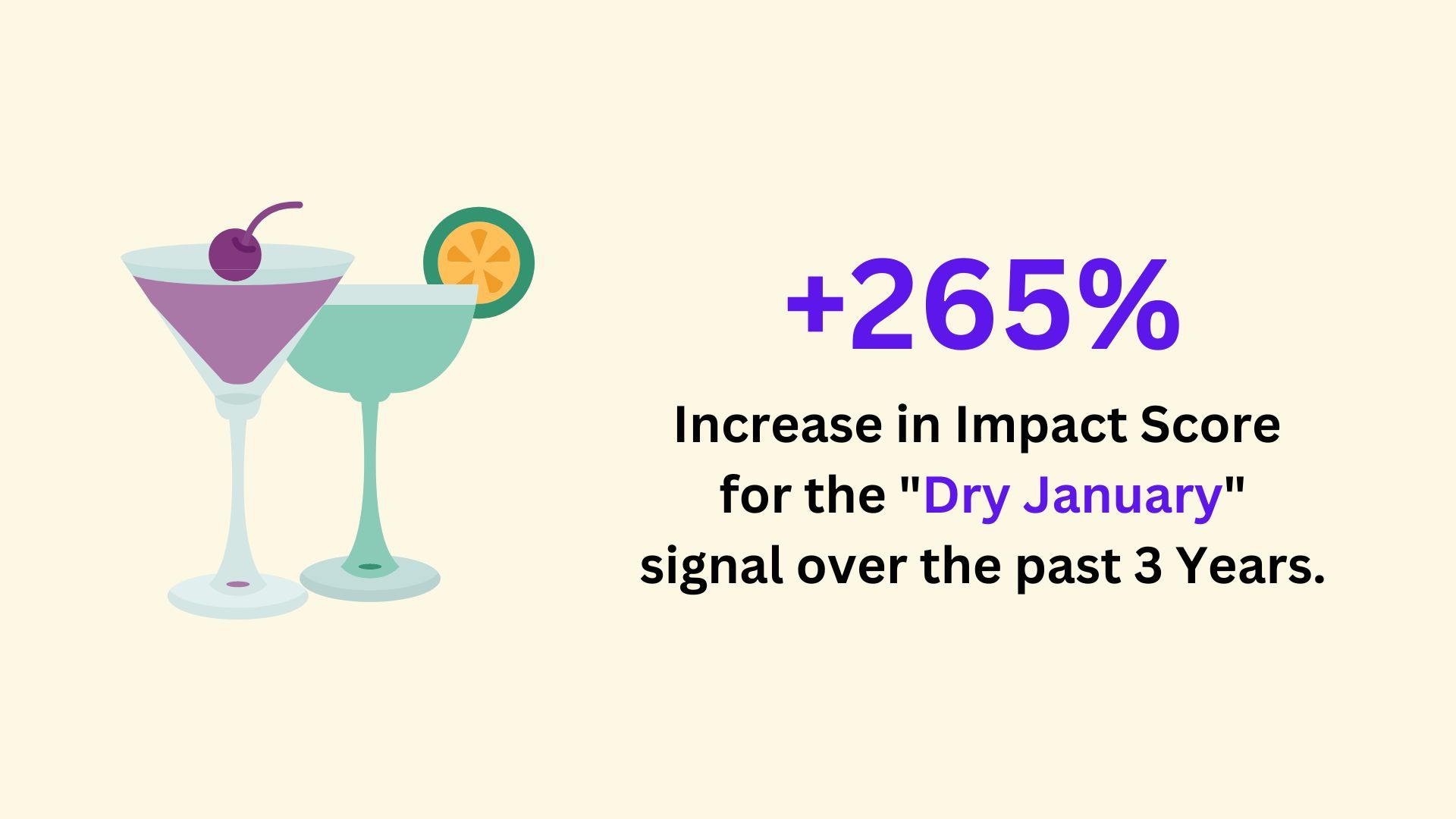 The last time we covered Mocktails was, in part, due to the rising consumer interest in Sober October 2021. As we ring in the New Year, a different sober living trend has emerged, generating consumer interest. The impact score for Dry January has increased by 425% over the past six months. Dry January is staying sober during the month of January and many people partake to start the year off right. These sober-curious trends may indicate consumers are shifting away from alcoholic beverages and opting for a non-alcoholic alternative. According to Nielsen, non-alcoholic drink sales increased by nearly 21% from 2021-2022. Based on this data, there may be an intriguing opportunity for non-alcoholic and mocktail-type drinks.  

Over the past three years, the impact scores for Alcohol Alternative and Mocktails increased by 6,362% and 737%, respectively. Both future estimates forecast continued growth in the coming year. Consumer interest is peaking for both signals relative to past performance, indicating this is the most consumers have talked about these topics. What is driving the growth behind these trends?
Over the past three years, the impact score for Hangxiety increased by 2,597%. Hangxiety can be described as the anxiety people get when they drink too much on a night out. College students refer to this feeling as the Sunday Scaries. The signal for hangxiety reached a peak during the month of January 2022 and 2023. This may represent a correlation between Dry January and hangxiety because people want to avoid the negative repercussions of drinking too much. Consumers are increasingly becoming concerned by the effect drinking has on mental wellness, presenting an opportunity for new products to come to market.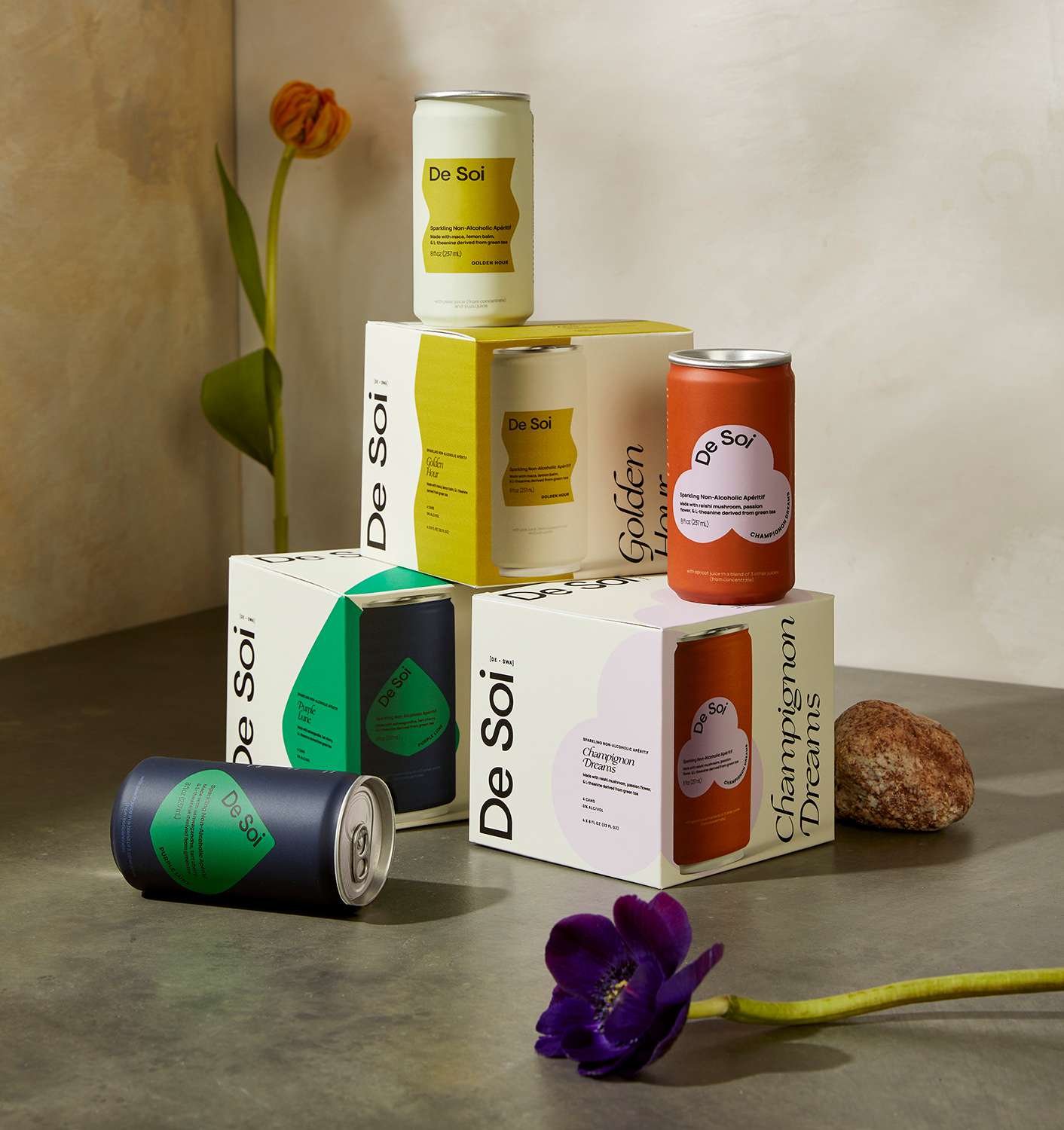 De Soi and Hiyo are beverage companies specializing in alcoholic alternatives. De Soi was co-founded by Katy Perry and its goal is to promote being healthy and living a fun lifestyle. Both signals increased over the past three years, with De Soi Drink increasing exponentially by 58,665%. Healthy Alcohol Alternative and Hiyo Drink increased by 8,177% and 541%, respectively. De Soi and Hiyo Drink's future estimates forecast sustained growth throughout the following year. Both brands use organic ingredients, including adaptogens, to foster a buzz-like feeling without the alcohol. This enables these companies to provide customers with a healthier option to the typical alcoholic drink.
Mocktails and alcoholic alternatives are growing in the minds of consumers and do not seem to be slowing down anytime soon. Coupled with the growing interest in Hangxiety, these trends are top of mind for consumers. Based on this data, brands that offer high-quality, healthy alcoholic alternatives may stand to gain from these growing trends.
---
Thank you for tuning into this week's Inflection Point. Know someone that might be interested in this trend? Share it with them!
---
About NWO.ai
NWO.ai's predictive platform enables leading Fortune 500 companies and government agencies to anticipate and track global cultural shifts by aggregating, analyzing, and producing actionable reports on human-generated data. We are leveraging petabytes of external, noisy, and unstructured data from various sources –including search, social media, blogs, news, patent databases, and SEC filings and we are continuously adding more sources. Our mission is to answer the what, when, and most importantly, 'why' behind a consumer trend and enable our customers to detect these shifts as early as possible.
Thank you for reading. If you liked the piece, please help us spread the word and invite your friends to sign up here.