Edited by Sarah Gupta and Cindy Tan
Dear Reader,
Summer is officially over and it's back-to-school time. This week we looked at signals that have hit an inflection point as the new school year begins in many countries around the world.
We've also included a bonus signal looking at the future of personalized nutrition and the latest patent in that area. Here are the 5 signals:
1. Healthy kid-friendly snacks are in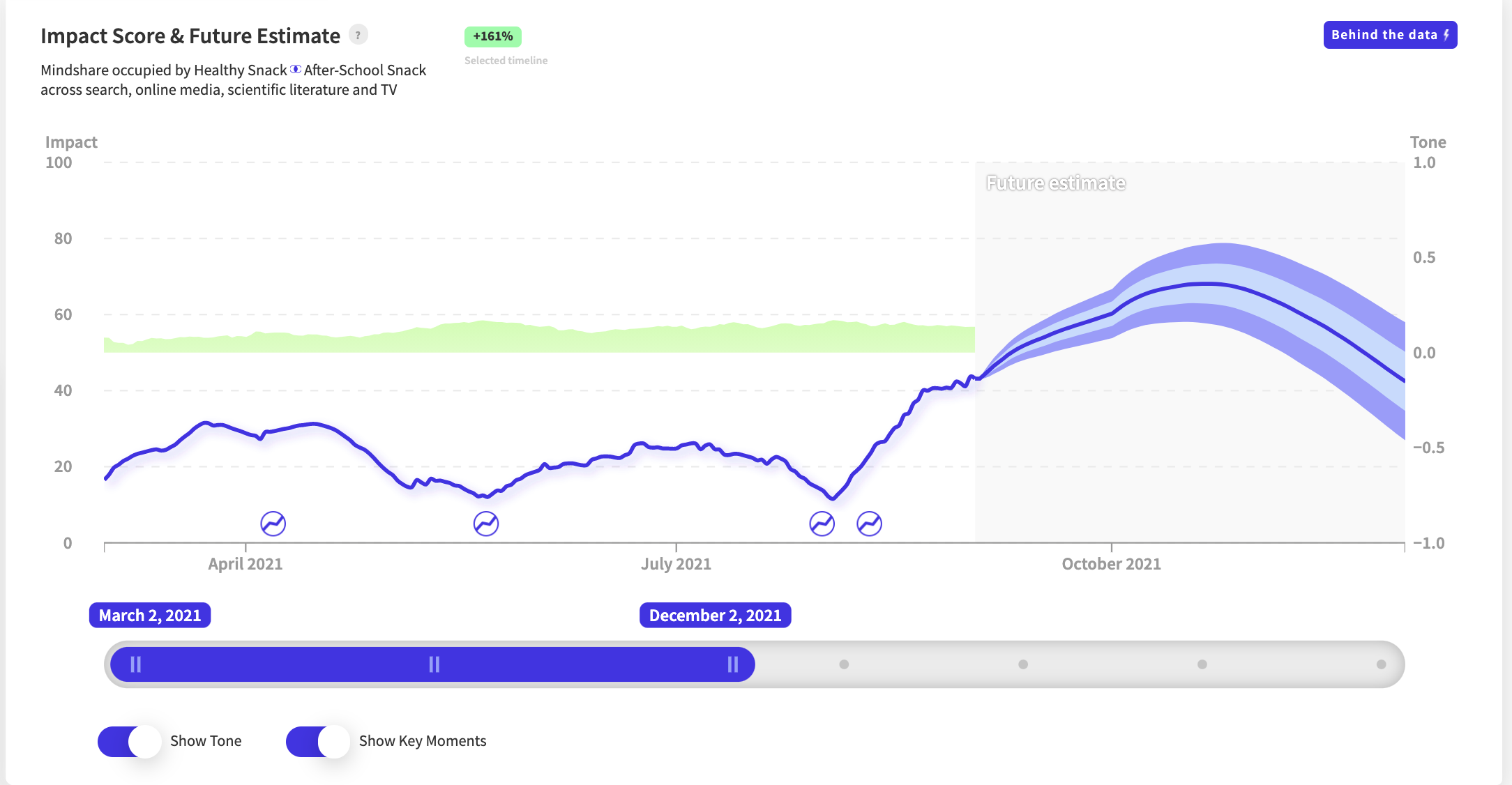 As kids head back to school, interest in healthy after-school snacks is trending upwards. The topic recently reached an inflection point, and we predict an increased Impact Score in the future. In our previous newsletters, we've discussed increasing health consciousness as a result of the pandemic and its correlation with interest in healthy food and beverages. Eschewing the sugar-laden snacks that have long been marketed for children, adults are now putting more thought into their children's health and snacking needs. Our forecast suggests that the Impact Score of healthy after-school snacks will hover around 80 before declining during the winter holidays.
2. No protein, no #gainz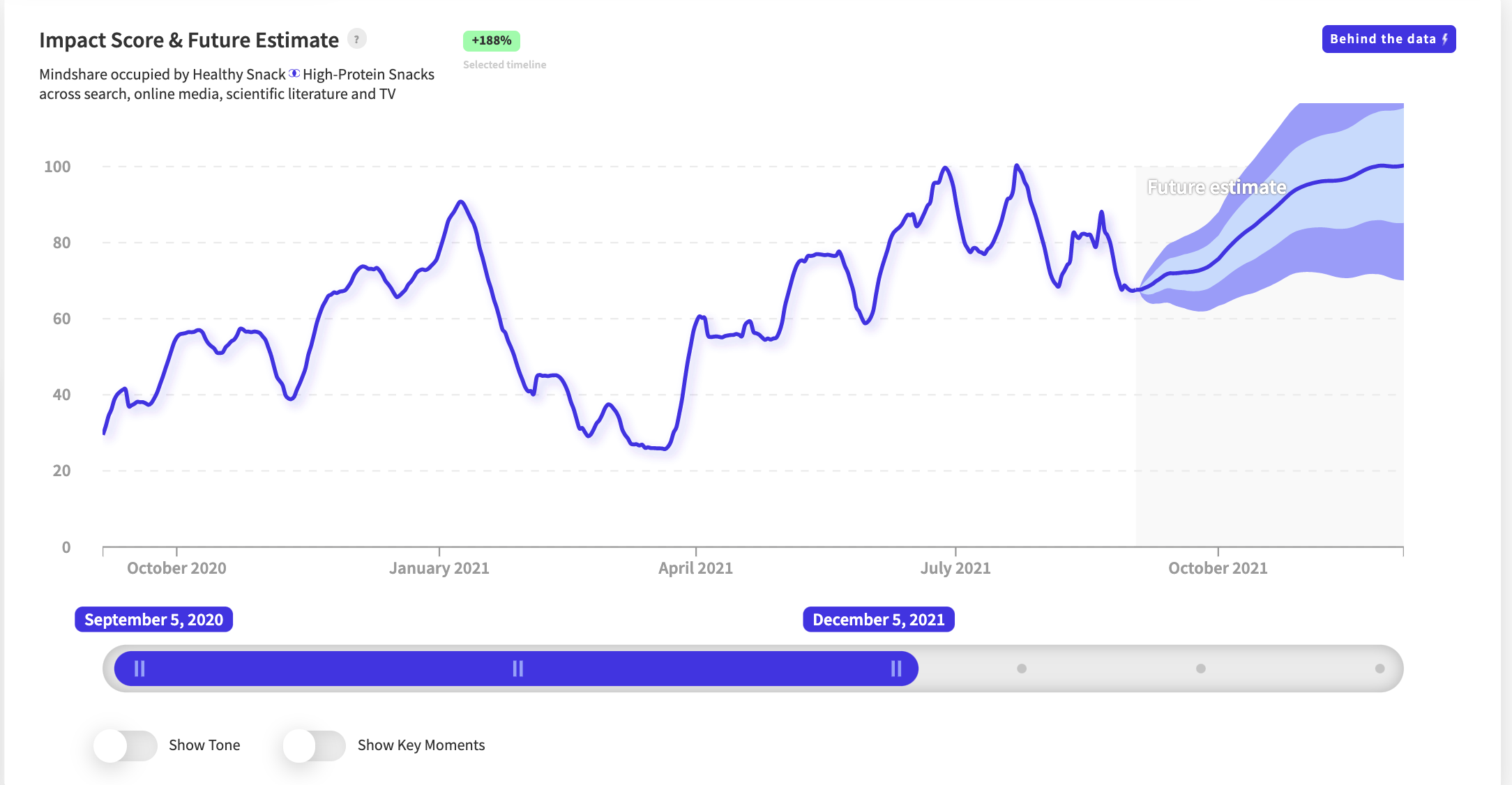 Interest in healthy high-protein snacks has exploded over the past year as the growing health and wellness trend has fueled the demand for functional and fortified food. Furthermore, people who live a hectic lifestyle have also changed their eating habits. With no time for three square meals a day, they're turning to snacks that curb cravings and work as meal replacements -- potato chips don't cut it anymore. Consumers have been opting for healthier snacks containing nutritious and natural ingredients that meet various dietary requirements. The popularity of the paleo and keto diets as well as gym culture have all contributed to the high-protein snacking trend. NWO.AI's future estimate suggests that high-protein snacks will hit an Impact Score of 100 in the coming months.
3. Superfood is still trendy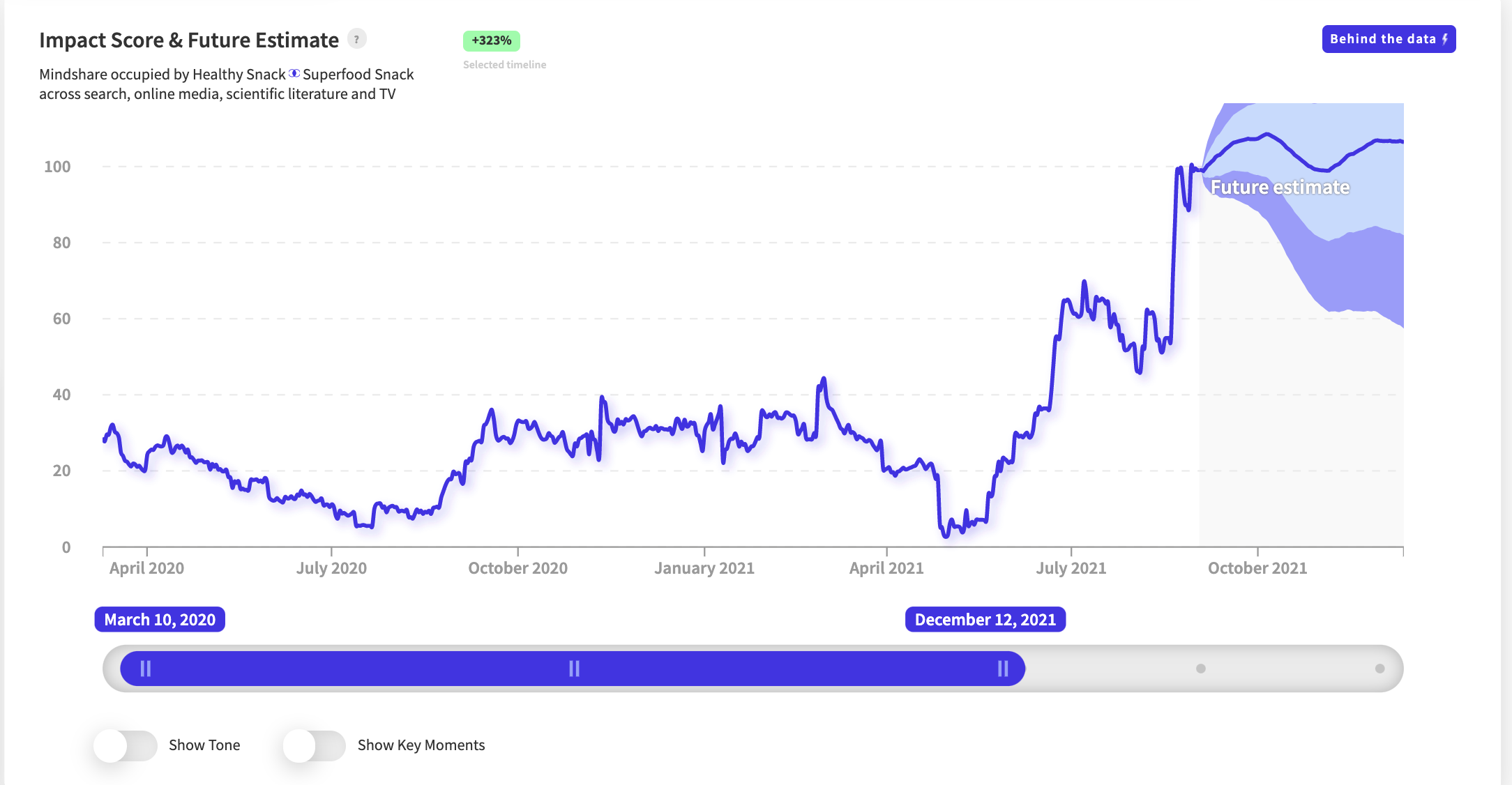 Apart from protein snacks, interest in superfood snacks has seen an exponential increase since July, mostly for the same reasons that high-protein snacks are trending. These superfood snacks -- containing ingredients such as grains, seeds, and vegetables -- provide the vitamins and nutrients that consumers need for nutritional living. According to this report, the superfood-based packaged snacks market is expected to grow by $29.39 billion during 2020-2024.
4.1  Acai: The marketing ploy that works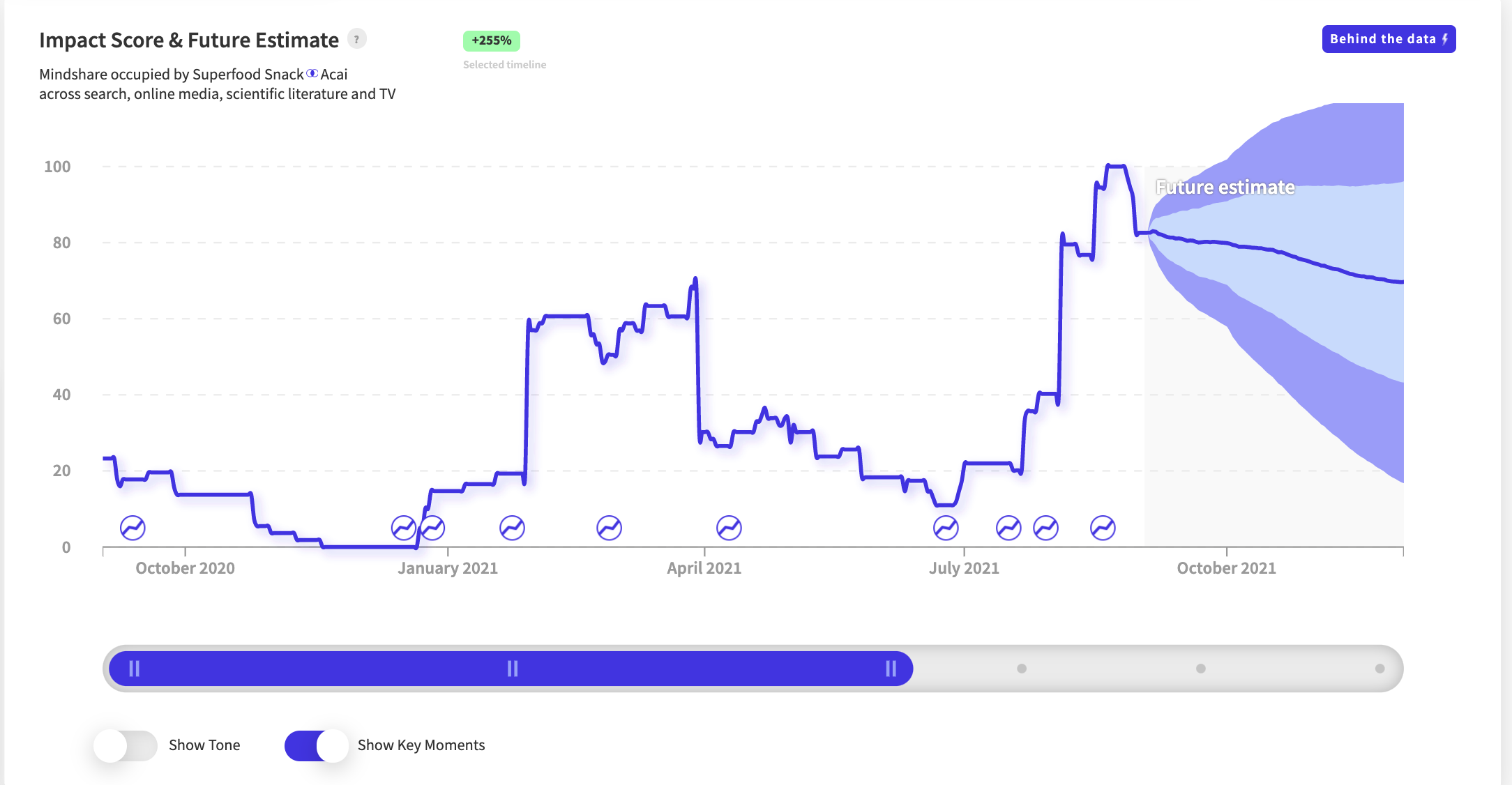 Native to Central and South America, fresh acai has been a dietary staple of the Indigenous population in the Amazon for centuries. Its promotion as a health food with weight loss and anti-aging effects began in the 1990s, and acai has since reached superfood status in North America. While there's no scientific evidence that acai has been used for health-related purposes, preliminary research suggests that it can help reduce blood sugar and cholesterol in overweight people, and it may have antioxidant properties. While superfood marketing continues, NWO.AI detected several inflection points in acai over the past year, reaching a peak Impact Score of 100 recently.
4.2  The chia seed shortage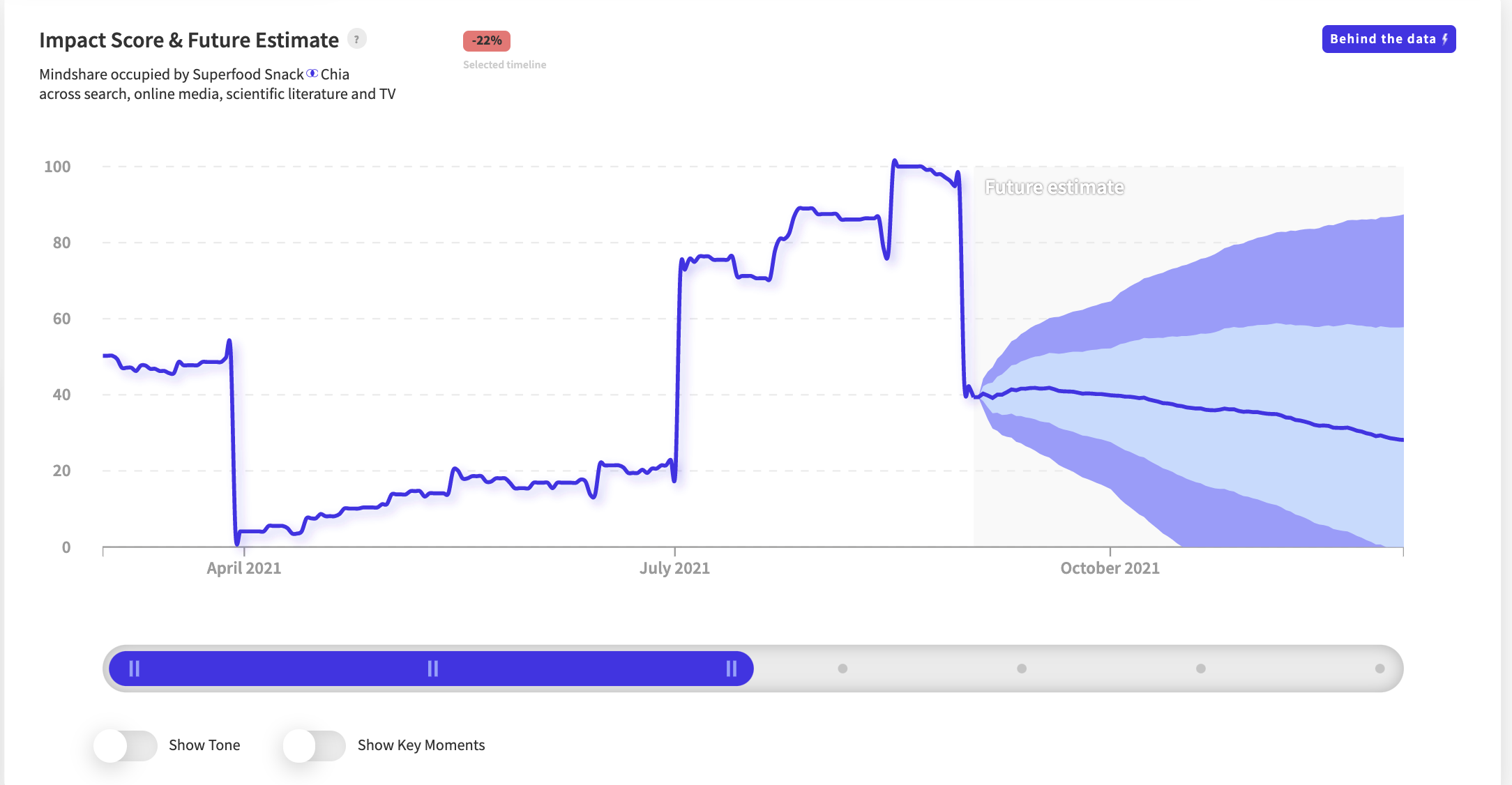 Chia seeds are used as a functional ingredient in snacks and various health food products, as they contain large amounts of calcium, magnesium, protein, and potassium. Even though they boost energy, digestion, and stabilize blood sugar, their popularity has taken a nosedive lately, perhaps due to an unstable supply. To make matters worse, the pandemic has caused a disruption in the logistics and supply chain of the commodity, leading to its market decline in the first half of the year. NWO.AI predicts a downward trend this fall when seeds are sown.
5. The rise of nut-free snacks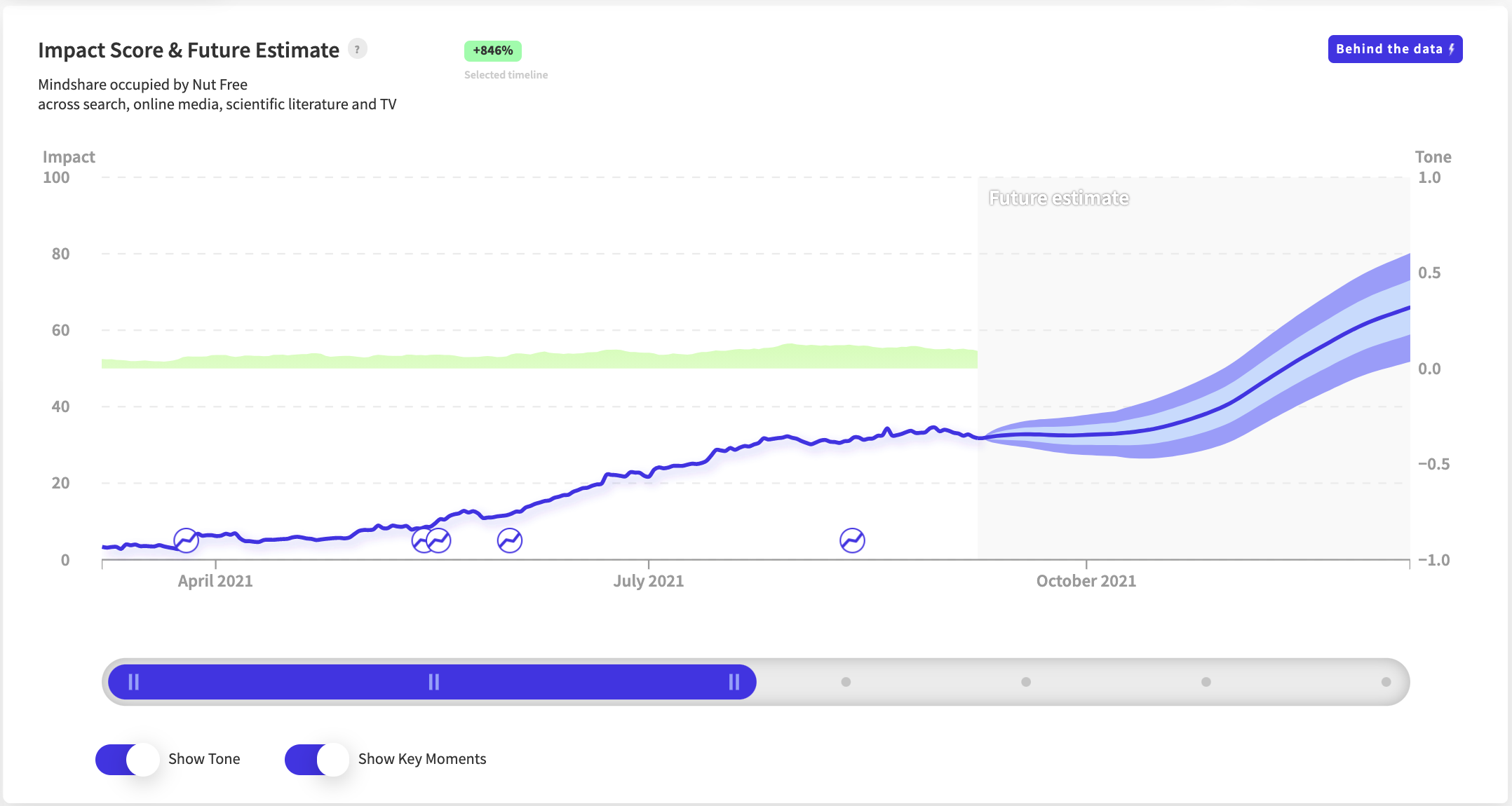 Tree nuts and peanuts are two of the most common food allergens. A study has found that about 4.6 million US adults are allergic to nuts, with over 800,000 people having developed their nut allergy after 18 years old. With increasing consumer awareness of allergen-free products, nut-free snacks are trending as companies create innovative allergen-friendly snacks that meet nutritional requirements. For instance, earlier this year, Chicago-based startup Blake's Seed Based launched a line of rice krispies treats in birthday cake, chocolate chip, and strawberry flavors -- the first vegan and certified nut-free product of its kind on the market. As more products enter the market, interest in nut-free snacks will increase in the coming months.
A look ahead:  The personalization of health
Personalized Vitamin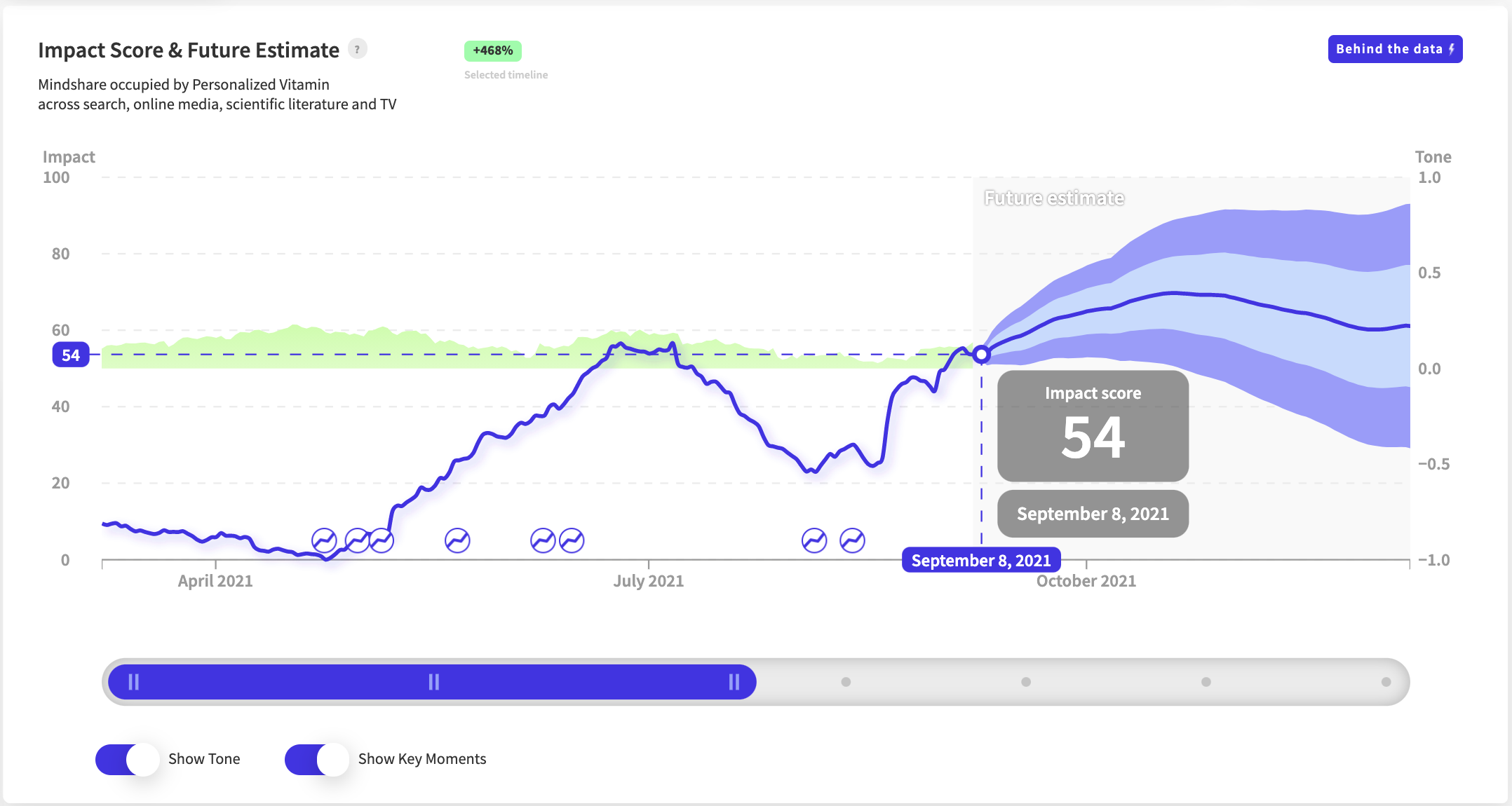 Covid has accelerated the adoption of proactive wellness, and companies like Persona Nutrition (acquired by Nestlé), Smartypants Vitamins  (acquired by Unilever), Care/of (acquired by Bayer) are capitalizing on this trend by delivering personalized vitamin packs customized for the consumer's nutritional needs. These companies provide consumers with supplement recommendations based on health goals, blood tests, ancestry data, and lifestyle questionnaires. Our forecast estimates a continued growth in personalized vitamins over the winter as people seek to boost immunity against cold and flu.

Personalized nutrition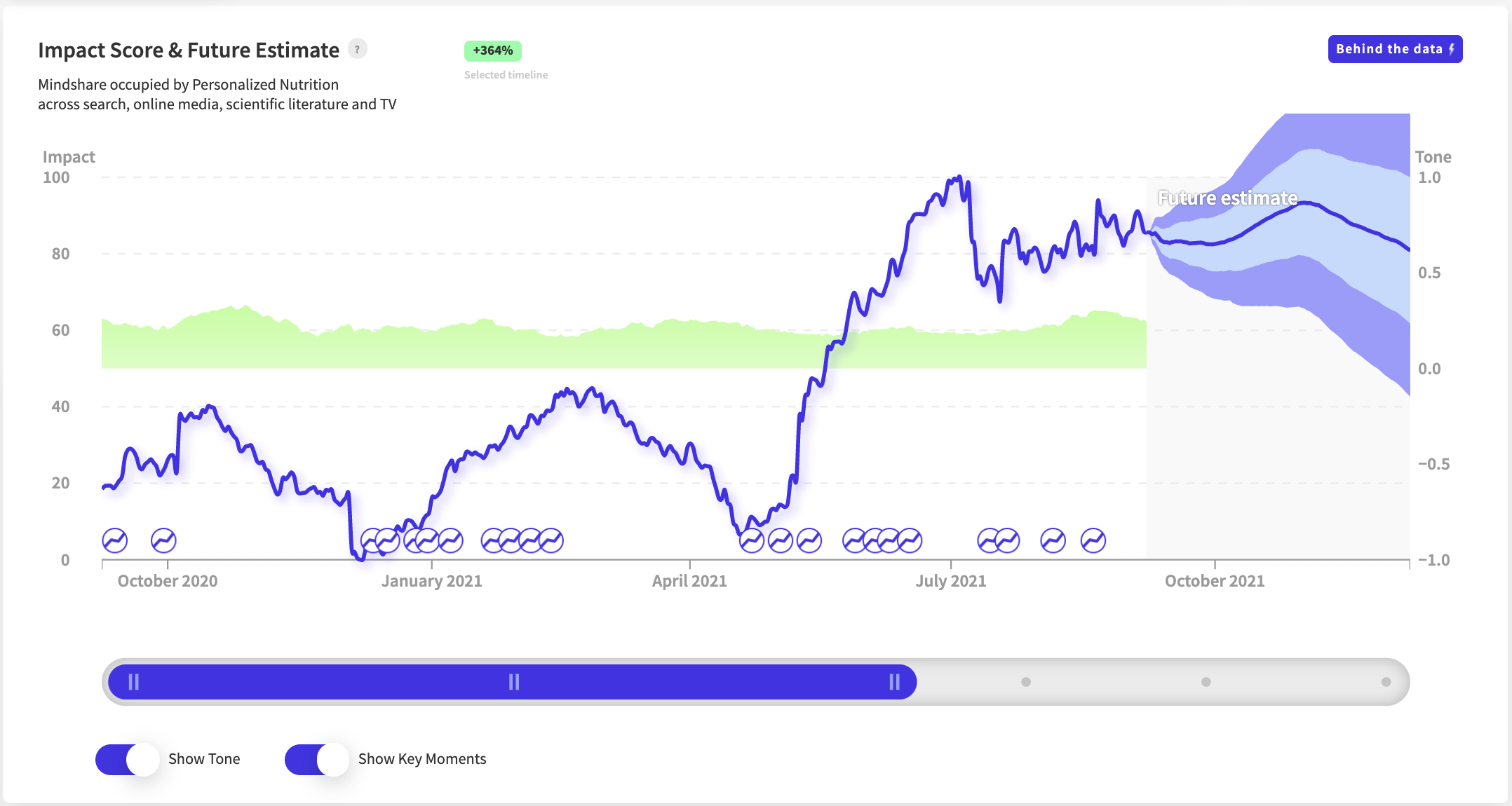 Personalized nutrition saw exponential growth after a series of inflection points over the past year. In recent years, the increasing awareness of health and fitness is driving the demand for personalized nutrition services. Both small and big companies are working on developing health trackers and testing kits that analyze genetic and microbiome data to offer nutrition recommendations that help users optimize their diets and meet nutritional goals. Larger companies are also getting involved: Nestlé's new patent provides nutritional assessment and advice for older adults after measuring their physical endurance and ability. Our forecast suggests that interest in personalized nutrition will remain high over the next few months.
---
Thank you for reading. Please invite your friends to sign up here.
About NWO.AI
NWO.AI's predictive platform enables leading Fortune 500 companies and government agencies to anticipate and track global cultural shifts by aggregating, analyzing, and producing actionable reports on human-generated data. We are leveraging petabytes of external, noisy, and unstructured data from various sources - including search, social media, blogs, news, patent databases, SEC filings and we are continuously adding more sources. Our mission is to answer the what, when, and most importantly 'why' behind a consumer trend and enable our customers to detect these shifts as early as possible.