As I write this, China Evergrande Group's credit rating has been cut by Fitch Ratings to C from CC, one notch above the default level, while missing its second bond payment due this week. Shockwaves are already being felt across global stock markets, triggering losses even in companies with no clear link to China or property.
Why is the world panicking?
Evergrande is China's second-largest real estate developer and is involved in a number of other markets as well (electric vehicles, sports, music, etc). The property giant's success mirrored the country's transformation from an agrarian economy to one that embraced capitalism. What was once the nation's crown jewel has now turned into its biggest financial worry. Evergrande managed to position itself in a quandary through a number of high-interest loans. Last week, the company missed a key payment to foreign investors, sending the world into a panic over whether China was facing its own Lehman moment. NWO.AI's Impact Signal for "Evergrande" paints the complete picture, from early Inflection Points to an explosion in the narrative.
$305b in debt and hardline regulatory tactics don't mix
A few months back, the government of China, or the Chinese Communist Party (CCP), laid out its Three Red Lines, concerning debt-based growth for large developers. Effectively, the rules capped the amount of debt and borrowing by those companies. Evergrande was unable to avoid crossing these "three lines" and was effectively cut off from further credit and financing. It's a big deal as it seemingly represents a systemic risk for China's economy, and potentially parts of the world economy.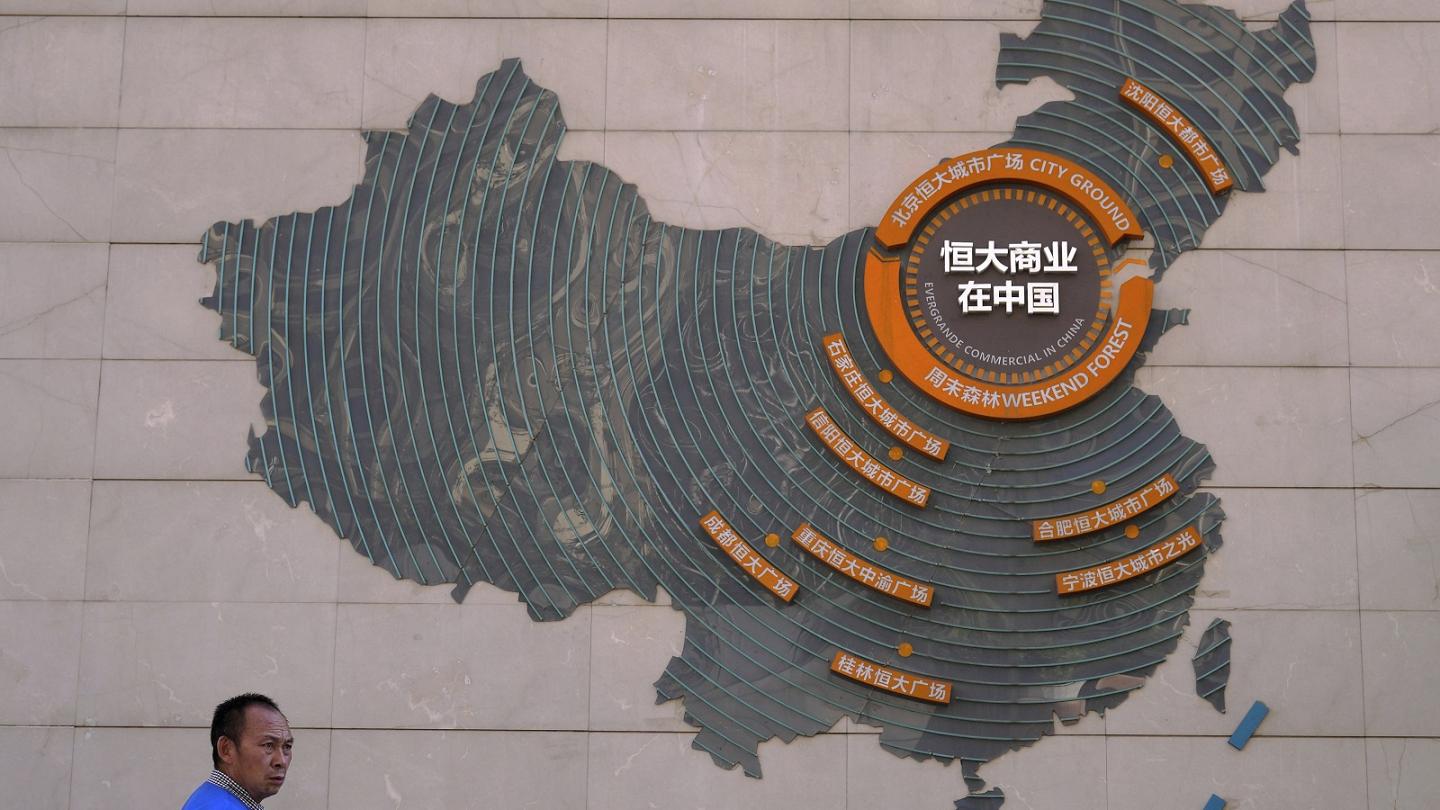 What if you could spot the Evergrande fallout 3 months out?
NWO.AI's core engine, which tracks over 93 million microtrends, notifies clients when an Inflection Point is reached across any sector, industry, or theme. Inflection Points tell the client when a given microtrend will go parabolic or exponential, as predicted by our algorithm with a great degree of certainty.
Since our first Inflection Point notification in July (denoted by the circular symbol in the graph above), the system went on to generate 6 more notifications in a span of 3 months, giving our clients a sense that the situation with Evergrande was indeed explosive. We will attempt to trace back what exactly happened in each of the "key moments." But first, here's a primer on how the underlying technology works:
A note on NWO.AI's core engine
NWO.AI's core algorithmic engine leverages a set of bleeding-edge natural language processing (NLP) technologies to extract core themes, ideas, and concepts from petabytes of human behavioral data across search engines, online media, TV, scientific literature, and e-commerce. In particular, NWO.AI's narrative tool automatically summarizes snippets of the best digital conversations that our AI has read and understood. Clients can retrospectively understand what happened on a specific day -- the factors that led to growth or decline in the volume of chatter or the underlying tone. In the past, NWO.AI has used its narrative data to accurately signal geopolitical fissures in East Africa, as well as the disruption of food and cotton supply due to an outbreak of locusts -- several weeks to months ahead of time.
Tracing back the Evergrande story using NWO.AI:
February 2020 -- First dramatic drop in tone detected: Our NLP system performs sentiment analysis on collected data from various sources: tone is green when it's positive and red when it's negative, with scores that correspond to magnitude. A larger red area in February 2020 signifies a significantly deteriorated tone of the narrative, which we see during the start of the pandemic, as expected. We can likewise see that this sentiment score is correlated with the stock price, which took a nosedive during the same period of time.
May 2021 -- Second dramatic drop in tone detected.
This year, we've seen another negative shift in tone originating in May 2021, when Evergrande's stock price started to decrease again. But why? Using NWO.AI's narrative tool, we can trace back the series of influential conversations that led to this decline in tone.
Primarily, the conversations were centered around Evergrande's car-making business which had yet to make a single sale at that point. These were also the first instances where we saw voices in social media calling for regulation.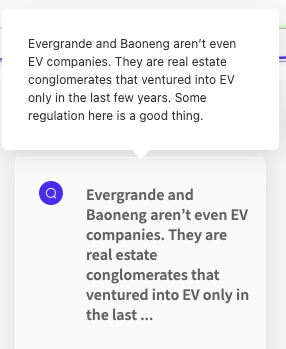 Despite a few voices drawing attention to their concerns, the conversation around Evergrande had not yet broken out into the mainstream. During this time, the overall volume of the chatter, or global mindshare represented by our Impact Signal, had barely risen.
July 13, 2021 -- NWO.AI's signal for Evergrande reaches an Inflection Point. First warning triggered.
Soon after, NWO.AI's algorithm noticed a seismic shift in the momentum of conversations. An Inflection Point was detected in the signal in tandem with a depreciating tone around the conversations. After this first Inflection Point for the overall signal, people even began to predict that Evergrande could be "China's 2008 moment."
The Chinese crackdown on the ultrarich started to make waves around the same timeframe, as major news media covered the plight of billionaire-owned factories and estates. This was also the first instance of the overheated real estate bonds and how certain debt-ridden companies might default, given the ability to raise cash due to the "Three Red Lines."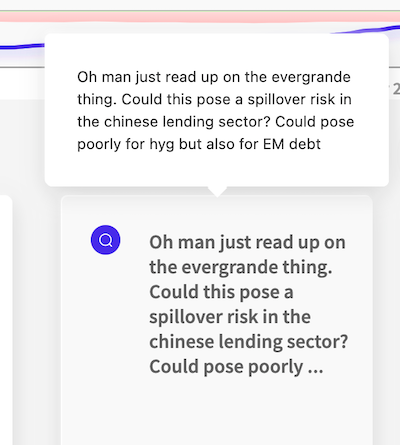 Aug 5, 2021- Second Inflection Point generated by NWO.AI.
As we moved into August, we saw another Inflection Point at the beginning of the month. Once again, social media led the charge, with retail investors providing their diligence on the situation in China. Moreover, there was a dramatic spike in the mention of coronavirus cases and new lockdowns that might have had a negative impact on appetite for real estate.


This social narrative was complemented in the news media by reports of suppliers demanding payment long overdue from Evergrande. Both social and news channels were at this point talking about something serious.
Aug 16, 2021 - Sep 6, 2021 -- Series of Inflection Points, buildup continues.

By the end of August, we saw even more social media chatter around Evergrande's financial woes. There were indications that a default was imminent, with rumors floating around that Evergrande would not repay its debt.
While the social data was negative, the news channel remained slightly more optimistic with indications of asset sales and hopes for government action. Once again, the stark contrast between social and news narrative is something worth paying attention to.
September 17 -- NWO.AI issues final Inflection Point notification before conversations explode.

In the final Inflection Point on September 17th, the social narrative split into two factions. One believes that the fallout will be limited, that the CCP will step in and perform some debt restructuring, and that there will not be global exposure. The other faction believes that the CCP will let Evergrande default, and will inject liquidity into the company to prepare for the fallout, but will not rescue it per se.

Though the last month showed a stark contrast between social and news data, by mid-September we see more unification. The news sources finally began shifting their tone as well, following the social narrative and calling the situation extremely dire. "Not too big to fail" becomes the new motto.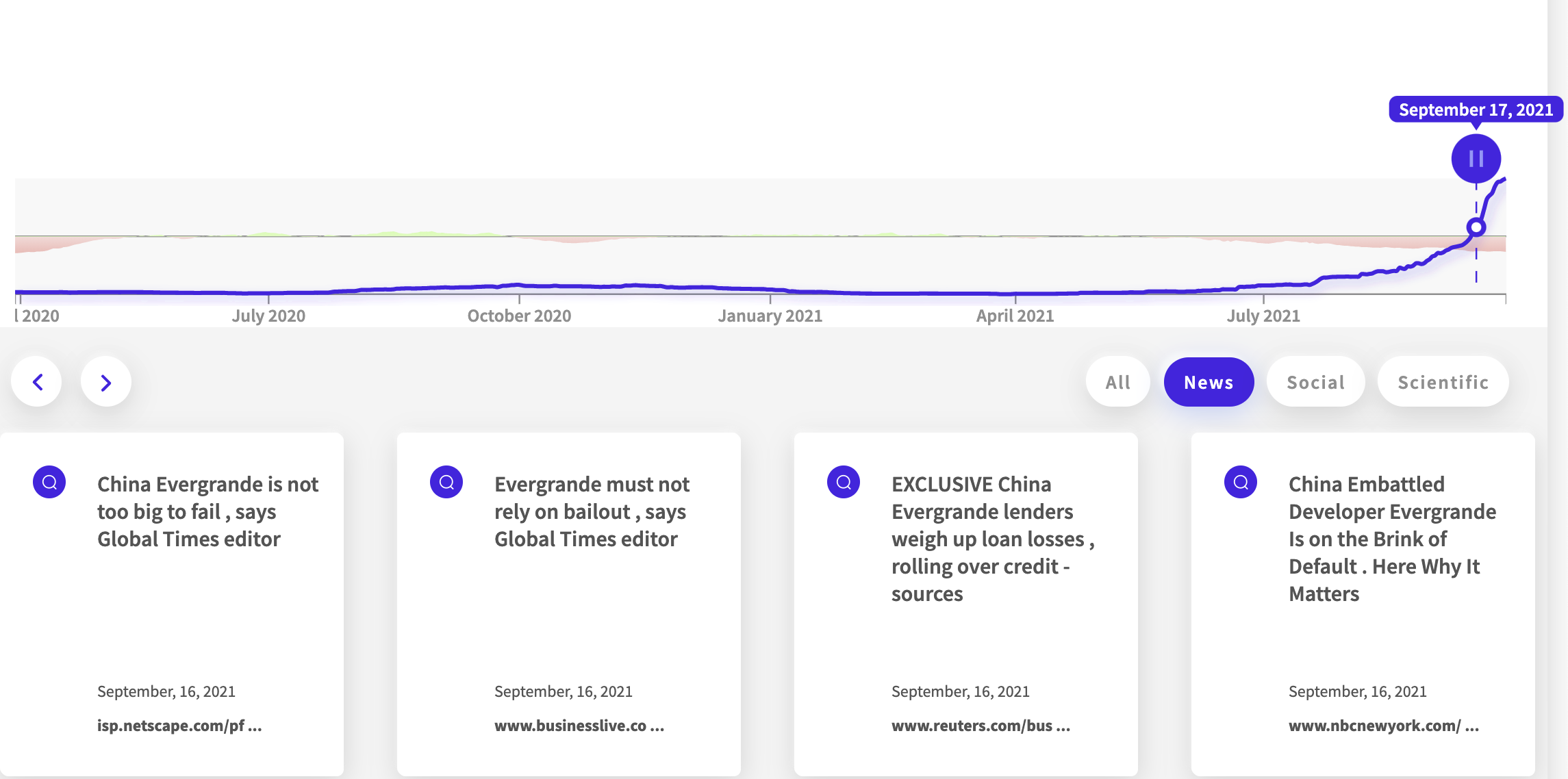 Takeaway: Narrative is king
What we've learned from anticipating major shifts such as the one in the Evergrande saga is that the post-pandemic social, political, and economic world order is increasingly driven by cultural narratives and online discourse. Traditional media sources such as news & TV just don't cut it -- in fact, they are lagging indicators. NWO's bleeding-edge technology enables clients to surface the fears, motivations, and demand drivers underlying various Signals, providing them with unprecedented access to the 'why' behind a narrative. Get in touch with us to discuss how we can help your business transform unstructured & noisy data into insights in seconds.
What's next?
Now a key question in all of this: what is the CCP going to do?
In a worst-case scenario, as our narrative data has evidently surfaced, the closest comparison is (seemingly) the 2008 financial crisis in the West. Evergrande-related stress could spread across the world's financial system and freeze the global credit market. That would be China's Lehman moment, risking a repeat of the global financial crisis and dragging the global economy down with it. Think of a real estate crash, surging unemployment, lower wages, and protracted economic recessions.
China has a lot of tools to prevent major disruptions, of course, and much of Wall Street believes Beijing will use them if necessary. Though the government has prioritized cracking down on corporate debt, the current situation affects households that have purchased unfinished apartments. Some are speculating about the investment of government capital, among other approaches. Most recently, Evergrande announced selling a nearly 20% stake in Shengjing Bank as it hopes to raise money.
Our AI will continue to keep a close eye on the social and news narratives as Beijing decides what next steps to take.