"Everything dies, baby, that's a fact, but maybe everything that dies someday comes back."
-  Atlantic City by Bruce Springsteen
I'm probably one of the rare members of Gen Z that listens to Bruce Springsteen. His lyrics often address the experiences and struggles of working-class Americans and perhaps they speak to me about the struggles of starting up. His words seem to hold especially true for several mega and microtrends that have been given a second lease on life, thanks to the pandemic. We've highlighted 3 such trends in our newsletters over the past week.
In agreement with Bruce's words, Drive-Thru culture is back from the dead. NWO.AI's predictive platform, which tracks more than 20 million mega and micro shifts in real-time and generates early warnings on inflection points, first alerted clients about a spike in the signal related to Drive-Thru at the beginning of March. This is before most states mandated reduction of indoor dining. What happened and who are the beneficiaries?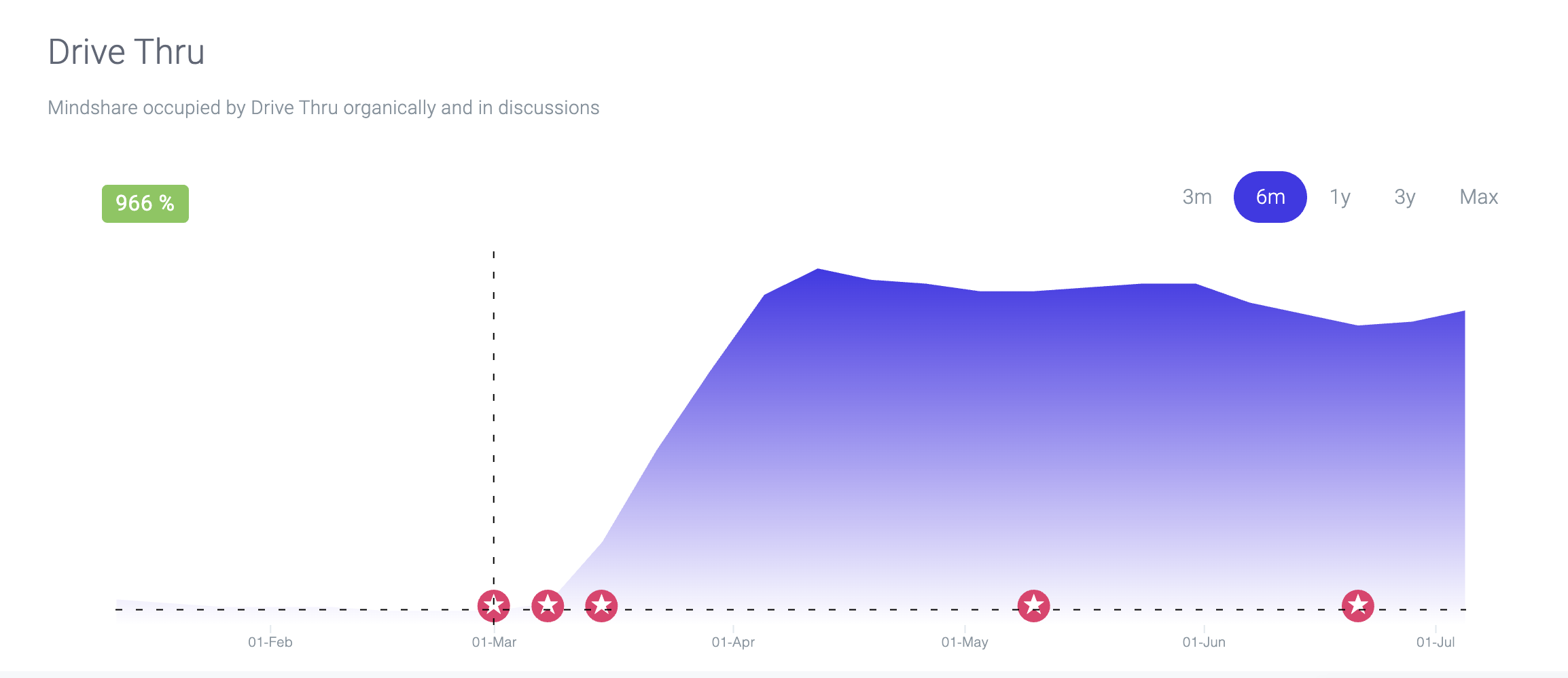 The past: For generations, Drive Thru's have been the cornerstone of the classic American fast food experience. Before the pandemic, only 25% of restaurant visits would occur at a drive-thru window. To disincentivize fast-food chains further, a growing number of local legislatures in cities across the country wanted to put an end to drive-thru windows on grounds of curbing pollution and making the city more walkable.
The present (and the future?): the one service model that has come out of the pandemic looking more important than ever is the drive-thru, with some chains reporting pre-coronavirus sales figures in the opening days, thanks to a 100% drive-thru based model. In the age of social distancing, it is the only model that seems to stick, even for restaurants that don't typically have windows. They also serve as a big signal that the restaurants are open. Chipotle Mexican Grill added its mobile order-focused "Chipotlane" windows to the bulk of its new units. Outback Steakhouse owner Bloomin' Brands plans to open its drive-thru, pickup, and delivery concept Aussie Grill.
The beneficiaries: According to a WSJ report from earlier this week, calls-to-service drive-through equipment jumped 42% in April and May compared with the average of the previous 12 months. Cylinder sales are up 300% over the same period. NWO.AI's platform, which tracks more than 10 million stakeholders associated with various trends, highlighted a growing interest in several vendors related to the drive-thru equipment. This is useful to clients from an M&A perspective, looking to ramp up drive-thru equipment acquisitions within their existing holdings.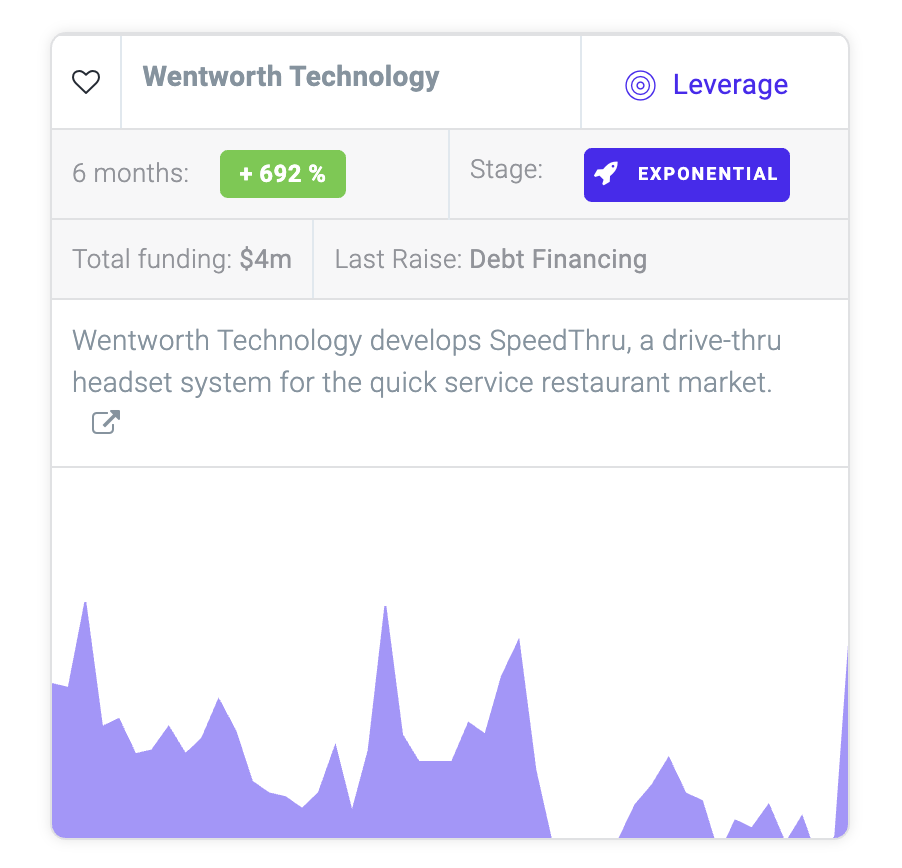 Another service trend that was propelled into exponential growth is food delivery, a quick search on NWO.AI reveals: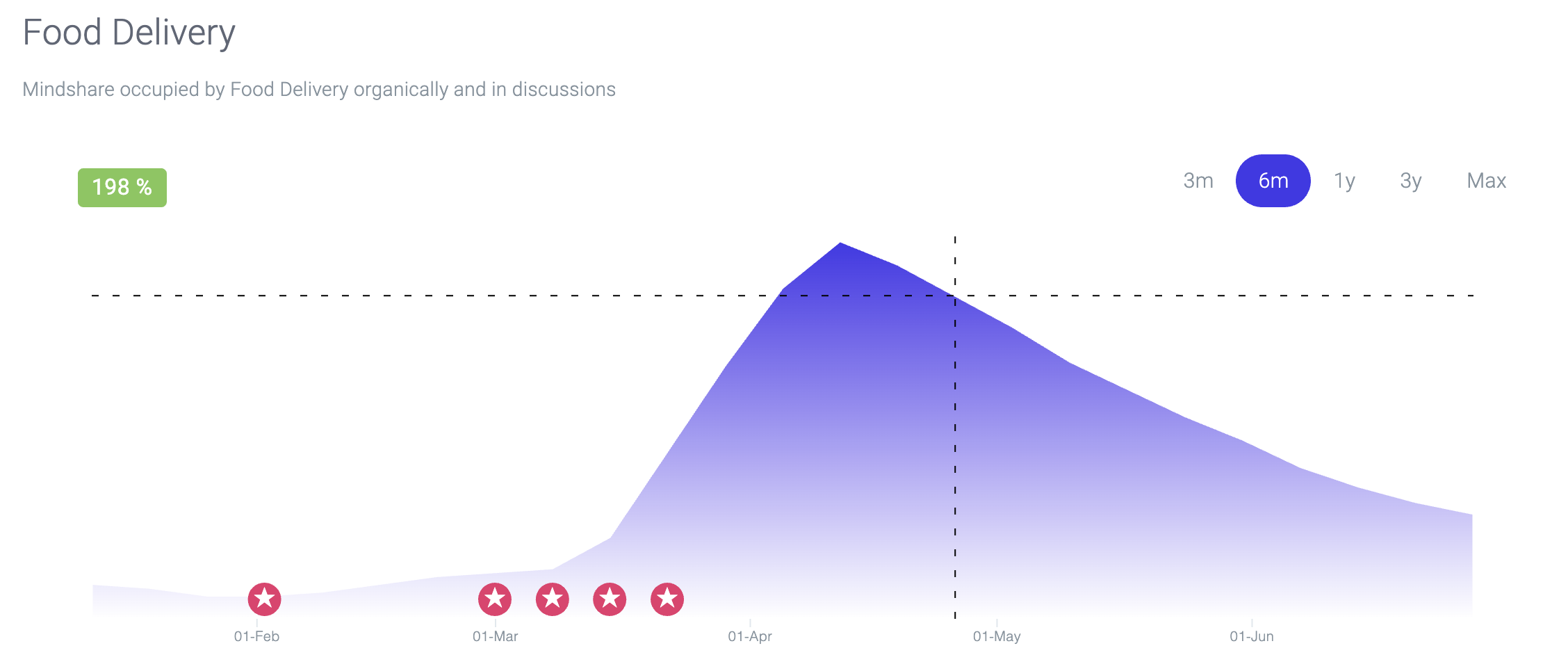 Enter, cognitive dissonance: If food delivery is growing, it would make sense for cloud kitchens to flourish, i.e. commercial facilities purpose-built to produce food specifically for delivery. These commissary kitchens are sometimes also known as ghost kitchens, shared kitchens, or virtual kitchens with the delivery-only food brands operating within them called virtual restaurants.  A search on NWO.AI for "Cloud Kitchens" is bound to make you scratch your head: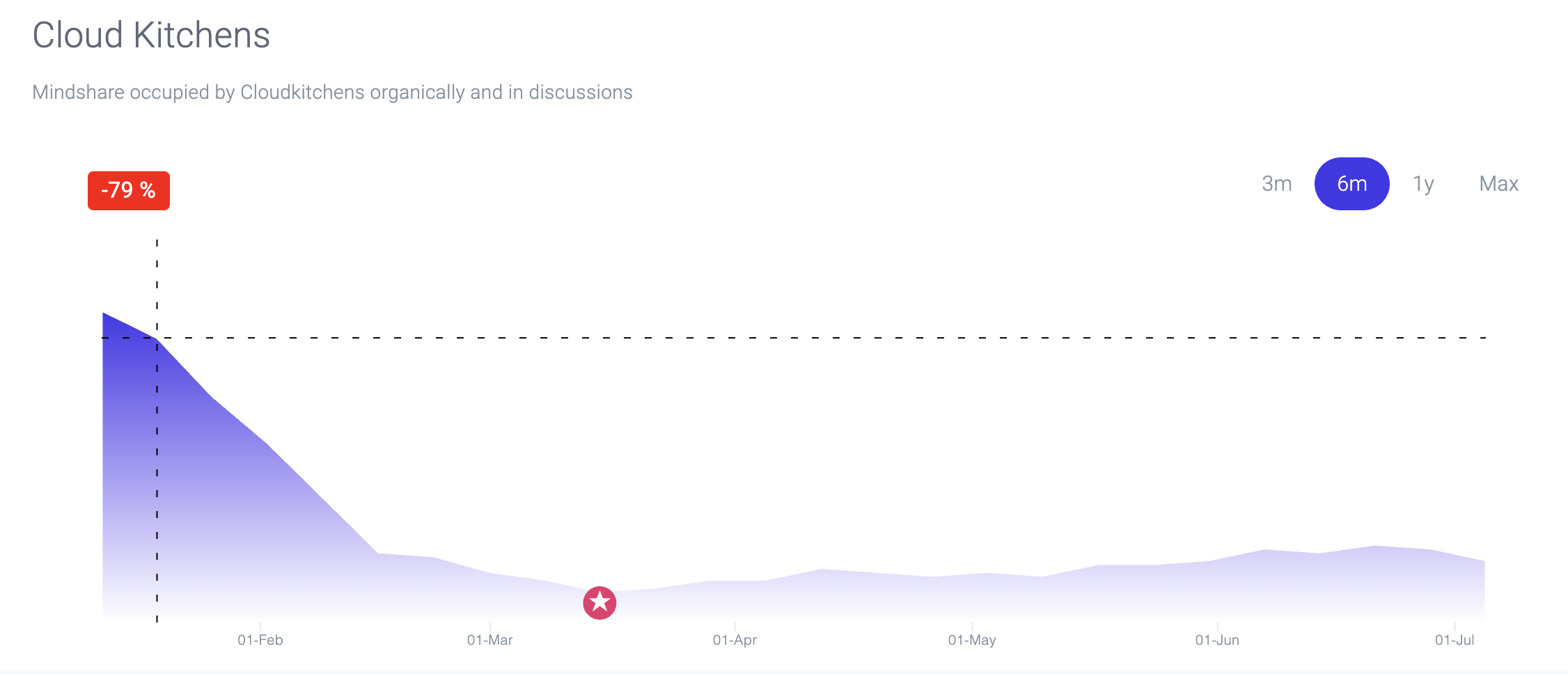 This was supposed to be the perfect storm for former Uber CEO, Travis Kalanick's ghost-kitchen venture, CloudKitchens. The Impact Score, which declined by 79% over the past 6 months, has been a big disappointment. The idea of these virtual kitchens was to allow startups and restaurants to test new menu items without a huge investment or having to build a dining room in pricey downtown areas.
What went wrong? The answer is embedded in understanding the underlying context behind conversations regarding restaurants and dining in culture today. Context Space (NWO.AI premium feature) can assist clients in understanding the key demand drivers behind trends. NWO.AI's Context Space for "restaurants" and "dining" reveal exponential interest in outdoor dining options.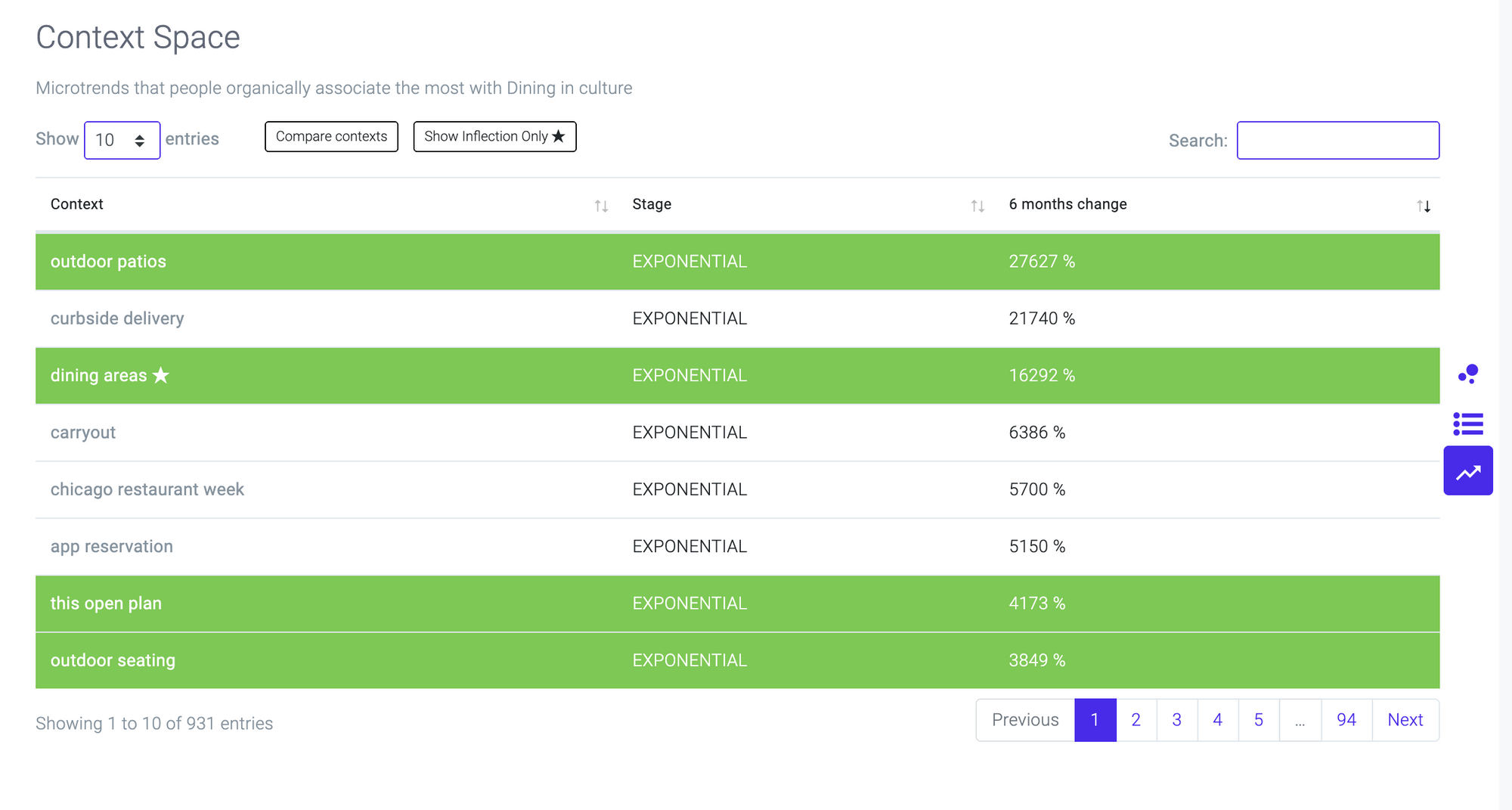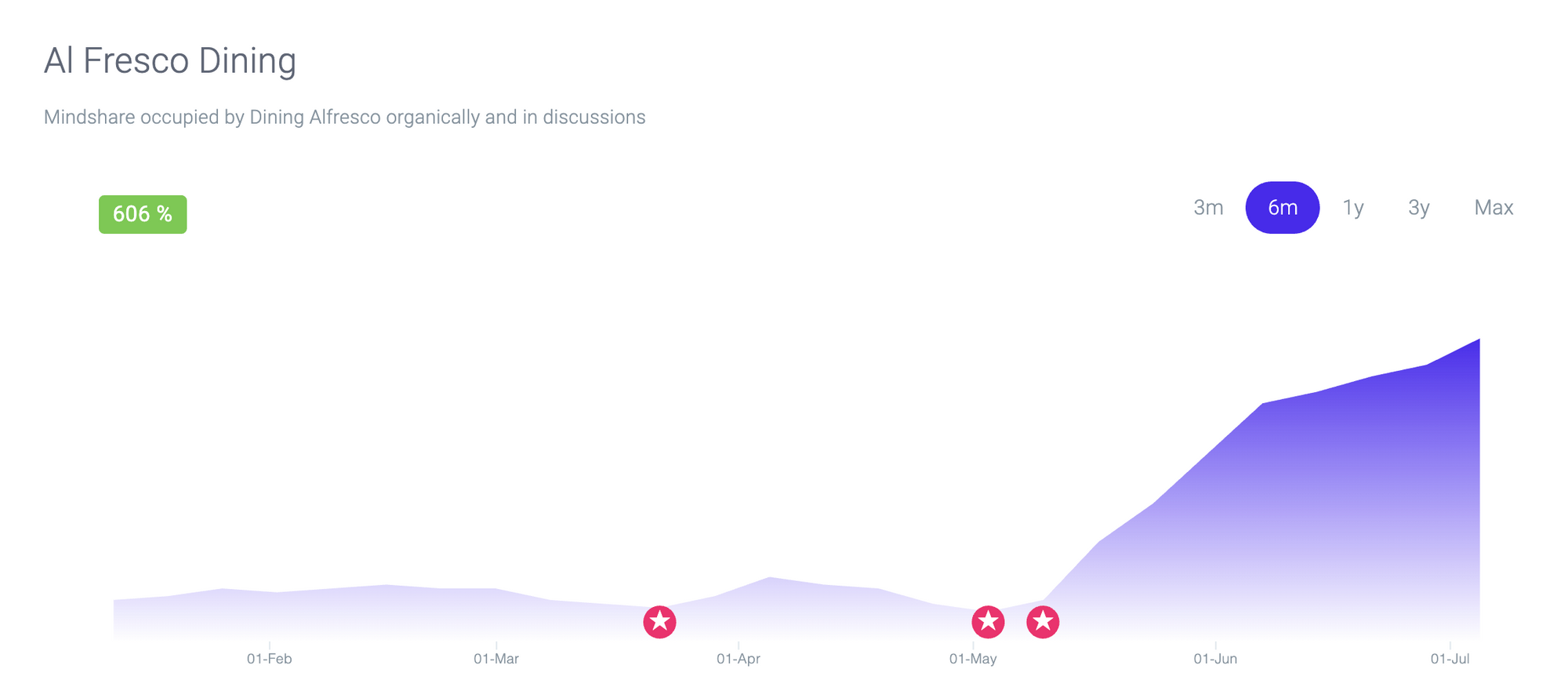 Between the lines: "Al Fresco Dining" has grown almost 606% in its Impact Score since the beginning of the pandemic. This might explain why customers still prefer the experience of being in the physical environment of a restaurant, and associating with a restaurant's brand - over virtual brands that are no different from other options on food delivery apps. From the restaurants' perspective, they are left to compete with a myriad of other restaurants in the digital marketplace, which might explain the departure of Eric Greenspan from CloudKitchens, renowned LA-based chef and restaurant entrepreneur, who lent his brand to the company.
COVID-19 has created a new social, political, and economic world order. Are you ready to get ahead of the game and proactively shape your future? Reach out for a demo and we can help you better understand your category and ways to approach it.
"Down here it's just winners and losers and don't get caught on the wrong side of that line"
-  Atlantic City by Bruce Springsteen
As always, thanks for reading. Please invite your friends to sign up here.