Edited by Julia Myers
Dear reader,
We are two weeks into 2022 and past the second anniversary of the global pandemic. In this week's pulse, we break down five signals we are seeing in the world across politics, technology, and fashion - we hope you enjoy!
---
1. The latest on Russia Ukraine escalation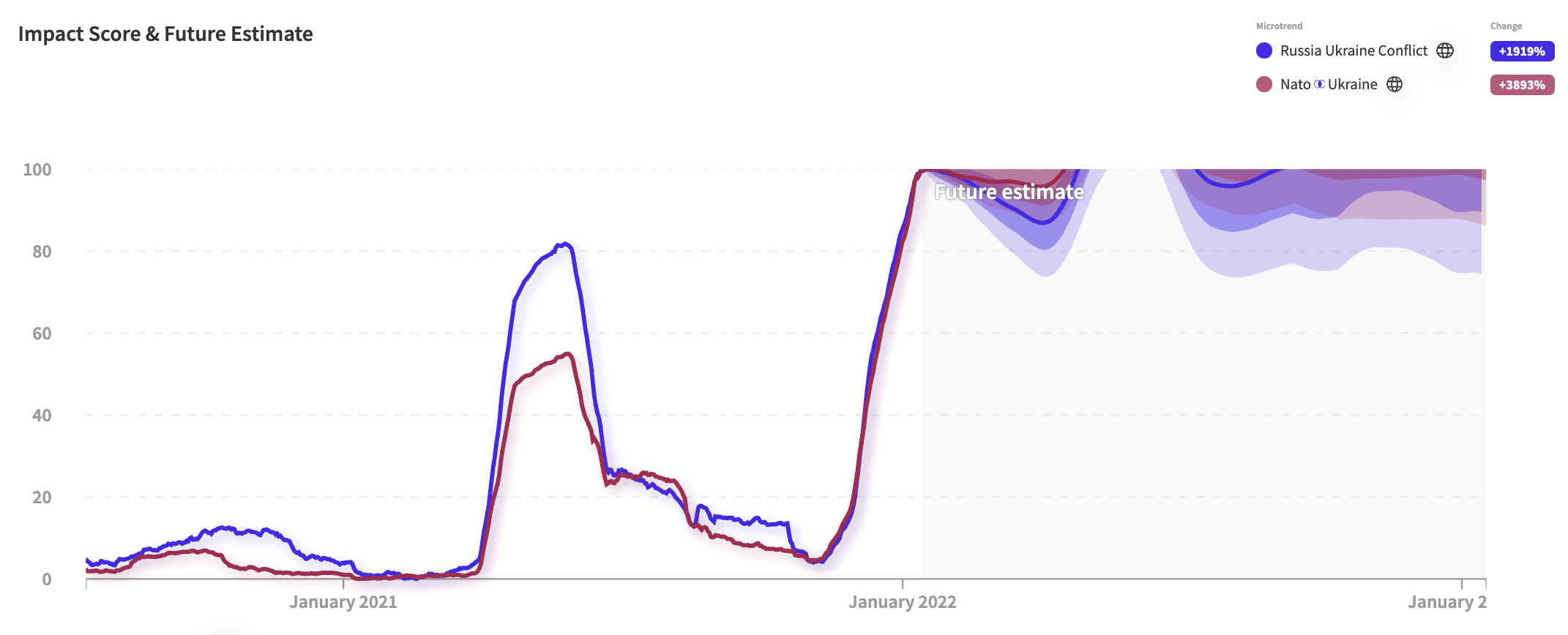 Over the past two months, the impact score for "Russia Ukraine Conflict" has exploded, peaking at a score of 100 and projected to continue to rise into next year. We wrote about the growing border tensions between Russia and Ukraine in December. Since then, tensions have continued to escalate, with Russia massing additional troops and artillery at the border. Moreover, talks between NATO and Russia broke down last week in Brussels and Geneva over Russia's demand that NATO promise to halt any eastward expansion of the alliance, which NATO and the US firmly rejected. NWO.ai's impact score saw a direct correlation between the "Russia Ukraine Conflict" and NATO conversations relating to Ukraine in early November, both signals breaking out in tandem. According to newly released intelligence, Russia is preparing to create a pretext for an invasion by having undercover operatives in Ukraine conduct "false flag operations."
The consequences of a Russia-Ukraine conflict would be a regional and global disaster, with detrimental human and economic impacts. The association between "Natural Gas" in the context of "Russia Ukraine Conflict" spiked in recent weeks with concerns of how a conflict will impact gas supply from Russia to the rest of Europe.
The ultimate question is how will the US and NATO members respond to a Russian invasion? An armed conflict between NATO and Russia over a non-NATO member is unlikely. Still, we may see the US and its allies support backing Ukrainian insurgents against Russian occupation. The US will not look to be engaged in conflict in Europe, as it is already trying to shift its foreign policy focus to China. The most likely response from the US and NATO? Economic sanctions (but not at the cost of European energy) and additional punitive measures.
2. Eating our way to a greener world: veganuary and reducetarianism
Strict veganism may be the best choice environmentally and diet-wise (depending on whom you ask), but it's not the most accessible diet for budget-conscious people with busy schedules. Veganuary offers a trial run of the diet, along with the support of the more than 95,000 who have signed the pledge. Originating in the UK and accompanied by a litany of participating brands, discounts, and even a promotional video featuring a voiceover from James Cromwell, veganuary is bigger than ever and only growing, with the signal-up over 3273% this winter.
Reducetarianism offers a long-term solution to those looking to balance lifestyle and sustainability, eliminating the strict boundaries between vegan, vegetarian, and meat-eater diets. Reducetarians focus on reducing dairy and meat consumption while allowing the flexibility to indulge in certain foods and ingredients. People are drawn to the movement for environmental, health, and lifestyle reasons, and conversations surrounding the diet have surged 632 points with New Year's resolutions.
3. Storm brewing in the East: global supply chain shortage

Our supply chains are already in deep ship. Still, things could worsen before they look better. The impacts from China's zero-COVID policy are beginning to reverberate across supply chains as more infectious Omicron variant snowballs in the country. China is locking down cities and ports to curb the spread, which will be more challenging to contain. Ships are scrambling to reroute their shipments away from shutdown ports. The short-term ramifications are clear, continued shortages of everyday goods coming in from China and transitory pressures on inflation.
In recent weeks, NWO.ai's signal for "China Port Lockdown" has grown exponentially and is expected to continue to rise over the next three months. Also, NWO.ai's location metrics for "China Port Lockdown" show a significant uptick in the conversation volume in the below Chinese cities.
4. Oranges in the red
Feeling like your morning glass of OJ is a little pricier these days? Orange prices have spiked 50% since the beginning of the pandemic, and not just because lockdown has people returning to sugary, comforting favorites - it's primarily down to a critical shortage of oranges in the Western Hemisphere. Florida especially is still feeling the effects of Hurricane Irma, manifesting through the highly pervasive and deadly citrus greening disease, limiting this year's orange crop to its lowest level since 1945. Our AI picked up an inflection point for "Orange Juice" in early December when conversation picked up about the Orange Juice Shortage.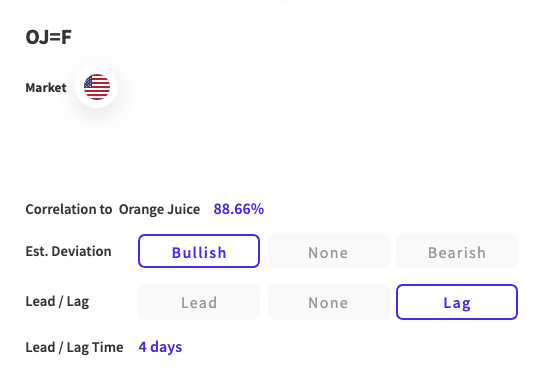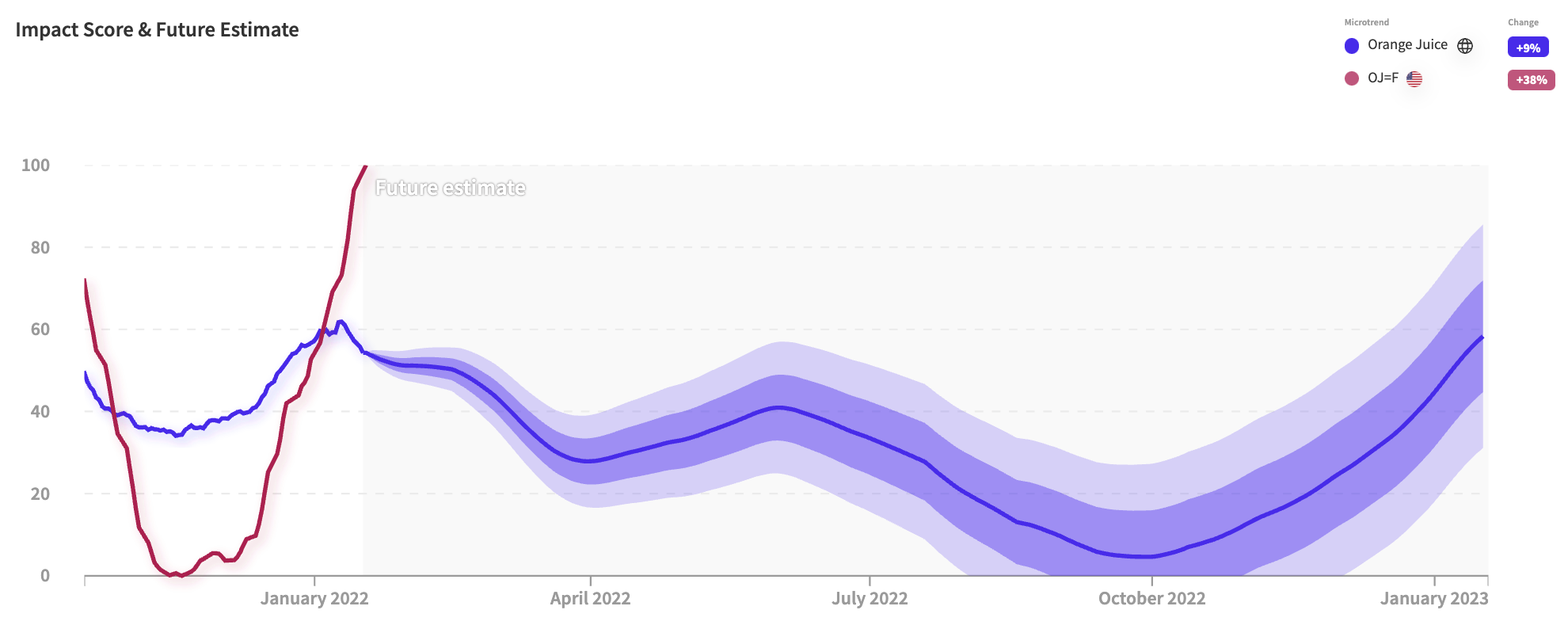 As a result of the shortage, the price of orange juice futures has shot up in recent weeks. Our signal for Orange Juice led Orange Juice futures by four days and is correlated 88.66%. Indicating that a lot of the future price movement is being driven by consumer conversation. In the meantime, you might want to pass on that pricey mimosa at brunch - the avocado toast already costs enough these days.
5. Your next pair of jeans could be made of… hemp?

Jeans made from hemp? This can be the future very soon as companies look for ways to reduce their carbon footprint. Companies like Panda Biotech, which is partnering with Wrangler and Lee, are leading the hemp jean industry. The impact score for Hemp Denim is exploding right now, with sustained momentum into 2022. The challenge, of course, will be cost. Hemp is 1.5 to 10x more expensive than its cotton counterpart, so it's much more likely to be woven among other materials.
Speaking of other materials, mono-fiber jeans, pants where a single fiber composes 98% of the material are on the rise. Tommy Hilfiger led the trend with their Earth Day capsule release last year, and mono-fiber jeans are now part of a broader conversation on fast fashion and the vast amounts of clothing that end up in landfills every year. In addition, mono-fiber jeans are much easier to recycle as they are composed of mostly one material, and raw denim is also much more conservative on the water needed to produce them.
---
With geopolitical, cultural, and social upheavals on the horizon, 2022 is already bringing the winds of change from every direction. That's why we're here - from NATO policies to fashion fads to even orange juice; we track the trends that matter to you and your business. Keep an eye out for our weekly pulses as we continue to bring you early and accurate insights throughout the year.
---
About NWO.ai
NWO.ai's predictive platform enables leading Fortune 500 companies and government agencies to anticipate and track global cultural shifts by aggregating, analyzing, and producing actionable reports on human-generated data. We are leveraging petabytes of external, noisy, and unstructured data from various sources –including search, social media, blogs, news, patent databases, SEC filings and we are continuously adding more sources. Our mission is to answer the what, when, and most importantly, 'why' behind a consumer trend and enable our customers to detect these shifts as early as possible.
P.S.  We're hiring! Check out our open positions and let us know if you'd be a good fit for our team. We're growing quickly and adding several engineering roles to help us decode the anatomy of next.
Thank you for reading. If you liked the piece, please help us spread the word and invite your friends to sign up here.