By Imogen Low & Pulkit Jaiswal
Edited by Sarah Gupta, Miroslav Dimitrov & Cindy Tan
Consider a 2700 page document. That's more than twice as long as The Lord of the Rings trilogy and would take the average person 75 hours to read it.
Now, imagine if our elected politicians were to read the entire document before signing off on it.
Yes, we're talking about the $1.2 Trillion Infrastructure Bill passed by the Senate on Tuesday.  It's an encouraging example of bipartisanship that addresses a wide range of topics, including physical infrastructure, climate change, tech regulation, and energy. Democrats will now seek to pass a $3.5 trillion budget resolution, which pushes for even more goals on the President's agenda.
While the world of politics has been focused on the trillion-dollar bill, the political class has been surprised by the public's engagement -- be it through social media, search engines, or even traditional broadcasting. What follows is NWO.AI's proprietary Impact Score signal denoting the mindshare/engagement in the US for the Infrastructure Bill: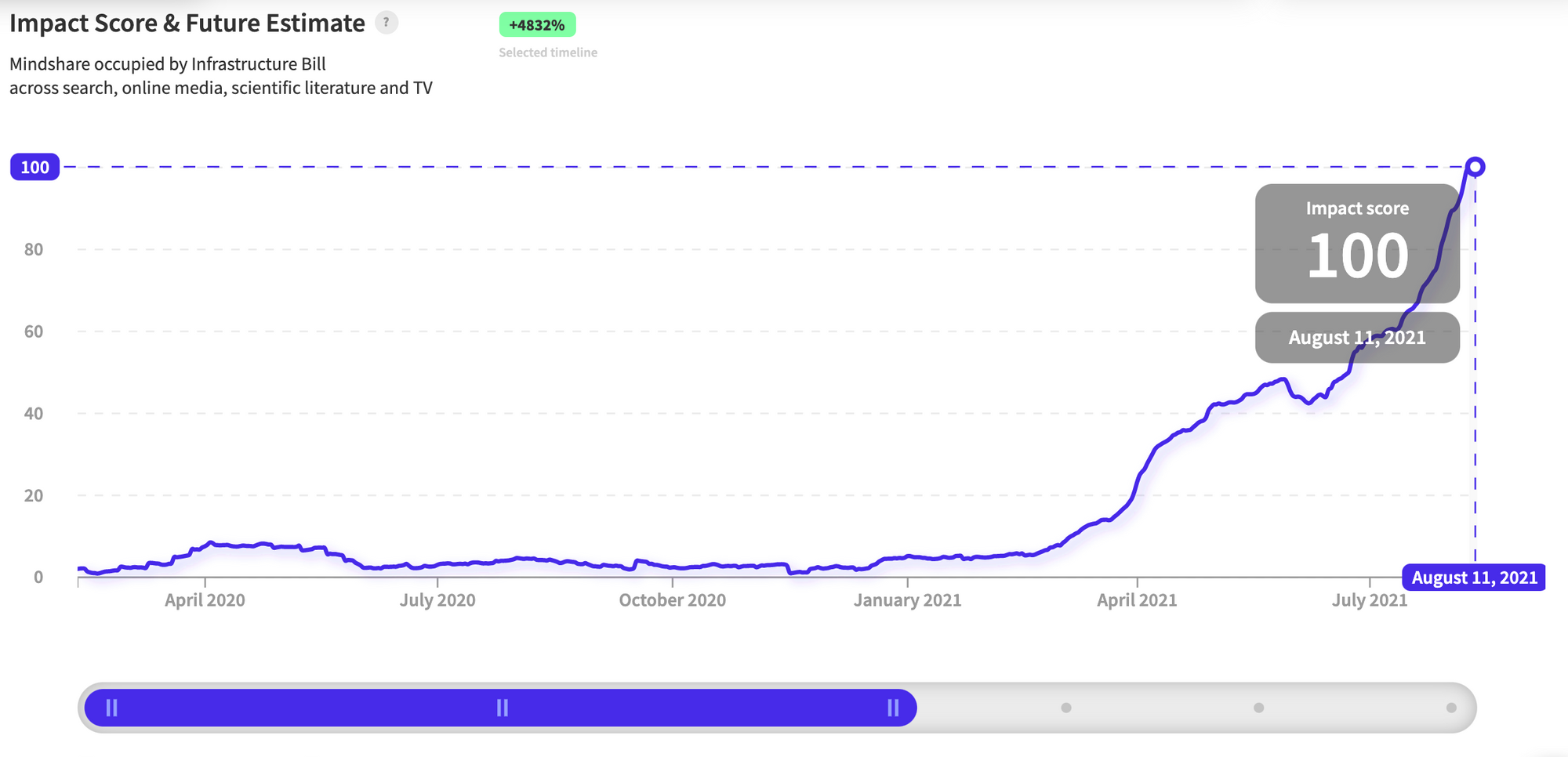 Due to government spending and an ongoing accommodative monetary policy, those who own inflation hedging / liquidity-driven assets (stocks, crypto, and real estate) have seen their net worths grow exponentially. Wealth generation combined with public engagement has created the perfect storm for action from stakeholders across the board: the public, media, infrastructure giants, crypto firms, government lobbyists, and environmental activists.
Here's some public knowledge of what the bill calls for: new spending on roads, bridges, public transport, utilities, broadband, cryptocurrency, and environmental protection over five years.


But that can't be all that's in this 2700-page document driving this level of engagement. So what else is really in it? And for policymakers, what areas are generating the greatest engagement from potential voters… red, blue, or purple states? Thanks to NWO.AI, you can have a deeper look in 10 min.

Methodology

NWO.AI's core algorithmic engine leverages a set of bleeding-edge natural language processing (NLP) technologies to extract core themes, ideas, and concepts from over 5 petabytes of human behavioral data across search engines, online media, TV, scientific literature, and e-commerce. The same algorithm was recently fed more than 200,000 historical US congressional bills (spanning 8 years), which were modeled into a semantic knowledge graph. We use this graph as a historical benchmark to draw out novel, unique, and topical concepts out of our target document -- in this case, the massive 2700 page long Infrastructure Bill.
By producing our Impact Score signal for each of the concepts, we're able to tease out issues that are exploding from the ones that have the least amount of support from the general public. We can also identify issues that are out of the ordinary and stand out -- something that is cumbersome for policymakers and institutions to do even with a team of human analysts. Importantly, we have also determined the diffusion of interest across geographies to identify which key states are generating the most engagement and mindshare.
Themes and signals:

1. Infrastructure 2.0 ($314 billion):

The most significant components of the bill are traditional infrastructure development and improvement initiatives:
$110 billion is put into roads and bridges;
$66 billion allocated for rail;
$73 billion committed to improving the power grid;
and $65 billion to make broadband internet affordable and accessible.
Key themes and inflection points are below:
1a. Electricity infrastructure
Electricity storage (+98%): With millions of Americans having experienced power outages related to extreme weather events, electricity storage has become one of the key points in the Infrastructure Bill. The bill includes $27 billion in grid spending, which can meet evolving customer needs for electricity and generate economic opportunities for local communities.

Electric grid flexibility (+128%): When entire cities and neighborhoods lost power during the February winter storm in Texas and the recent heat waves in Portland and New York City, it became clear that the U.S. power grid was unprepared to handle extreme weather events. NWO.AI has detected multiple inflection points in the mindshare for electric grid flexibility over the past year, which skyrocketed in July. Improving the nation's power grid is obviously a key concern and we expect interest in electric grid flexibility will remain strong in the coming months.

Utility relocation (+50%): Improving the country's infrastructure would require utility relocation, a lengthy process that involves the moving and connecting of underground cables that may conflict with highway constructions. The October 2020 spike coincided with the approval of the $6.8 million utility relocation package in Huntsville, Texas. With federal funds poured into highway construction, utility relocation should see another spike in interest and engagement soon.

Key Stakeholders: Electric Reliability Council of Texas, Gov. Greg Abbott (Texas), Entergy ($ETR), Federal Energy Regulatory Commission, Quanta Services ($PWR), Itron ($ITRI), NV5 ($NVEE)
Key Locations: California, Indiana, Missouri, Nebraska
1b. Construction

The construction-related narrative is currently at an inflection point due to the following drivers:
Highway construction (+10%): Despite the onset of Covid last year, the highway construction season -- which typically starts in April and ends by October -- went ahead as normal. While the highway construction market saw a slight decline this year as a result of the Covid economic contraction, the market is expected to recover as federal money is poured into highway construction to improve road conditions for rural communities.

Construction materials (+129%): Surging housing demands and lagging demand for non-residential construction have been contributing to the fluctuation of interest in construction materials. While NWO.AI detected several inflection points in construction materials since 2020, the  Impact Score started climbing in February when word of the Infrastructure Bill began to spread. Now that we've seen the bill, we know that the phrase "construction materials" occurs in 10 separate sections. Aggregates and cement companies are likely to benefit from public funding of construction projects, which is supported by the projected 1-year growth in the Impact score.

Key Stakeholders: U.S. Concrete, Inc. ($USCR), Cemex ($CX), Caterpillar ($CAT), National Highway Traffic Safety Administration, Montrose Environmental Group ($MEG), Deere & Company ($DE), Oshkosh
Key Locations: Texas, Nebraska, Pennsylvania
1c. Broadband
The Infrastructure Bill includes a $65 billion federal broadband bill for improving broadband access across the country. The bill will invest in "broadband infrastructure," as mentioned in 9 sections, to provide high-speed internet to more than 30 million Americans in rural communities throughout the country. The Accelerating Broadband Connectivity Act of 2021 was introduced in May, and correlated with the spike in chatter around federal broadband.
Key themes and inflection points are below:
Tribal Broadband Connectivity (+380%): The $980 million Tribal Broadband Connectivity Program was announced in June, coinciding with the massive spike in chatter around the topic on our platform. According to federal data, only 67% of Tribal lands have access to broadband internet. This program will help Native American, Alaskan Native and Native Hawaiian communities bridge the digital divide and gain access to essential technologies, economic opportunities, and remote learning.

Broadband affordability (+401%): The federal broadband bill will also lower the prices of broadband services. Recipients of the investment money are required to offer low-cost internet plans, competitive prices, and price transparency. Broadband affordability will garner the most interest from low-income households who may finally be able to afford internet access.

Key Stakeholders: Affordable Internet for All, Department of Education, Nvidia ($NVDA), Micron Technology ($MU), Cisco Systems ($CSCO), Applied Materials ($AMAT)
Key Locations: Louisiana, Oklahoma, California (primarily Northern California), Virginia, West Virginia
1d. Accessible transportation

NWO.AI has detected multiple inflection points in the signal for "accessible transportation" over the past year, which started peaking shortly after the U.S. Department of Transportation (DOT) issued the first draft of the Strategic Plan on Accessible Transportation in January. The White House statement says the infrastructure deal will use "$39 billion of new investment to modernize transit and improve accessibility for the elderly and people with disabilities." Interest in accessible transportation is likely to climb in the coming months as this deal "will benefit communities of color since these households are twice as likely to take public transportation and many of these communities lack sufficient public transit options." Notably, the bill mentions "transportation reauthorization" in 14 sections, "Tribal transportation" in 13, and "intercity passenger rail" in 12.
Key Locations: Arkansas, Texas, Nebraska, Missouri

2. Climate change ($46 billion)
It's clear that fighting climate change is a central agenda item, with "greenhouse gas emissions" mentioned in 19 different sections of the Infrastructure Bill.
As the discourse on the topic has increased and become more polarized in the last five years, climate-related disasters have cost the US over $600B and resulted in thousands of deaths. The bill puts $46 billion towards these kinds of large-scale events, and our platform shows that the discourse around these and future climate-related disasters will likely continue to increase. Key themes and inflection points are below:

Extreme weather events (+80%): Chatter around extreme weather events hit a peak Impact Score of 100 this summer with hotter-than-average temperatures in the western and northern states, and atypical and significant rainfall leading to severe flooding in Arizona in July. These environmental disasters driven by the climate crisis have taken a toll on America's infrastructure. The bill brings attention to this issue, mentioning "extreme weather events"  in 10 distinct sections. NWO.AI indicates that interest in the topic is expected to eclipse its summer peak in the coming months, as all eyes will be on how this bill will prepare the country's infrastructure for the future.

Stormwater management (+9%): Inflection points in stormwater management detected throughout 2020 are correlated with the storm activity in the Atlantic Hurricane Season that affected Texas, North Carolina, Louisiana, Florida, and New England. In June, the Water Quality and Job Creation Act (H.R. 1915) was passed, with $2 billion allocated to the sewer overflow and stormwater reuse municipal grant program. However, chatter around the topic reached an all-time high in early July, when tropical storm Elsa flooded the streets and subways of New York City and made international news headlines. In the bill itself, we see 7 sections with "stormwater runoff" and 5 sections with "stormwater management." Interest in stormwater management will see a higher peak as the general public watches for infrastructure improvements in the coming months.

Wildfire mitigation (+196%): According to one estimate, "4.5 million homes in the United States are at risk of wildfire, with more than 2 million in California alone." Wildfire mitigation is a rising concern, especially as this year's wildfire season is predicted to be a severe one. According to the National Interagency Fire Center, there were 39,402 wildfires from January 1 to August 9, 2021, compared with 33,917 in the same period in 2020. With the bill potentially investing $8 billion in wildfire risk reduction, funding for community wildfire defense grants, Collaborative Forest Restoration Program, and firefighting resources, wildfire mitigation will see more interest in the next few months.

Mudslides (+408%): Heavy rain and severe flash floods over the past three months have triggered mudslides in Colorado and Utah this summer, especially in areas that have been burned by wildfires last year. Concerns about mudslides have grown 408% in a few months and will remain high in months to come. The Infrastructure Bill will pour over $50 billion into protection against droughts and floods, in addition to a major investment in weatherization.
Key Locations: California, Colorado,  Louisiana, Nebraska
3. Tech Regulation ($2 billion):
The Infrastructure Bill introduces cryptocurrency tax regulations and funnels about $2 billion to cybersecurity. Key themes and inflection points are below:
Infrastructure Cybersecurity (+138%): As a critical part of the nation's cyberinfrastructure, the Cybersecurity and Infrastructure Security Agency in the Department of Homeland Security (DHS) identifies and mitigates potential online attacks. The State and Local Cybersecurity Act will allocate $1 billion. Through a DHS grant over the next four years to deal with online attacks. Though extremely specific, the bill mentions "cybersecurity threats" in 7 sections and "cybersecurity vulnerabilities" in 6.  

Crypto tax reporting  (+100%): This bill signals the administration's intention to more highly regulate cryptocurrency as it imposes regulations on the industry's tax reporting. Importantly, this is a large source of revenue for the bill, as it is projected to generate $28 billion over the next 10 years.

Data Preservation (+116%): The preservation of data privacy has been one of the major concerns of the general public over the past year. Under the Smart Cities and Communities Act in the Infrastructure Bill, $1.1 billion will be invested in enhancing cybersecurity and privacy protections among other smart city programs. Interest in data preservation will continue rising as the public awaits the rollout of these programs.

Key Stakeholders: Qualcomm ($QCOM), Palo Alto Networks ($PANW), Zscaler ($ZS), Crowdstrike ($CRWD), Paypal Holdings ($PYPL), Square ($SQ), Microstrategy ($MSTR)
Key Locations: Illinois, Texas, California

4. Energy ($29 billion)
As expected from the emphasis on climate change, the bill also tackles energy. $15 billion will be split evenly between electric vehicle chargers and converting buses and ferries to electric power. Additionally, about $14 billion will be put towards hydrogen and nuclear, while the solar investment tax credit is also adjusted. Key themes and inflection points are below:
4a. Energy security:
Mineral Security (+38%): The transition to clean energy will require a bigger demand for critical minerals, which are essential for electric vehicles, wind power, and national defense. Mineral security gained a significant amount of interest last year after the DoE released its strategy to support domestic critical mineral and material supply chains, which have been disrupted by the pandemic. Whether the U.S. can cope with the increased demand for critical minerals remains to be seen.

Energy Storage (+76%): The Infrastructure Bill allocates $73 billion for renewable infrastructure investment, which includes energy storage systems. However, the energy storage industry will be limited by the lack of an investment tax credit, which could reduce further investment and the creation of new jobs in the industry.

Intermittent Generation (+1%): Intermittent renewables saw a record-high penetration in 2020 as the pandemic served as a testbed for grid reliability with higher use of renewables, according to Deloitte's power and industry outlook for 2021. However, interest in an intermittent generation is fading even with the Infrastructure Bill investment in research and development for electricity distribution technologies.

Electric vehicle batteries (+89%): According to the White House, the U.S. market share of plug-in electric vehicle (EV) sales is only one-third the size of the Chinese EV market. To change that, the Infrastructure Bill will pour $7.5 billion into building a network of EV chargers, which will drive the growth of EV vehicles and EV battery usages.

Key Stakeholders: Tesla ($TSLA), Lucid Motors ($LCID), Piedmont Lithium ($PLL), General Motors Company ($GM), Fluence, NextEra Energy ($NEE)
Key Locations: Ohio, California, Texas
4b. Energy sources ($14 billion + 30% ITC)
Hydrogen economy (+316%): The Infrastructure Bill will create a Clean Hydrogen and Research Program, which aims to commercialize the use of clean hydrogen in the transportation, utility, industrial, commercial and residential sectors. Of the $8 billion funding for creating new hydrogen research, development, and deployment programs at the Department of Energy, $52.5 million will be poured into 31 projects that focus on bridging the gaps in hydrogen production, storage, utilization, and distribution technologies, thereby creating jobs across the hydrogen sector. We can see that "hydrogen production" is a point of interest in the bill, with mentions in 9 unique sections. The biggest hydrogen-producing states are California, Louisiana, and Texas. According to the U.S. Department of Energy (DoE), the country currently produces 10 million metric tons of hydrogen. To achieve the climate goals highlighted in the Infrastructure Bill, hydrogen production has to increase by two to four times. With federal funding, increased hydrogen production is off to a promising start.

Solar integration (+104%): Last week, New Jersey Congresswoman Mikie Sherrill and Georgia Senator Jon Ossoff introduced the Revamping Appropriate Incentives for Solar Energy act to allow better solar integration. The act amends the solar investment tax credit to include integrated solar roofs, which is likely to drive demand for solar installations on residential property. The bill will incentivize solar by providing an increase in the investment tax credit from 26% to 30%, and an extension of the previous phasedown period.

Modular reactor (+1%): Interest in modular reactors is seeing a slow but steady climb since October 2020. In April this year, the U.S. state department announced the launch of its small modular reactor (SMR) program which supports energy innovation and provides the ability to partner with clean energy sources. Even Bill Gates is bankrolling nuclear reactor design company TerraPower, which is now testing a small modular reactor the company hopes to commercialize by 2030. SMRs are safer and more affordable than large reactors, and a 300-megawatt one can generate enough electricity to power 230,000 homes a year. The bill provides $6 billion towards supporting these nuclear efforts. Public sentiment remains mixed towards nuclear as a reliable and safe source of energy, though it is not actually more dangerous than other sources.

Key Stakeholders: First Solar ($FSLR), Enphase Energy ($ENPH), Bloom Energy ($BE), Cameco Corporation ($CCJ), Sunrun ($RUN), Bill Gates, Energy Fuels ($UUUU), Plug Power ($PLUG), Fuel Cell Technology ($FCEL), Department of Energy
Key Locations: California, Texas, Utah
Conclusion
Our platform surfaced the importance of key themes from the Infrastructure Bill, including construction and transportation, and responding to extreme events like wildfires and storms. The sobering commonalities between signals with the greatest rate of growth are issues that involve some sort of disaster mitigation -- from global warming to cyber threats. We anticipate a continuation of these trends as both climate change and geopolitical fissures intensify.
While the Infrastructure Bill provides support for roads, public transport, and broadband to disadvantaged communities across the nation, there's more work to be done. Understanding which issues are likely to grow exponentially and have the greatest public support could be a force multiplier for various stakeholders.
What's next
In our next Congressional piece, we'll focus on the upcoming $3.5 trillion antipoverty, healthcare, and climate change plan, which will also include higher taxes for corporations and high-income households. We'll be bringing you more insights on the global mindshare and impact of these topics, and offer predictions -- as we expect the bill to be hotly contested, in the government, public, and media.
If you are like us, then you most probably don't have 75 hours to dedicate to read and understand the bill, but you're likely very interested in understanding how this will affect both your personal life and business. Now can you imagine going through the same amount of information in an unstructured and scattered format? We don't - that's why we've created nwo.ai. Get in touch with us to discuss how we can help your business transform unstructured & noisy data into insights in seconds.
About NWO.AI
NWO.AI's predictive platform enables leading Fortune 500 companies and government agencies to anticipate and track global cultural shifts by aggregating, analyzing, and producing actionable reports on human-generated data. We are leveraging petabytes of external, noisy, and unstructured data from various sources - including search, social media, blogs, news, patent databases, SEC filings and we are continuously adding more sources. Our mission is to answer the what, when, and most importantly 'why' behind a consumer trend and enable our customers to detect these shifts as early as possible.
Thank you for reading. Please invite your friends to sign up here.