Edited by Christian Thompson
Hello readers,
This week we'll be publishing two inflection points! The first will be tackling all things skincare and cosmetics, while the second will cover the pet industry. So get ready for a summer filled with waterproof cosmetics, snail slime, and more.
I. Fun in the Sun? Sunscreen trends to help you fight the UV rays
It's officially summer. As the warm weather presents itself, sunscreen becomes a necessity for many. Sun protection factor (SPF) plays a significant role in consumer decision-making. We used our platform to see what SPF levels are trending. SPF 50 Sunscreen is poised for a big summer, followed by SPF 30.
We compared some of the most popular sunscreen brands. Household names such as Coppertone and Neutrogena found themselves at the bottom of the comparison. On the other hand, Eucerin and Anthelios ranked highest in the group. Despite this two brands being significantly more expensive, consumers are willing to spend money to protect their skin.  
II. Going to the Beach? Waterproof Cosmetics have you covered
Not many activities encapsulate summer better than going to the beach. So as the summer months begin, we want to make sure you are looking your best when you have your toes in the sand. Looking at our platform's signal for "Waterproof Cosmetics," we can see that it has experienced considerable growth over the past year. This signal has increased 1492% over that period, and our forecast predicts continued growth throughout the coming months.
Over the past three months, the signal for "Extreme Dimension Waterproof Mascara" has increased by 846%. Consumer conversation surrounding the trend is growing, and the future estimate forecasts continued growth. This exponential growth seems to stem from seasonality as there is more demand for waterproof cosmetics during the summer months. The signal for "Extreme Dimension Waterproof Mascara" comes from Mac's product "In Extreme Dimension Waterproof Mascara."
If you are interested in adding Mac's waterproof mascara to your cosmetic routine, here is the link.
III. Get Slimed: Snail Mucin on the Rise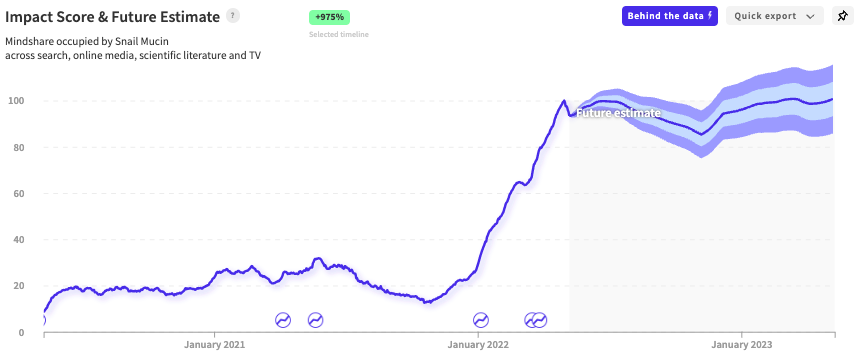 Over the past two years, the signal for "Snail Mucin" has increased by 975%, with the future estimate predicting continued growth. What is driving this growth? The short answer: snail slime. Snail mucin (snail slime) is a collagen-stimulator and moisturizer which helps repair and regenerate skin. Snail mucin seems to be growing in popularity due to its significant Korean beauty industry presence. Many Korean celebrities, including K-Pop stars, use snail mucin products in their skincare routine.
We used NWO.ai's platform to compare two market leaders in snail mucin products, COSRX and Mizon. Both K-Beauty brands' conversation has experienced rapid growth over six months. The impact scores for "Cosrx Snail Mucin" and "Mizon Snail Mucin" have increased by 253% and 397%, respectively. The future estimate remains constant in the summer months for the two companies. Based on these signals, it may be time to try snail mucin.
Check out COSRX and Mizon to see their snail mucin products.
IV. Vegan Cosmetics: Phyto Mucin
Over the past year, the impact score for "Phyto Mucin" has increased by 1192%. You may be wondering what phyto mucin is, and the simple answer is a vegan alternative to snail mucin. Now the question becomes, why use phyto mucin over snail mucin? Phyto mucin generates its value by providing a cruelty-free skincare product, whereas many believe snail mucin is extracted cruelly. As a result, snails are forced into stress to create the mucin, and many consumers call for a vegan alternative. However, many of these practices have changed to extract mucin more humanely.
Seaweed, Wild Yam, and Okra are some of the main extracts used in phyto mucins currently available. We used our AI to compare the signals for these ingredients. The results show that "Seaweed Extract" generates the most consumer chatter, with "Wild Yam Extract" closely in second. Phyto mucin seems to be gaining popularity and may be a viable alternative to snail mucin in the future.
If you want to check out some phyto mucin products, here is the link to JAYJUN Skincare.
V. The Revitalization of BB Cream
BB Cream is a hydrating all-in-one cream that mixes the benefits of moisturizer and foundation. Certain BB Creams also may have SPF protection and blemish-reducing properties. The overall purpose of BB Cream is to provide a multi-purpose cosmetic to help make your morning routine more seamless. Over the past three months, the impact score for "BB Cream" has increased by 11,407%, and the future estimate predicts growth in the coming months. What is driving this growth?
Maternity is one of the factors contributing to BB cream's growth over the past three months. Mothers are looking for an easy and affordable way to save time during their skincare routines, making them an ideal target consumer for BB cream. Over the past three months, the signal for "BB Cream Maternity" has grown by 2891%. Our platform predicts exponential growth throughout the summer months. So if you are looking for a way to save time and money during your skincare routine, BB cream may be the answer.
---
Thank you for tuning in to the first inflection point this week. Be sure to check back on Friday for our bonus pulse this week.
Cheers!
---
About NWO.ai
NWO.ai's predictive platform enables leading Fortune 500 companies and government agencies to anticipate and track global cultural shifts by aggregating, analyzing, and producing actionable reports on human-generated data. We are leveraging petabytes of external, noisy, and unstructured data from various sources –including search, social media, blogs, news, patent databases, SEC filings and we are continuously adding more sources. Our mission is to answer the what, when, and most importantly, 'why' behind a consumer trend and enable our customers to detect these shifts as early as possible.
P.S.  We're hiring! Check out our open positions and let us know if you'd be a good fit for our team. We're growing quickly and adding several engineering, sales and customer success roles to help us decode the anatomy of next.
Thank you for reading. If you liked the piece, please help us spread the word and invite your friends to sign up here.